Christmas Wreath - Everything You Need to Know in 2023
Hanging out a round of laurel, pine, and other foliage on your door has been a Christmas tradition for a long time. You've probably been doing it since you were a kid. But do you know why people hang up Christmas wreaths? What do they even mean?
As it turns out, there's a lot of history in regards to Christmas wreaths and wreaths in general.
What Is a Wreath?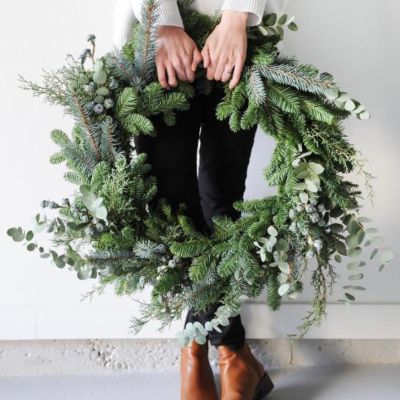 Source: Magnolia and Lace
In general terms, a wreath is a circular assortment of different materials. Mostly, they are made from things you can get from the outside like flowers, twigs, fruits, vines, leaves, and the like.
Wreaths can mean a thousand different things depending on the type of materials you use to make it with. For example, evergreens may symbolize something different from laurel.
They are used for ceremonial occasions in different cultures around the world. Wreaths are usually used to show honor or celebration.
Arguably, the most popular wreath today is the Christmas wreath.
Where Did the Christmas Wreath Come From?
Origin of the Wreath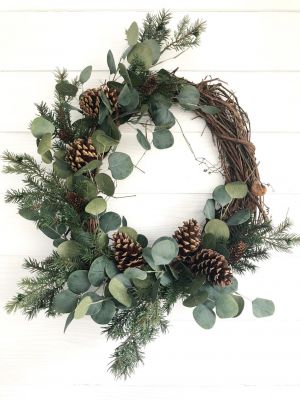 Source: Etsy – AshandHartFloral
The use of a wreath date backs to ancient times. As early as Ancient Egypt, people have been using wreaths as a type of chaplet. A chaplet is a type of headdress. You can think of it like the modern flower crown.
Aside from Egypt, Ancient Greek and Roman civilizations also use wreaths in various ways. The Greeks used olive, pine, and laurel wreaths as prizes to celebrate their poets and winners of the Olympic Games. Lovers also make wreaths as gifts for their significant others.
The Romans also used wreaths to bring honor to their officers and returning soldiers.
Types of Wreaths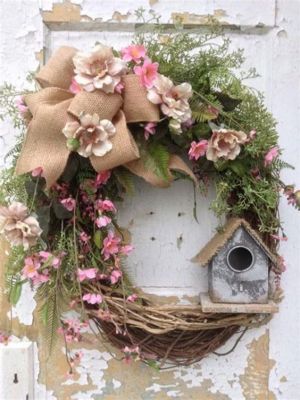 Source: Home Enthusiastic
Aside from being prizes and showing appreciation, wreaths are also used for other occasions. One such famous symbol of wreaths is for mourning, showing a family's grief during a funeral. Wreaths are also given to fallen soldiers to give honor and commemorate their sacrifices.
The Beginning of the Christmas Wreath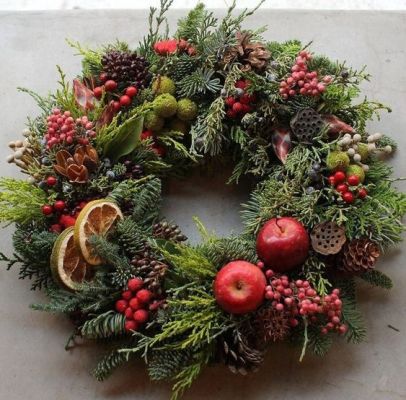 Source: Sumcoco
Moving away from the solemn occasions, wreaths are widely used for festive celebrations. This tradition was solidified during the 15th to 16th centuries.
Wreaths were also used for religious celebrations. They were mentioned in numerous Greek and Roman mythologies. Wreaths were also used as a rosary during the Middle Ages, and 18th-century Mexican nuns also wore them when they made their religious vows.
Of course, the wreath was also used by the early Christians during Advent. The four candles present in the Advent wreath symbolized the four Sundays before Christmas.
Where Did the Christmas Wreath Originate?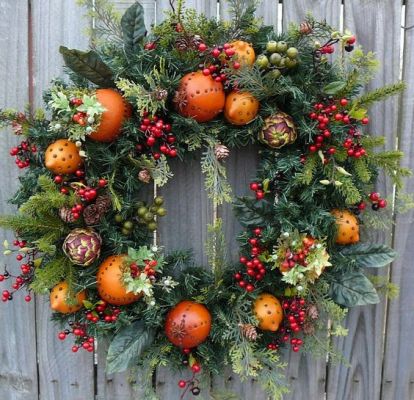 Source: Etsy - HornsHandmade
Aside from the Advent wreath, Christians also made use of a Christmas wreath as decoration as part of the celebration. This kind of wreath is usually made with holly and berries.
The custom of hanging a Christmas wreath began in Northern Europe. It is still widely practiced there, as well as in the United States and Canada.
The Germans are usually credited for starting out the tradition of having a Christmas tree. They cut out the limbs to make it fit inside a room.
Cutting the tree into a triangular shape also symbolized the Holy Trinity. This idea originated from the legend, saying that Saint Boniface explained the concept of the Holy Trinity (God the Father, the Son, and the Holy Spirit) using the branches of an evergreen tree.
Remember, everything that can be used was used during the 15th century. Instead of letting the excess limbs go into waste, early Christians used them to create Christmas wreaths.
During the beginning, Christmas wreaths were made to be decorations for the tree (much like modern-day Christmas ornaments). Today, they are used as stand-alone decorations hanged on front doors.
What Does a Christmas Wreath Symbolize?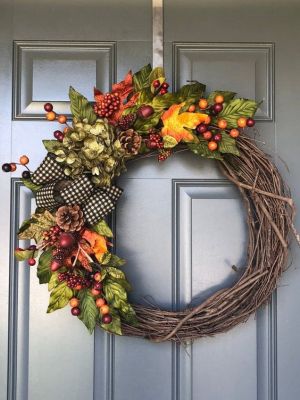 Source: Etsy - JennEdgarDesigns
At first glance, the shape of the Christmas wreath was made because it was convenient. A ring-shape can easily be hung on your tree, after all.
But why is a Christmas wreath round? The circular shape is also said to represent 'divine perfection.' A circle symbolized eternity. Combine the shape with the materials used, and you'd get a more grounded meaning.
The materials used then came from the Evergreen tree. Evergreens were admired because they can survive the harsh winter season, unlike other living things. They became a symbol of strength, resilience, and even hope.
So, what does a wreath represent at Christmas? The Christmas wreath is said to symbolize steadfast faith and eternal life.
DIY Christmas Wreath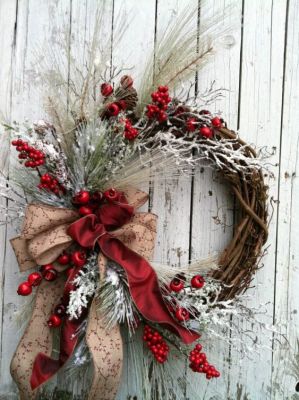 Source: Good News Architecture
Now that you know more about the background of Christmas wreaths, you may want to create one yourself.
Sure, Christmas wreaths can be bought in-store and online. If you don't have a lot of time to make one, there's nothing wrong with buying it ready-made.
But if you prefer designing your own, good for you! It's quite easy to DIY a Christmas wreath.
What Do I Need to Make a Christmas Wreath?
Before diving into the how's of creating a Christmas wreath. You will, of course, need to know what materials you have to buy.
First, decide on whether you want your wreath to be made from natural materials. What foliage to use in your Christmas wreath, and the like. You can get different kinds of twigs and branches, flowers, leaves, fruits, and the like by foraging and gathering in nearby forests.
Going down this route will help you create a more traditional Christmas wreath. However, the lifespan of your wreath will definitely be shorter if you used natural materials. Some of the natural materials you can use are:
Cedarwood
Magnolia leaves
Pinecones
Eucalyptus pine
Evergreen needles
Berries and other fruits
A variety of flowers
Aside from these traditional materials, you can also choose to buy things that can last longer. Décor made from plastic can come in handy. Here are some of the things you will need when making a Christmas wreath:
| # | Item | Description |
| --- | --- | --- |
| 1 | Floral Wire | Floral wire is non-descript in making sure that all your greenery looks authentic and put-together. |
| 2 | Craft Glue | Keep your décor in place with craft glue. |
| 3 | Artificial Leaves | Mimic the traditional look of Christmas wreaths with fake leaves. Choose from evergreen, pine, and more. |
| 4 | Decorative Berries and Fruits | Use red berries and other fruits to decorate your wreath. |
| 5 | Artificial Flowers | Add life to your wreath with a few different flowers. |
| 6 | Ribbons | Ribbons are also a popular décor piece in most Christmas wreaths. |
| 7 | Decorative Snow Adhesive | Make your Christmas wreath look more genuine with fake snow powder. |
DIY: What Do I Need to Make a Real Christmas Wreath, Step by Step
Now that you have your materials on-hand, it's time to make the actual wreath. Here are a few easy steps to get you started.
Step 1: Choose a theme.
Knowing how you want your wreath to look like in the end is essential. Do you want it to look more traditional? Snow-covered? Maybe with a few bits and baubles here and there? Once you know the general design, it's time to do the actual making.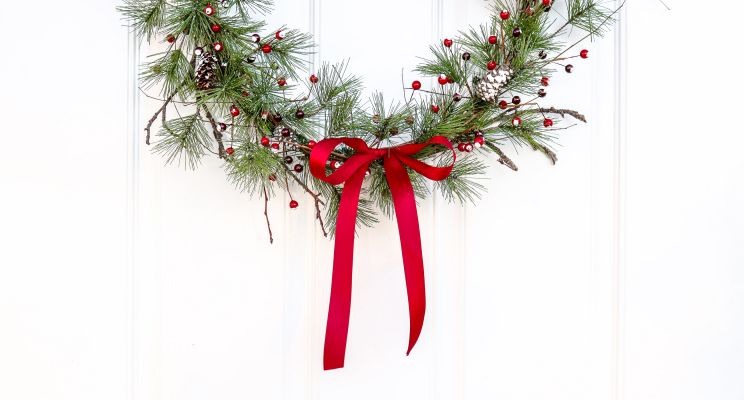 Source: Lily Ardor
Step 2: Create your ring.
Create a circular base using your branches, leaves, and floral wire. You can also cut a donut-shape on cardboard to use as a base.
Alternatively, you can also buy a ready-made Christmas wreath sans the decoration.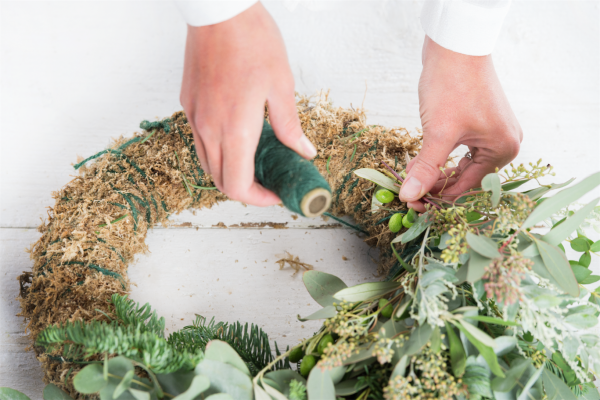 Source: The White Company
Step 3: Add your flowers.
Artificial flowers have stems. Make sure to stick them strategically around your ring and keep them securely in place.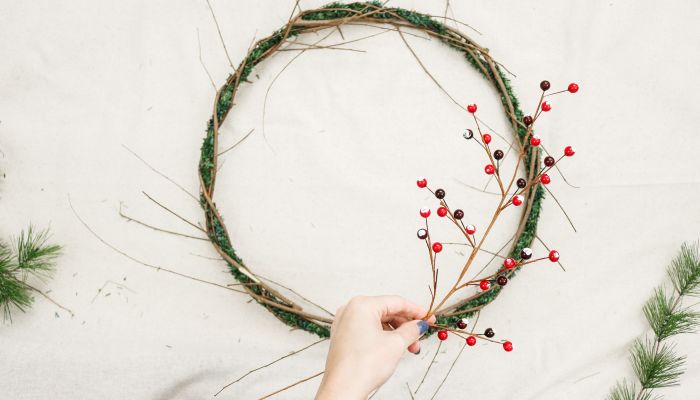 Source: Lily Ardor
Step 4: Add your berries, fruits, and other décor
Like the flowers, make sure that you put all other decorative pieces in a way that looks tasteful to you.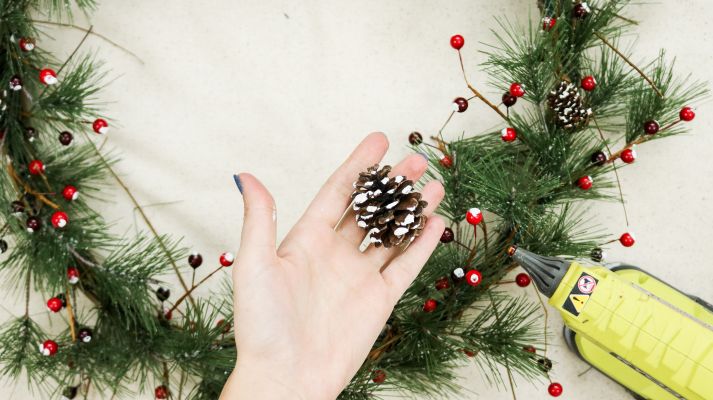 Source: Lily Ardor
Step 5: Add your ribbons.
Most Christmas wreaths have ribbons as décor. You can make bows, loop them around, or do both.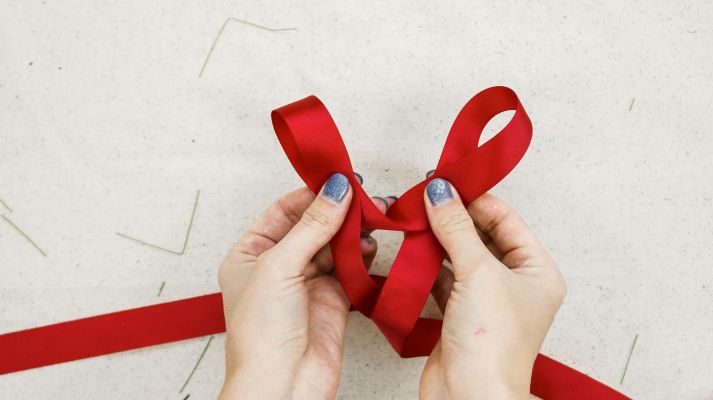 Source: Lily Ardor
Step 6: Sprinkle snow powder.
If you want your Christmas wreath to look snow-covered, sprinkle snow powder all over. Make sure to do it a handful at a time for better control.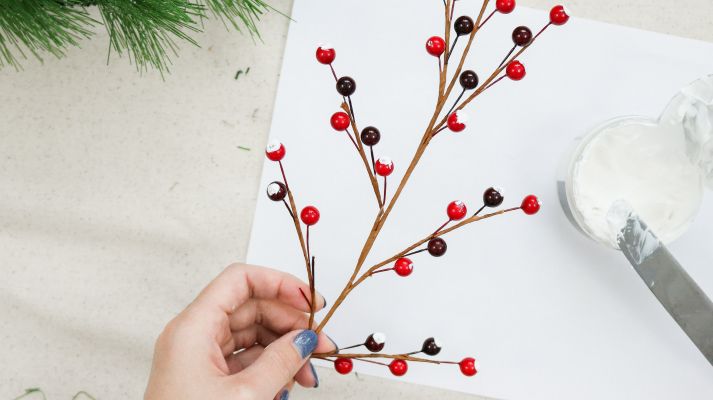 Source: Lily Ardor
Christmas Wreath Ideas
Aside from the usual green and red Christmas wreaths, more and more people are using their creativity to make unique and interesting versions of this holiday décor. If you're thinking of going the unconventional way, here are a few exciting examples to get you inspired: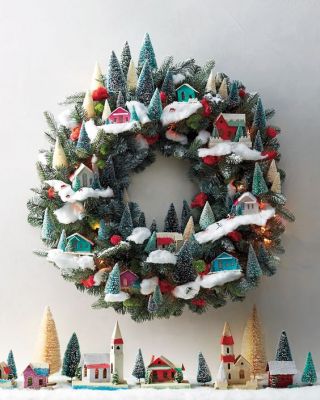 Create your own magical Christmas town within your wreath! Source: Martha Stewart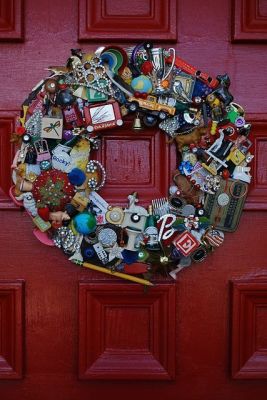 Use old toys to create a youthful and fun wreath this Christmas! Source: Olivia Morris - Blog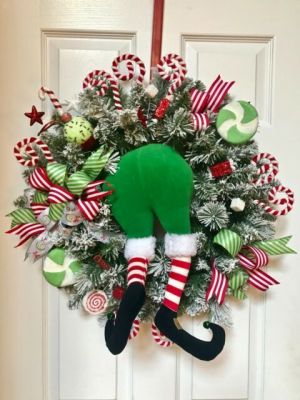 Make your guests laugh with this awesome elf wreath! Source: eBay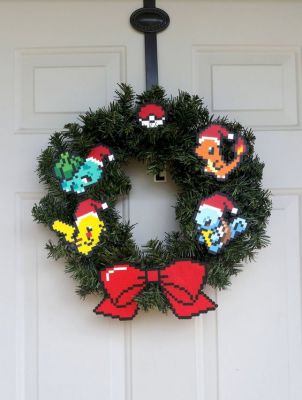 Lure and catch all the pokemon with this Christmas wreath! Source: Shut Up and Take My Yen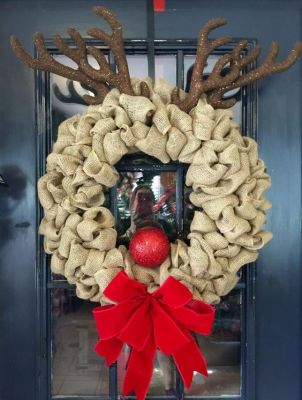 Add a unique festive look to your country home with this wreath! Source: Etsy – WreathsbyLaura
Installing the Christmas Wreath
Where To Put A Christmas Wreath?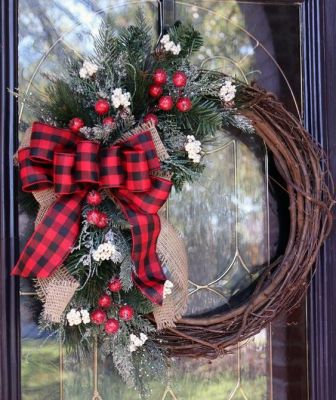 Source: Etsy - ThePurpleDoorDecor
In North European tradition, the Christmas wreath is usually hanged in the front door. It's essentially a welcoming decoration during the holiday season.
But, you don't necessarily need to put yours in the same place. There are tons of other locations that would look great with a Christmas Wreath. Here are a few recommendations for you to try out:
Above your mantle
On the window above your kitchen sink
Around mounted animal heads
Above your bed
Around mirrors
You can even create a whole other piece of décor by hanging wreaths of different sizes on a long piece of driftwood. Honestly, you can put Christmas wreaths almost anywhere if you really want to.
Ways to Hang Your Christmas Wreath on the Door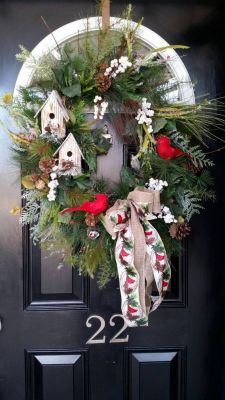 Source: Etsy – DesignTwentyNineSC
Now that you've answered the question of where to hang a Christmas wreath, you should determine how you hang them.
There are many ways to hang your wreath on your door. The most common is to put a nail through the door and hang the wreath from there.
But, of course, why would you want to put a hole through your front door when you can avoid it? Another way is to purchase an adhesive hook. They're available in most craft and hardware stores. All you need to do is stick the hook on the door, and hang the wreath.
However, some adhesives can still damage your door. Don't worry! There's one other way. Use an over the door hook. This hook looks like a letter 'S.' You slide the top part on top of your door, hook it in place. Make sure it's in the middle. Then, you hang the hook at the bottom part.
Where to Buy Christmas Wreath?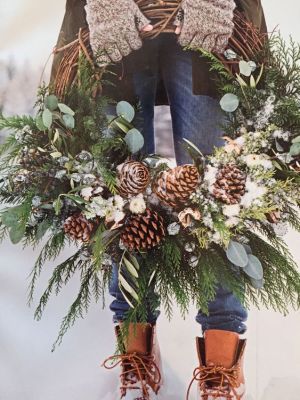 Source: Pinterest
The great thing about Christmas wreaths is that they're so popular and easy to find. You can probably buy your wreaths in craft stores, grocery stores, general stores, and novelty shops during the holiday season.
What's more, Christmas wreaths can also be bought online through stores like Amazon, Walmart, and Target. If you're looking for more unique versions, try looking at the selection over at Etsy and even eBay. There's sure to be a Christmas wreath that'll fit your preference and budget!
Here are a few wreaths to choose from to get you started:
| # | Item | Description |
| --- | --- | --- |
| 1 | Red Berries Christmas Wreath | Go all out cheerful with this ultra-festive Christmas wreath full of luscious red berries! |
| 2 | Battery-Operated Christmas Wreath | Light up the yuletide season with this battery-operated Christmas wreath! |
| 3 | Country Santa Wreath | Spread the holiday love and let Santa warmly invite guests into your home with this Christmas wreath! |
| 4 | Green and Red Wreath | You can never go wrong with a classic! Go with the timeless red and green of the season with this Christmas wreath! |
| 5 | Country Rustic Wreath | Feel the relaxing vibe of the country with this rustic Christmas wreath! |