Why Hang Christmas Stockings & How to Decorate Them in 2023
As children, you've probably hung your sock or a Christmas stocking above the fireplace during Christmas. Your mom and dad might have told you that Santa Claus comes by every Christmas Eve to fill it up with toys and goodies if you have behaved.
But have you ever wondered how that all began? How did people suddenly think that hanging stockings up on mantles can bring good fortune to your house? Well, reason below to discover more about the history of the Christmas stocking. Plus, learn how to create and decorate your own stocking with lots of helpful tips and tricks!
What Is a Christmas Stocking?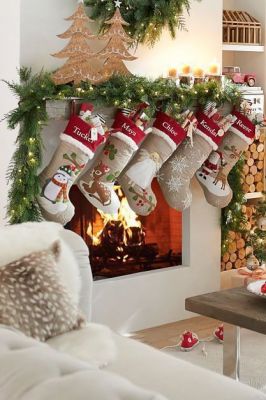 Source: Hosiery – Art Designs
A Christmas stocking is an empty sock or bag that is usually hung above a fireplace on Christmas Eve. Tradition says that Santa Claus goes about filling the socks with toys and goodies during Christmas Night for children who were good for the year.
The practice began with actual socks and stockings being hung up on the mantles. But today, most people use larger and more personalized sock-shaped bags instead.
Why Do We Use Stockings For Christmas?
Aside from looking festive and totally Christmas-y, why do we hang stockings for Christmas? Well, it all has to do with a myth that surrounds St. Nicholas. Because of this story, a lot of people started putting up socks as a symbol of hope for good fortune.
How Did The Tradition Of Christmas Stockings Begin?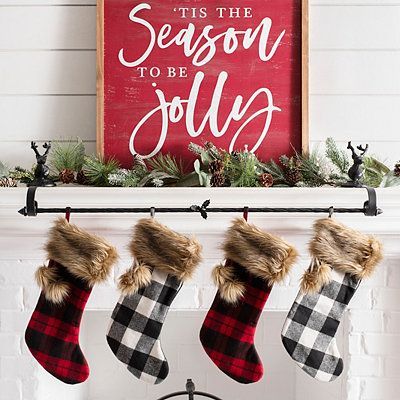 Source: Kirklands
As mentioned above, the tradition of Christmas stockings began with a myth about St. Nicholas (or it could've also been Santa Claus or Father Christmas).
The story goes that a poor man had three daughters that he was worried about. Since they didn't have enough money, he was afraid that his daughters wouldn't be able to marry and will live a desolate life once he dies.
Saint Nicholas overheard the villagers talking about the poor man's plight, and was deeply moved. However, he knew that the poor man would not accept charity.
So, during the night, he went to their house and saw the freshly laundered socks of the three girls hanging in the drying line. He decided to leave gold coins inside their socks. When the girls awoke to find the gifts, they rejoiced. The girls were able to marry and live prosperous lives.
In other sources, Saint Nicholas left golden balls inside each sock instead of gold coins. The actual date and origin of this legend are unknown, but the idea persists in many sources. In fact, one of the most referenced sources was a poem back in the early 1800s entitled 'A Visit From Saint Nicholas.'
Today, people to continue to hang up stockings above their fireplaces to welcome the good fortune that Saint Nicholas might bring. For children, it's a well-loved tradition that promises them gifts and candies come Christmas morning. Hopefully, they don't get a pack of coal!
What Do You Put Inside Christmas Stockings?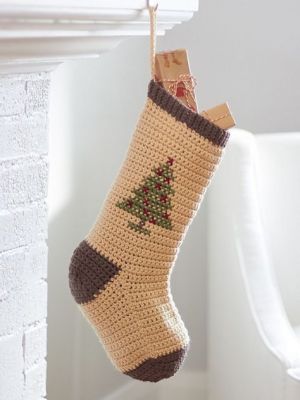 Source: Pixel Perfect Crochet
If you want to go the traditional route, most people fill up their Christmas stockings with fruits, candies, coins, small toys, and other mini gifts. They usually call these things stocking stuffers.
One traditional stocking stuffer most people got before was oranges. Why? Remember that the legend also says that Saint Nicholas left golden balls for the girls. Well, it's kind of hard to give away actual golden balls. So these brightly colored, spherical fruits became the next best thing!
With the birth of capitalism, many companies have embraced the idea of stocking stuffers. In fact, you'll see a lot of mini-sized products launched during the holidays. So, if you want to be more creative than candies and coins, you can choose from a whole number of things.
Need some inspiration? Check out these stocking stuffers you can buy in Amazon:
How To Make Christmas Stockings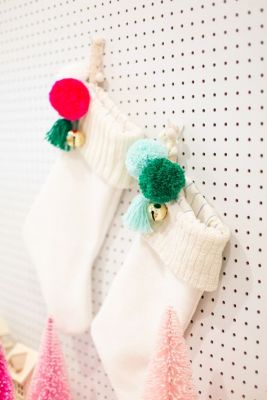 Source: Lovely Indeed
Aside from your everyday socks and stockings or buying your premade Christmas stockings from the store, you can also create your own, personalized stocking. It's easy and fun to do. Your kids can even help you out!
So, learn how to make a Christmas stocking today! First, here are a few materials you may want to have on hand:
| # | Item | Description |
| --- | --- | --- |
| 1 | Assorted Felt Paper | Use different colored felt paper to create the body of your stocking. |
| 2 | Scissors | Use scissors to cut out your stocking's shape steadily. |
| 3 | Pinking Shears | Cut out designs using your pinking shears. |
| 4 | Embroidery Floss | Use embroidery floss to sew together all the parts of your stocking. |
| 5 | Assorted Pompoms | Decorate with crafts like assorted pompoms. |
You can also just choose to decorate your Christmas stockings. Instead of starting from scratch, just buy a premade plain stocking, like these:
Making your own simple Christmas stocking can be done in a few simple steps. Once you finish sewing the base, your kids can even step up and decorate their own stockings. DIY-ing your family's stockings can be an excellent holiday bonding experience!
Let's start!
Step 1: Measure and Draw Your Stocking Shape
On your felt paper, measure how big you want your stocking to be. Draw the shape on your paper as a guide.
Step 2: Cut out Your Stocking Shape
Using your scissors, carefully cut your felt paper according to the guide you drew. Don't forget to make two sides.
Step 3: Use Embroidery Floss To Sew Together Your Parts
Sew together your two felt paper sides using embroidery floss to make the base of your Christmas stocking.
Step 4: Add Your Design
Use your pinking shears, glitters, pompoms, and what not to make your stocking your own. Go wild!
Step 5: Let Dry Your Stocking and Hang
Make sure to let your stocking's designs set before hanging them up on your mantle.
How to Sew A Christmas Stocking
It's easy to appreciate a tutorial if you can see how someone does it. Aside from the quick and easy steps from above, here's a video you can watch to learn how to sew a Christmas stocking:
How to Crochet A Christmas Stocking
While some people like to sew their stockings or buy ones from the stores, you can also choose to make it your current crochet project. There are tons of tutorials available online that you can follow.
In fact here's a video you might want to check out:
Don't forget to get your materials as well:
How To Decorate Christmas Stockings?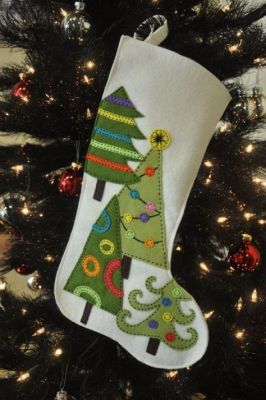 Source: Happy Christmas New Year Greetings
Aside from making your actual Christmas stocking, what makes these holiday decorations super fun is the decorating part of the project. You get to do it any which way you want! You can go for the traditional greens and reds, or opt for something wilder like a Harry Potter-themed stocking or a funny reindeer stocking.
There's no one way to decorate a Christmas stocking. It's really all up to you!
How to Draw Christmas Stockings
A Christmas stocking is a widely popular symbol of Christmas, so you see it everywhere during the yuletide season. It wouldn't be surprising if you see it drawn on cards, tags, gift wrapping papers, and the like.
But if you want to learn how to draw a Christmas stocking for yourself, here's a cool and simple step-by-step guide from EasyDrawingGuides.com:


Source: Easy Drawing Guides
What To Do With Old Christmas Stockings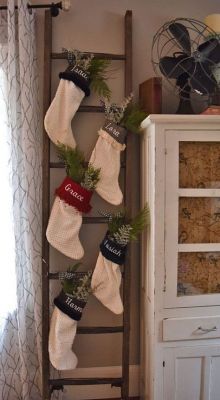 Source: Laura Bloom – Create & Ponder
The great thing about Christmas stockings is that they can last you a lifetime if you take care of them properly. Some of us probably have our childhood stockings tucked away and hung every holiday. So, make the most of your stockings. Once they've been well-loved, it's best to recycle them.
And when you've recycled your very much used Christmas stocking, you'll probably need a new one. Why not upcycle whatever's in your house right now? Here are a few upcycled Christmas stocking ideas to inspire you: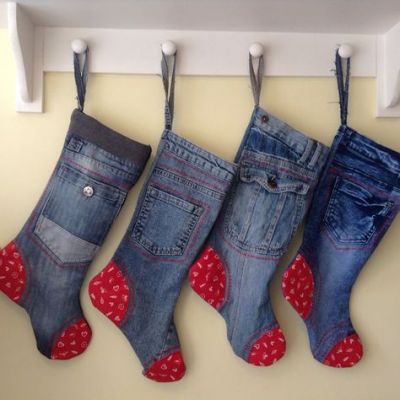 Upcycle from your old denim pants!
Source: Etsy – Home2Inspire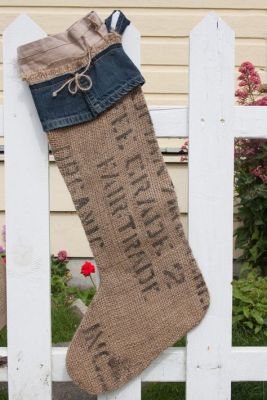 Upcycle from old burlap sacks!
Source: Esty – enduredesigns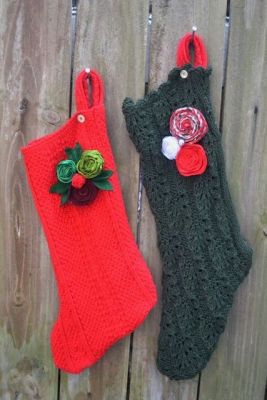 Upcycle from your old knit sweaters!
Source: Dishfunctional Designs
How to Hang A Christmas Stocking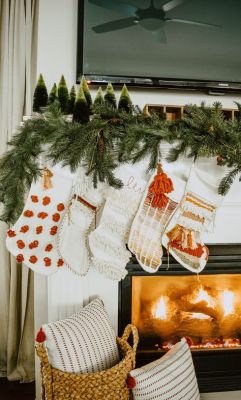 Source: House on Longwood Lane
Hanging your Christmas stockings is no easy feat. Brick mantles don't come with hooks after all. That's why you'll need a few extra materials if you want to keep your stockings hanging beautifully and secure.
Here are some of the things you might want to look into
| # | Item | Description |
| --- | --- | --- |
| 1 | Fireplace Hooks | Don't want to drill a hole in your fireplace? That's fine! Just get these hooks instead. |
| 2 | Brick Hangers | Want something more nondescript? A brick hanger will do the job splendidly. |
| 3 | Driftwood | Look more rustic and organic by using driftwood as your hook. |
How to Hang a Christmas Stocking Without a Fireplace?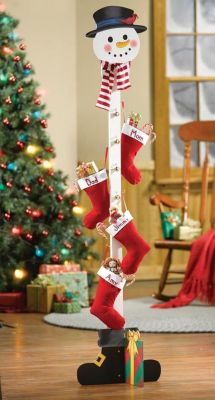 Source: Fugar
A lot of houses nowadays don't have a fireplace anymore. With the advent of modern technology, it really isn't required. The question now is, where can you hang your Christmas stockings if you don't have a fireplace?
Well, get creative! Here are a few alternatives you can do:
Hang them from a decorative branch
Hang them from a bookcase
Hang them from a coat rack
Hang them from your staircase
Hang them from a ladder
Ideas on How to Decorate Christmas Stockings
Now that you know more about Christmas stockings and how to make your base, the next thing to do is to think about the design you're going to create. There are thousands of designs you can choose from. The sky's the limit, and it all boils down to what you truly want it to look like.
To help you get started, here are a few Christmas stocking examples to get you inspired: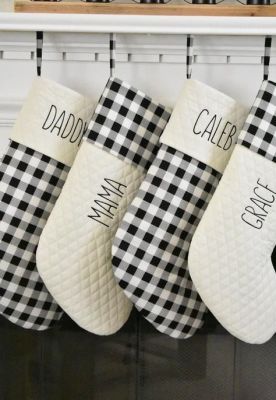 Source: Do It Yourself Samples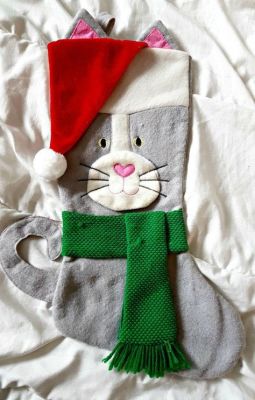 Source: Design by D9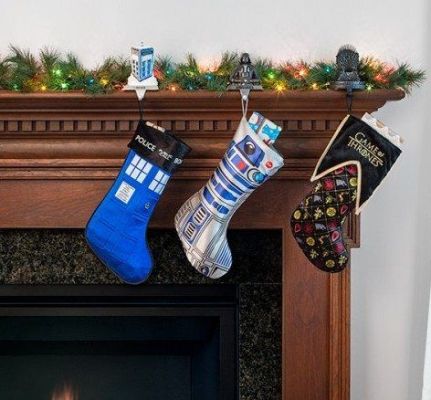 Source: The Humbled Homemaker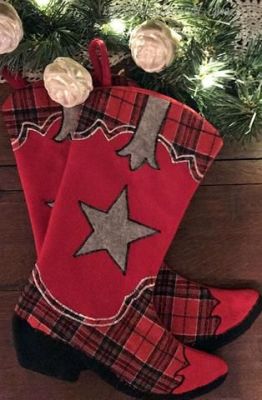 Source: North Pole West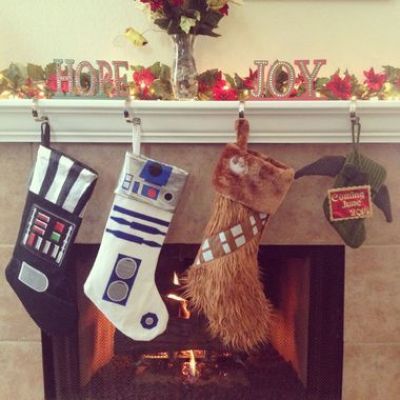 Source: The Stir - CafeMom
Where Can I Buy A Christmas Stocking?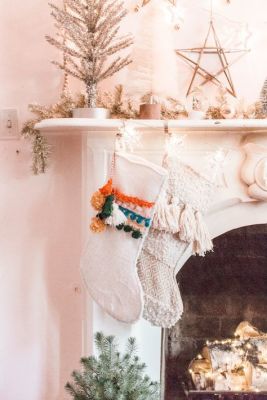 Source: Hey Wanderer
Buying Christmas stockings isn't hard to do. That's because they're so popular during the holidays that most stores will probably have them.
Did you know that they beat the popularity of Christmas trees sometime in the 1800s? Yes, they're that ingrained in people's Christmas traditions. So, you can buy them anywhere! Check out your local craft stores and big stores like Target and Walmart.
If you want to stay inside the comforts of your own home, you can also look into online stores like Etsy and Amazon. They'll surely have a lot of choices for you to choose from!
In fact, here's a few to jumpstart your search:
Conclusion
Christmas stockings are very much fashionable ever since the emergence of the Saint Nicholas legend. It's still widely popular today. Aside from the traditional symbol of Christmas stockings, people love the idea of giving and receiving gifts. A Christmas stocking allows you to give and receive more!
While you can always stick to the familiar look of a Christmas stocking, the best thing about them is that you can really personalize the design of your own stocking. You can put your name or make it look like your favorite cartoon, tv show, and whatnot.
However way you look at it, Christmas stockings are a fun tradition to continue!