How To Decorate Your Door On Easter and Have Fun in 2023
If you've been looking at crafts sites like Pinterest, you're probably aware that even holidays like Easter have their own themed decorations. From the Easter bunny and hiding Easter eggs to more modern décor like Easter wreaths, you can make your home beautiful for the said holiday.
But another thing that coincides with the celebration of Easter is the beginning of spring. You can use Easter-themed décor to show how glad you are that the blooming season is starting.
Want to learn more on how to decorate your home for Easter? Read on below!
Why decorate for Easter?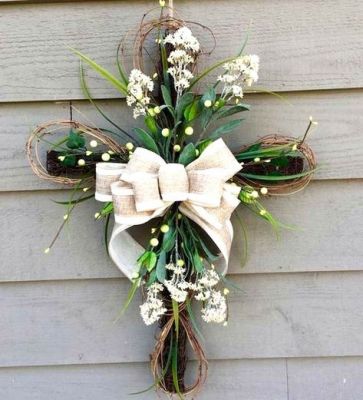 Source: Pastiwow
Decorating your place for Easter was traditionally done by Christians to show their celebration because Jesus Christ has been resurrected. It is still a practice that many do today.
But if you aren't someone who follows this religion, that's fine. You can still join in on the fun. A more secular take on this celebration is showing your elation for spring. Indeed, that is why a lot of Easter décor is light-colored and floral in theme. Like the Resurrection of Christ, spring also symbolizes a new beginning, a new life.
Popular Door Décor For Easter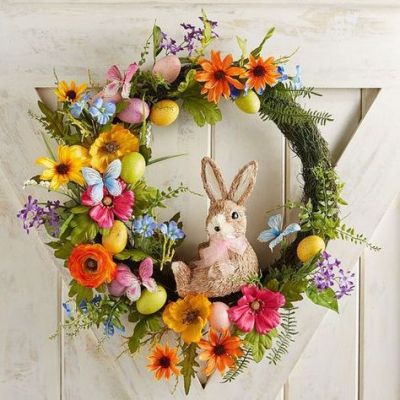 Source: Good Housekeeping
One way to decorate your home is to design your doors with Easter themes. You can create lots of different kinds of décor depending on how creative you get. You'd think that decorating a door would come with a limited list of ways, but that's not the case!
When it comes to Easter door decorations, the most popular would undoubtedly be Easter wreaths. Other types you can try are different door hangers and even door murals!
Easter Wreaths for Front Door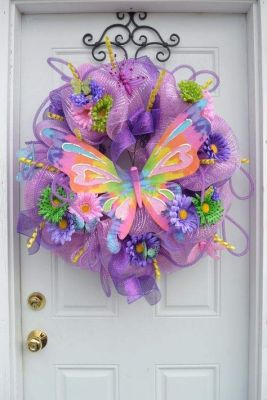 Source: Hike N Dip
Easter door wreaths are, for sure, the most common type of Easter décor. An Easter wreath is a circular-type of decoration which is normally created using evergreen leaves and different kinds of flowers.
Fun and kid-friendly wreaths also make use of pastel-colored eggs and adorable bunny figures. More modern Easter wreaths, on the other hand, approach this type of decoration in a minimalistic way. Metals like copper and bronze are typically used for modern wreaths.
Easter Door Hangers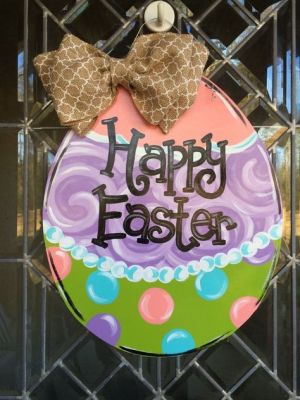 Source: Building Our Happily Ever After
For your front door, easter décor that is easiest to put up is a door hanger. If you're going by definition, an Easter wreath is definitely a type of door hanger. But you can hang more than just a wreath for Easter.
You can make use of your doorknobs and place floral pieces there. You can put up little vases of brightly colored blooms on top of your door like a garland as well. Door hangers can come in many shapes and sizes. Why not hang a literal bouquet? The decorating ideas are endless! You just have to find the one that's right for you and for your home.
Easter Door Hanger Crafts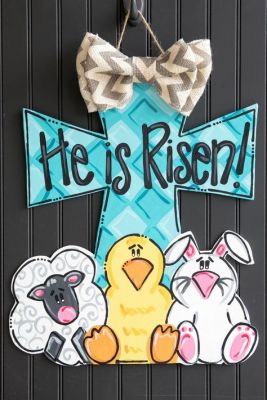 Source: StitchologyLLC
Like what was mentioned above, creating door hangers really depend on the type of creative project you want to do. If you're drawing a blank, below are a few examples of door hanger crafts you can make for the Easter holiday.
Burlap Door Hangers for Easter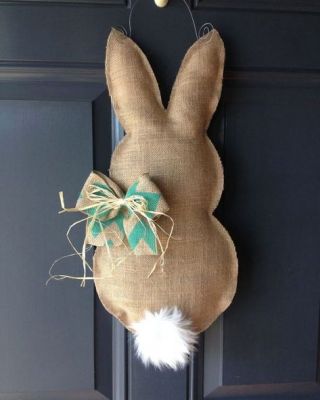 Source: Collage Cab
If you're going for a more natural vibe this Easter, why not center your decorations on materials like burlapand twine? They have a natural brown color that's both rustic and pretty, perfect for the country look you're going for.
What's more, materials like these two make your decorations look more homey and welcoming to guests. Want to make a door hanger like the bunny in the picture? You'll need to get these:
Easter Carrot Door Hanger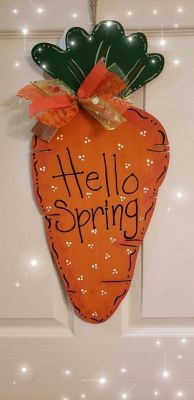 Source: Krafting With Kimber
Is the bunny décor too cutesy for your taste? Well, there are tons of different Easter and spring shapes you can make. If you're going for fun but less childish, a carrot-shaped door hanger might be the one for you.
Here are a few materials you might need to make one:
| # | Item | Description |
| --- | --- | --- |
| 1 | Cardboard Sheets | Use cardboard sheets as your base. |
| 2 | Acrylic Paint | Color your sheets with orange and green to make it look like a carrot. |
| 3 | Glue Stick | Use a glue stick to connect sheets together. |
| 4 | Twine String | Twine string can be used as the handle. |
| 5 | Embossing Pen | Use an embossing pen to add funky, 3D details. |
| 6 | Crafting Ribbons | Crafting ribbons can make your décor look less simple. |
Easter Bunny for Door Hanging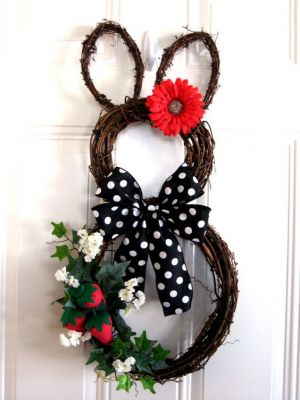 Source: Etsy – SparkleWithDesigns
But, back to everyone's favorite bunny. You can also create Easter bunny decors with different projects. From drawing bunnies on paper to making your own Easter bunny wreath, the sky's the limit.
If you're interested in making a bunny wreath, here are a few materials you might need:
Easter Door Decorating Ideas
With all the many door decoration ideas you can do for Easter, it can get overwhelming and confusing. But that's okay! It just shows how creative you can get with the holiday.
If you don't know what type of decoration you want to put up, here are a few inspirations to get you started: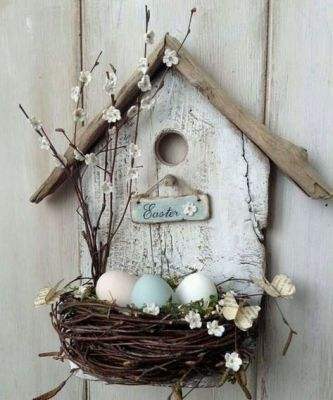 A bird house for your door! Source: 4 ur Break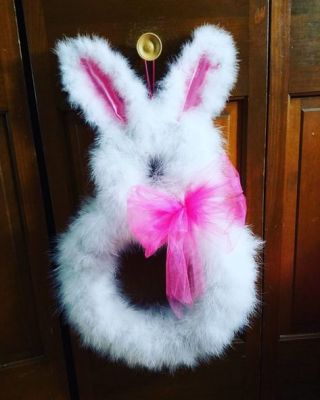 A furry, white bunny door hanger is cute! Source: Collage Cab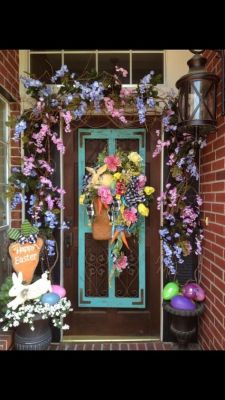 Decorate your door complete with garlands! Source: Decorewarding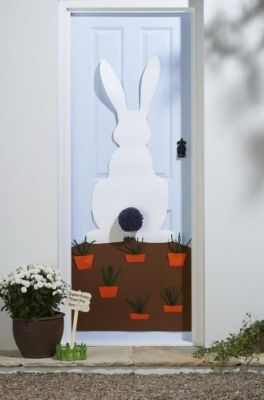 Stick the outline of a bunny for a fun decoration! Source: Kinslee Door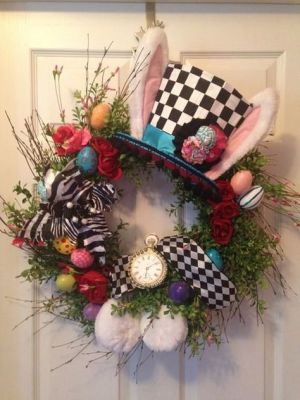 Add a whimsical vibe to your door wreath! Source: 4 ur Break
Easter Classroom Doors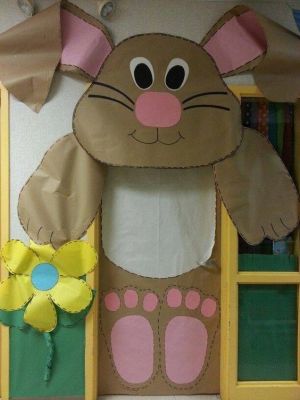 Source: My Web Value
If you think that decorating your doors for the holiday is strictly for your home only, think again! One other fun way to celebrate the holiday is to decorate the doors to classrooms. If you're a teacher (especially in lower grades), you might want to present this idea to the next faculty meeting.
Just imagine how excited your students would be to see their classroom door decorated as the Easter bunny or with a bunch of whimsical flowers!
To help you convince your fellow teachers to try decorating their own classroom doors, here are a bunch of cool examples to show them: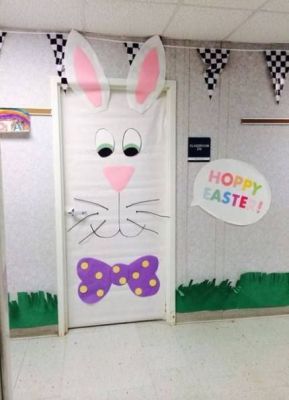 Source: Door Nora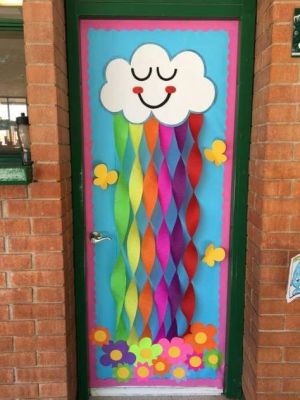 Source: Hike N Dip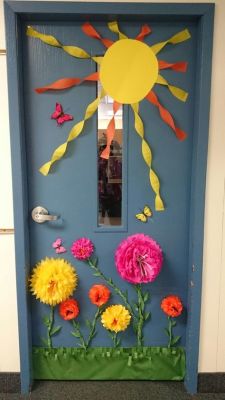 Source: Best Door - Sembagine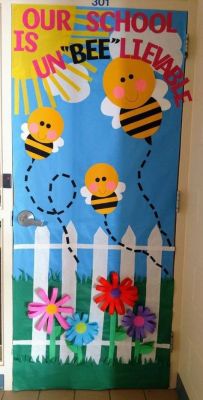 Source: Hike N Dip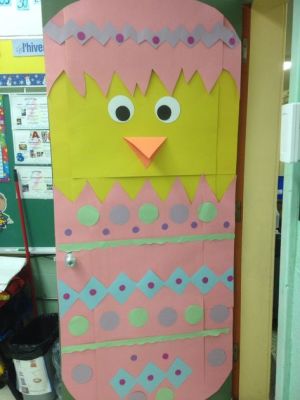 Source: Twinkl UK
Easter Classroom Door Decorations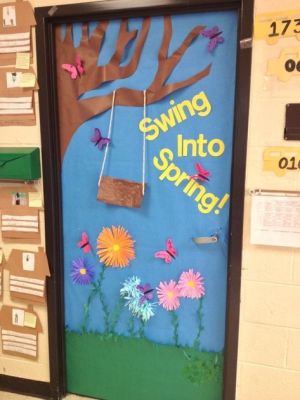 Source: Go DIY Home
Are you getting more excited to decorate your classroom door? Don't forget to buy all the materials you'll need to keep your students happy this spring season.
Here are a few essentials that might help you out with your decorating:
| # | Item | Description |
| --- | --- | --- |
| 1 | Paper Roll | Use a craft paper roll to decorate the whole of your door. |
| 2 | Scissors | Scissors are always handy when it comes to arts and crafts. |
| 3 | Acrylic Paint | Use acrylic paint to add more colors to your decoration. |
| 4 | Pencils | Pencils are perfect for making outlines for your art project. |
| 5 | Removable Tape | If you don't want to ruin your door, removable tape will be a good friend. |
Other DIY Easter Door Decorations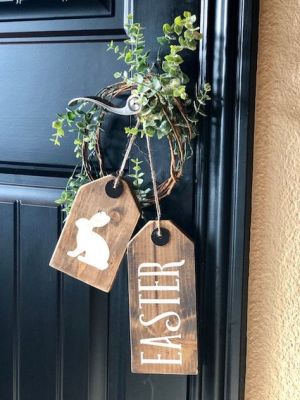 Source: Etsy - SecretBeachTradingCo
Aside from different kinds of door hangers and classroom door decorations, you can also think up of other door décor for Easter. You can make use of your door as an interactive décor, like creating a pocket that looks like a nest where your kids can hide paper Easter eggs.
But one other popular door décor for the holiday is a garage door magnet.
Happy Easter Garage Door Magnets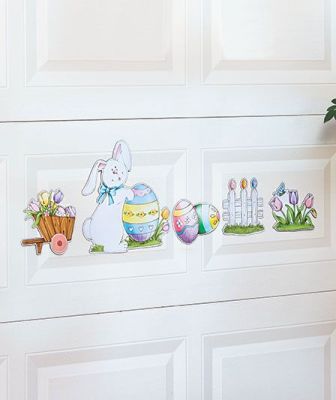 Source: ABC Distributing
Easter garage door magnets, you guessed it, are used to decorate your garage doors. Unlike classroom doors, where you can make use of paper, garage doors are found outside of your house. That means, they are more exposed to weather elements (particularly, rain).
That is why your normal paper-made décor might not be as durable for your garage doors. Never fear, because garage door magnets are made to withstand a little rain and sunshine.
These decoration pieces are also super easy to put up! All you have to do is to buy them and stick them to your garage door.
Where to Look For Easter Door Decorations for Sale?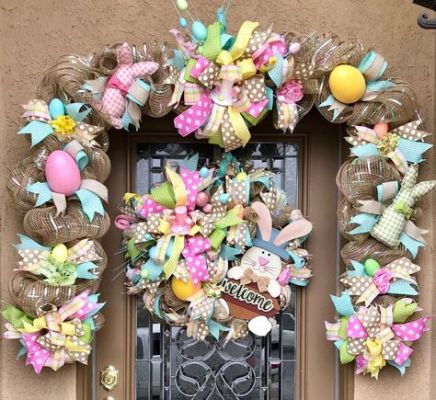 Source: Etsy-ShaffersDesign
The lovely thing about Easter is that it's such a popular holiday. Therefore, buying décor for this celebration is super easy. You can find a lot of these kinds of decoration in your local craft store when it's nearing Easter time. Stores like Michaels and Hobby Lobby are definite stops for you!
There's also a high chance that Easter décor would also be sold in general stores like Walmart and Target. But if you're not feeling like going out to buy decorations, you can also opt to shop online at stores like Amazon and Etsy.
To help motivate you, here are a few awesome Easter door decorations you can buy in Amazon:
BONUS: Indoor Easter Tree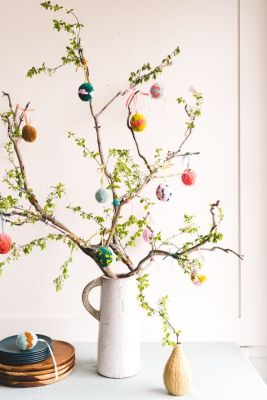 Source: The House That Lars Built
If you're going above and beyond this spring season, you might want to learn how to make an indoor Easter tree with wire.
That's right! Even Easter and the spring season can have its own tree décor. The best part is you can keep a tree made from wire all-year round indoors. You can even use it as décor for other occasions.
A tree made from wire can be used for Easter and decorated with Easter eggs and flowers. It can be made up for Valentine's with paper hearts hanging all over it. Your tree can also be decorated with tinsel and holly berries for Christmas.
Getting excited? Here's a video demonstrating how you can make a tree using wire:
Conclusion
Aside from celebration the Resurrection of Jesus Christ, Easter also means re-birth and celebrating life in general. That's why a lot of people relate the celebration of Easter with the beginning of spring, when flowers bloom again and animals return from hibernation.
Making your part in the celebration obvious is quite easy, if you decorate your house (and that includes your door!). Welcome your guests and show them how much you appreciate the coming spring by adding Easter door décor.
You can choose to hang a wreath or create garlands and so much more. The sky's the limit when it comes to the decorations you can do!