Cool Ideas for Decorating Your Mantel for Easter in 2023
Easter is fast becoming a holiday that most people in the entire world celebrate. Yes, even non-Christians celebrate the Easter holidays as well. That's because Easter has become a mark of spring's beginning as well. If you're excited for the start of a new season, there's a huge chance that you'll be celebrating the Easter holidays as well!
And one good way of celebrating is to decorate your home for the holiday. Sure, yard decorations are all the rage during Easter because of the Easter egg hunts. But you can also spruce up your interiors. Easter decorated mantels are just one example of how you can do that!
Why Put Up Easter Mantel Decorations?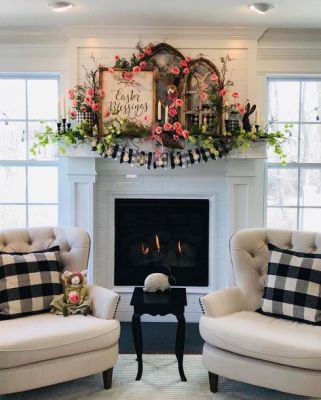 Source: Stone MT
When decorating for Easter, a mantel might not be the first thing you have in mind. After all, Easter egg hunts usually happen outdoors or Easter dinners occur in the dining room. So why should you decorate your mantel for Easter?
Well, mantels are usually found in the great room where you welcome your guests. Make your guests feel right at home during the holiday by sprucing up your great room. Easter-themed decorations on your mantel can help you achieve that.
Plus, a decorated mantel is a great place to pose for family pictures during the holiday! A decorated mantel will definitely look more festive in your photos.
Easter Mantel Décor Ideas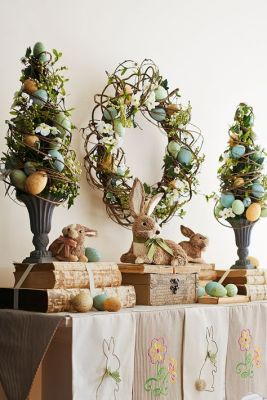 Source: Pier 1
When it comes to Easter mantel décor, you can go wild with your creative ideas. You can choose to go the more traditional route and celebrate the Resurrection of Jesus Christ by putting on a few crosses here and there.
Or another classic way is to add Easter bunnies and eggs on your mantel. You can also go the more secular way of creating a spring-like mini-garden on top of your mantel to honor the beginning of the new season.
Whichever route you go on, the important thing is that you have fun while you're doing it. To help you find inspiration, below are a few ways to decorate your mantel for Easter.
Spring and Easter Mantel Design
Like what was mentioned above, one of the creative things you can do to design your mantel is to go with the simple and non-religious route: celebrate spring.
Easter decorating ideas for your mantel can be super fun if you imagine yourself making an artificial garden above your fireplace. You can add flowers, faux grass, and mini white picket fences— the whole nine yards!
Here are few Easter mantel images to get your creative juices flowing: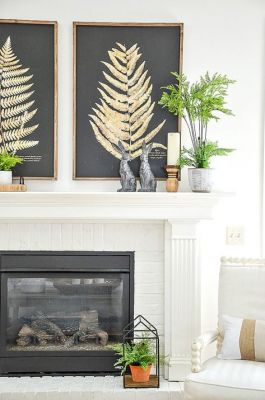 Go for subtle and minimalist by adding leaf and bunny motifs. Source: Stone Gable Blog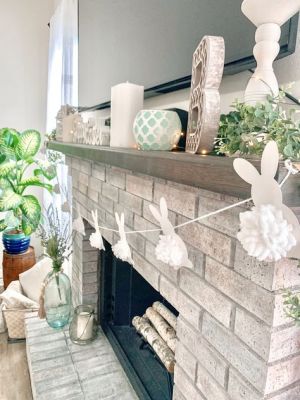 Another simple way to decorate is to hang a white bunny garland. Source: Etsy – BrittAllgoodDesign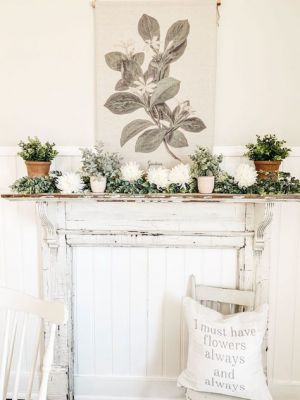 Go for rustic with plain flowers, a bit of greenery, and quote throw pillows. Source: Michaela Diane Designs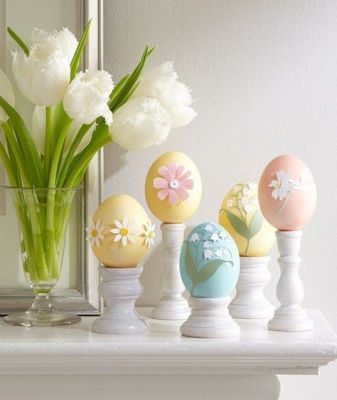 Prop up pastel-colored eggs with floral designs for an adorable look. Source: Growing Up Bilingual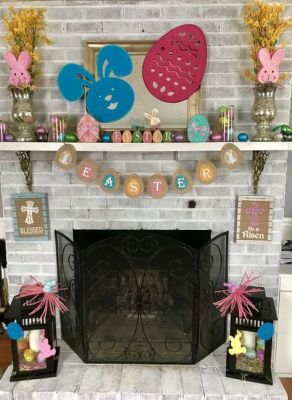 Make use of bright colors and burlap for a fun country vibe. Source: You and Kids
Aside from inspiring photos, here are a few décor items you might want to get for when you decorate your mantel:
Easter Mantel in Green and White
Another way you can decorate your Easter fireplace mantel is to stick to the more natural tones of green and the cleaner shades of white. Both of them work extremely well together since white makes the green tones stand out more clearly.
Here are a few pictures to give you an example: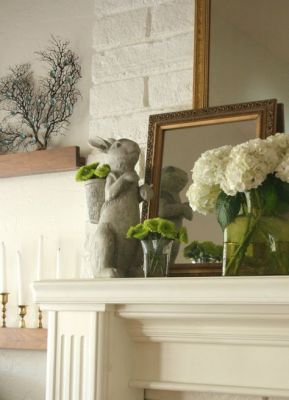 Green and white contrasts beautifully, added with accents of grey, gold, and light wood Source: Ciao Newport Beach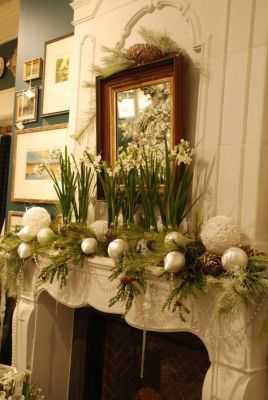 You can also recycle some of your more natural Christmas décor for your spring mantel. Source: Nell Hills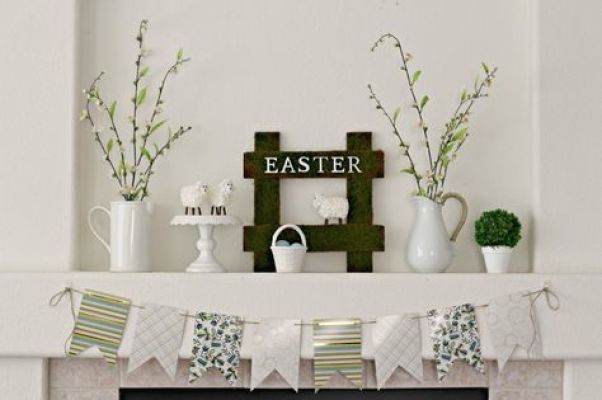 Keep everything clean and simple. Source: Pinterest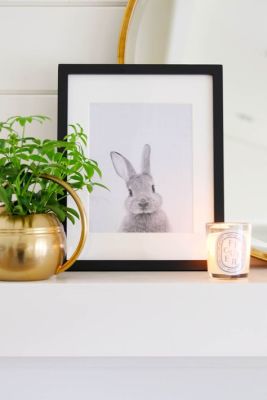 Make the green accents pop up amidst the more neutral colors of your mantel. Source: Modern Glam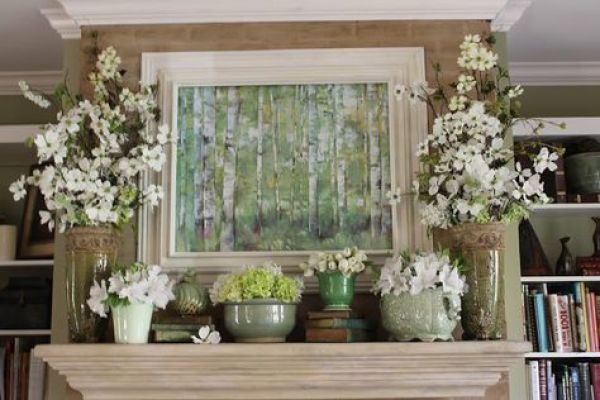 You can also use green as your more dominant color and white as your accent. Source: Pinterest
Easter Bunny Mantel Decorations
Cute Easter mantel decorations can differ widely for various people. Some might prefer going the floral route while others might like the bunny-heavy style better. If you're all for the latter, then this section is perfect for you.
Easter mantel bunnies and mason jars paired together might look cute if you're going for the country vibe. But that's not all the decorations you can do. Check out these photos to see what other designs you can come up with: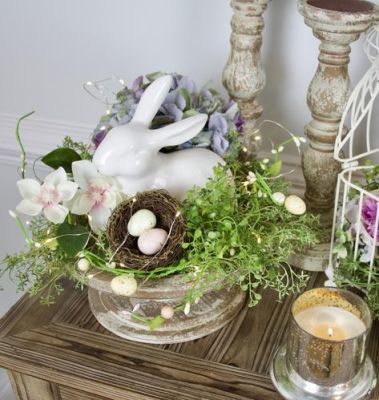 Create your own bunny nest for your mantel. Source: Etsy – SouthernCottageDecor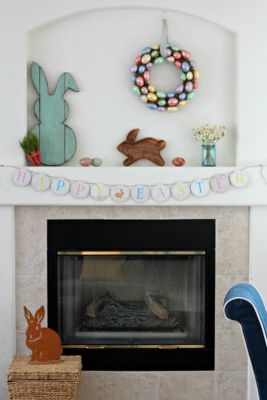 Differently designed bunnies can put together a great minimalist space. Source: Organize Your Stuff Now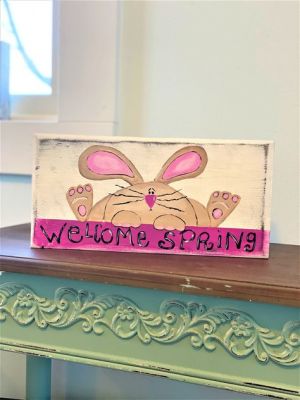 Make your bunny the center of attention by putting a bunny art piece on your mantel. Source: Etsy – SistersInTheWoods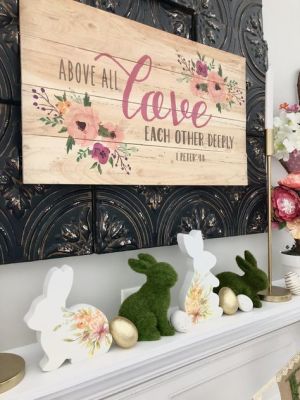 Pair up white bunnies with grass bunnies for an adorable look. Source: Ellery Designs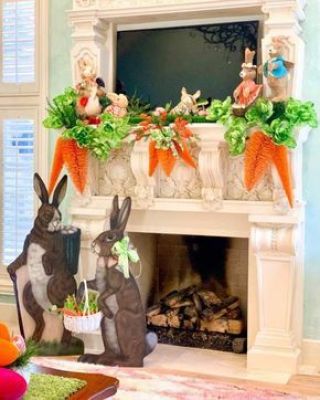 Bring on a family of bunnies over to your mantel. Source: Hike N Dip
To help you get started, here are a few Easter bunny figurines that you can display on your mantel:
Farmhouse Style Easter Mantel
Easter is an excellent holiday to spend with your family in the comfort of your own home. So make sure to design your place to be as homey as possible. One such way to achieve that is to go with a modern farmhouse style.
Here are a few images of how to decorate a mantel, farmhouse style, for Easter: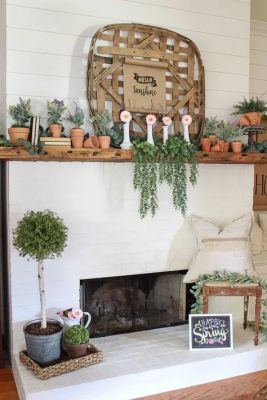 Add tons of terracotta pots to make your mantel look natural and organic. Source: Beauty for Ashes Home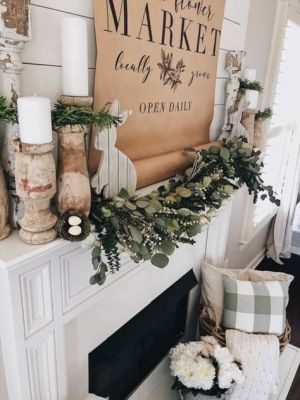 Use kraft paper as your main décor piece. Source: She Gave It A Go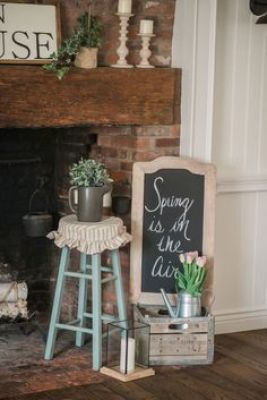 Use a cute blackboard to say your spring message. Source: Lynzy and Co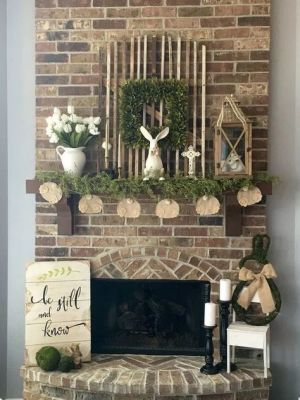 Stick to a natural color palette; like white, brown, and green. Source: The Unlikely Hostess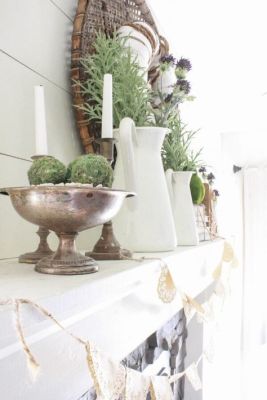 Use vintage looking décor for a more homey vibe. Source: Twelve on Main
Other Ways to Decorate Your Easter Mantel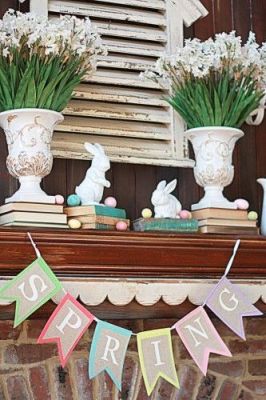 Source: Sugarpie Farmhouse
Aside from the ways mentioned above, there are hundreds of other designs that you can do on your mantel for Easter. It really just depends on the look you're personally going for. That's why it's better to let you explore your creativity, and suggest Easter décor that you can incorporate into your mantel designing project.
Easter Mantel Scarves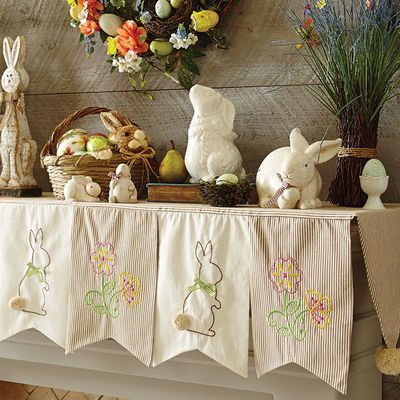 Source: Pier 1
One décor item that can easily change your mantel's look is a fireplace mantel scarf. A scarf can make all your other décor items look put-together. A scarf makes your mantel look more organized and well thought out. That's why it's a good idea to put one!
Here are a few Easter-themed mantel scarves that might look pretty with your chosen design:
Easter Mantel Garland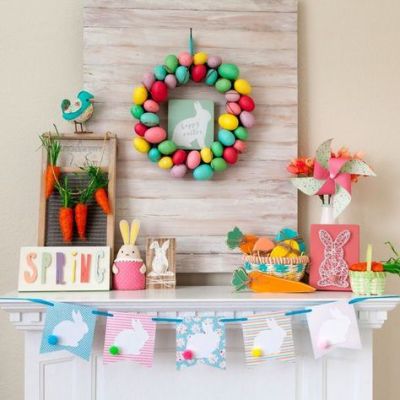 Source: Eighteen 25
One of the easiest decorative items to put up during the Easter holidays is a garland. It instantly looks festive, and you can design any which way. You can even put messages on your banners! Say either 'Happy Easter' or 'Celebrate Spring' with the garlands over your mantel.
You can even DIY this if you want to! But if you prefer to get your garlands pre-made, here are a few awesome choices to check out:
Where Can I Find Décor for Easter Mantel For Sale?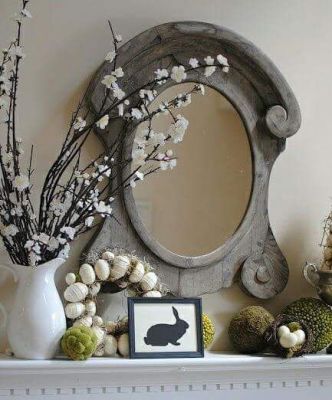 Source: You and Kids
Decorating your mantel with Easter pieces is quite easy. From small figurines to artificial flowers, most of the materials you'll need are widely available in large craft stores like Michaels and Hobby Lobby. You might even find what you need in small, local businesses.
Even larger general stores like Walmart and Target will probably stock a few Easter décor items in their aisles. So make sure to check these places out as well.
But if you prefer to stay within the comforts of your home, you can always do some online shopping. Stores like Amazon and Etsy have tons of choices you can pick from. And the best part? A lot of these décor items are good quality and beautiful!
Here are a few Easter décor items available in Etsy that you can put on your mantel:
Conclusion
As you can see, there are tons of ways to decorate for the Easter holiday. Even something as simple as your fireplace mantel can be spruced up to keep in theme with the entire celebration. Plus, decorating your mantel also doubles as a heartwarming welcome for all your guests during Easter.
So get your creative juices running! Think of how you want your mantel to look like this Easter, and buy all the things you'll need. It's time to get decorating!