Fashion Police - Furniture, Home Decor, Interior Design & Gift Ideas
Fashion Police is a show notorious for judging the outfits worn by Hollywood's hottest and brightest. No one is exempt from getting criticism but when they praise you, hallelujah! Aside from the juicy gossip and entertaining comments, Fashion Police is also popular for its amazingly chic studio set.
For the latter seasons, their set was revamped and designed by well-known American designer Jonathan Adler. A long-time fan of the show, Adler was ecstatic when he got the chance to design the new set of Fashion Police. In fact, this Hollywood Dream of room is full of beautiful pieces straight from his catalogue.
Fashion Police Main Set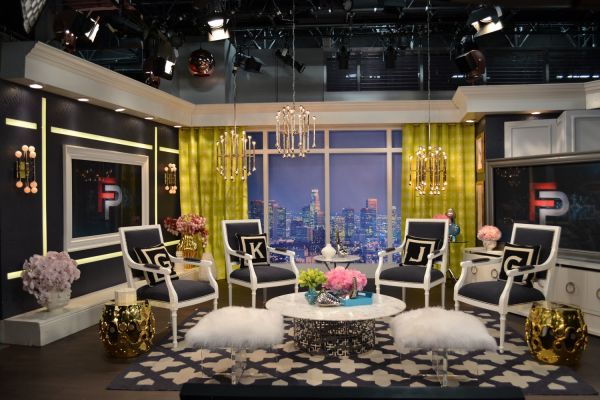 A beautiful shot of the Fashion Police set designed by Jonathan Adler. It features signature furniture pieces like his sheepskin ottoman and reversible letter throw pillows.
Similar Item: Langley Street Meredith 20-Light Sputnik Chandelier from Wayfair
Similar Item: Comfyheavenpillows Navy Monogram Pillow from Etsy
Similar Item: AS Quality Rugs Luxury Modern Rugs, Black Morrocan Trellis from Amazon
Similar Item: YumanMod Rose Genuine Leather Upholstered Dining Chair from Wayfair
Similar Item: Everly Quinn Grannis Coffee Table from Wayfair
Similar Item: Mercer41 Evonne Ottoman from Wayfair
Similar Item: Willa Arlo Interiors Marisol End Table from Wayfair
Comfy Fashion Police Set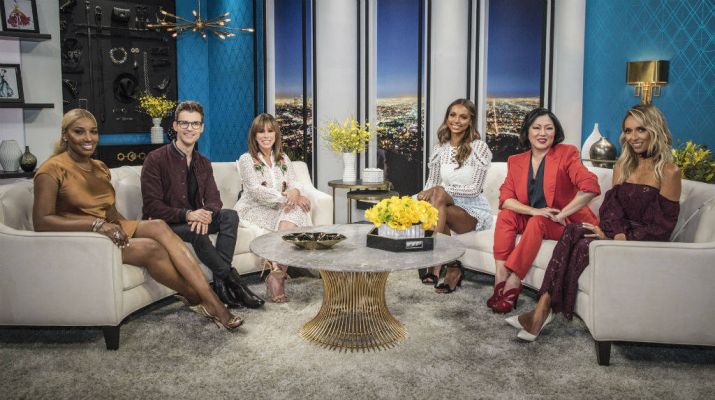 The Fashion Police Officers with their guests all sitting on white curved sofas on the set.
About Fashion Police
Fashion Police is a weekly celebrity talk show first released in 2002 and ended in 2017. One of its co-creators and co-hostess was Joan Rivers.
She was joined by three more as main hosts of the show: Giuliana Rancic, George Kotsiopoulos, and Kelly Osbourne.
The following are credited for the most number of episodes worked for the show in their chosen fields:
Directed by Tisha Greco
Production Design by Catherine L. White (1 episode)
Art Direction by Dwayne Brugess
Set Direction by Emily E.A. Baker (1 episode)
The pictures used in this article in connection with the series, Fashion Police, is owned by E! and all other owners of the show.