A Clockwork Orange - Furniture, Home Decor, Interior Design & Gift Ideas
No one can deny the beauty and originality that Stanley Kubrick brings to his films, especially his artistic set designs. Case in point is the retro yet sexual theme he favored in A Clockwork Orange.
While it's true that most of his design choices were unique (case in point, the spiky quilt on Alex's bed), some key pieces are also controversial like the phallic sculpture and the Jesus statue.
There are many outstanding sets that you can take inspiration with on the film, like the record shop or even the simple yet iconic 'Home' sign.
For more encouragement, here are a few Clockwork Orange pieces you might want for your space:
A Room Full of Cats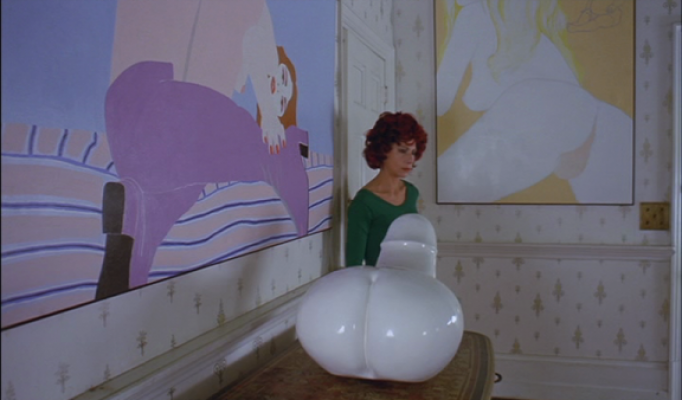 The Cat Room scene, featuring the phallic/penis statue made by Herman Makkink on the table.
Alex's Bedroom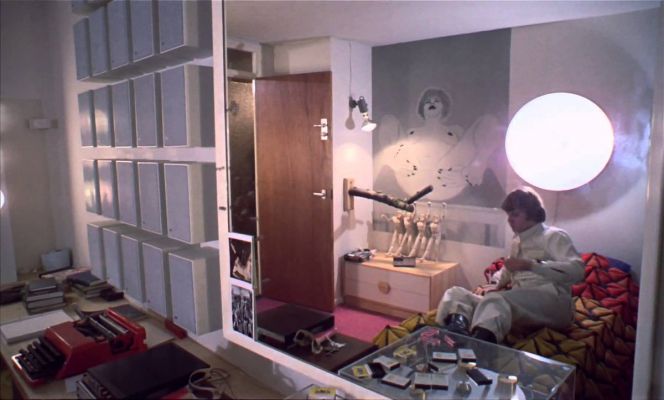 Alex's messy bedroom features a lot of quirky treasures, like the dancing Jesus statue, the Reference Hydraulic record player, the red Valentine typewriter, and the spiky quilt bedspread.
Similar Item: PICCOCASA Flannel Fleece Microfiber Blanket, Orange mbre from Amazon
Alex in his Room Again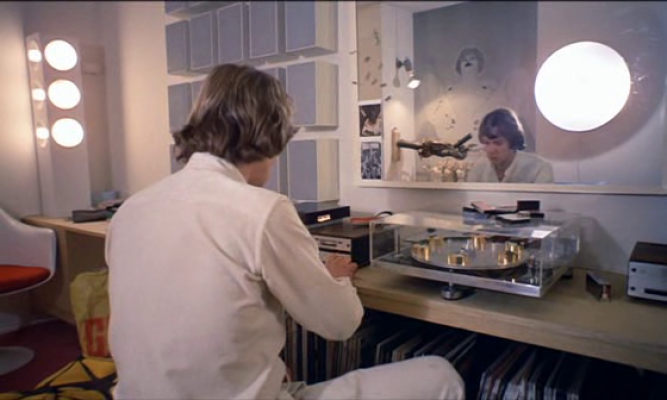 Alex fiddling with Transcriptor in his room. Tulip Arm Chair seen on left.
Similar Item: Langley Street Gracie Side Chair from Wayfair
Similar Item: Crosley Electronics Turntable from Wayfair
Check Stock: Monitor Audio SoundFrame 1 On-Wall, Piano White.
Staying in the Milk Bar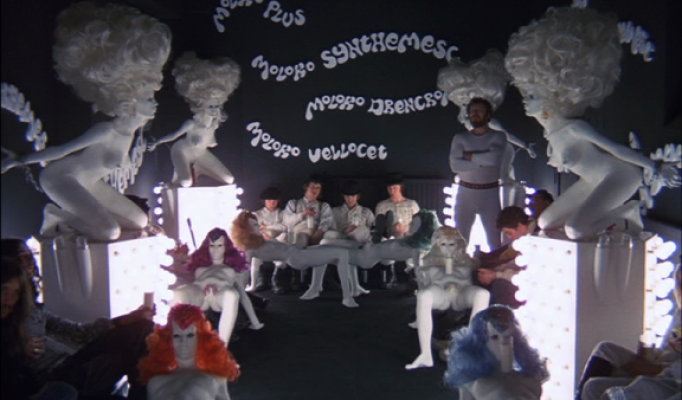 Alex and his droogs in the milk bar, with the disturbingly iconic milk bar table in front of them.
Wrecking Home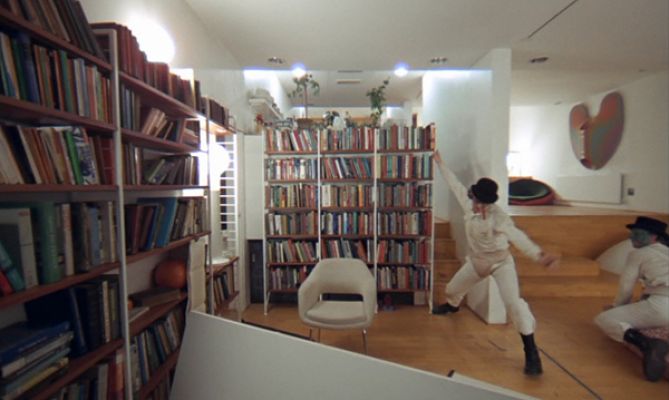 Alex and his droogs wreak havoc in the Home, a lone Eero Saarinen executive chair in the middle.
Similar Item: Langley Street Whiteabbey Side Chair from Wayfair
Breakfast at Home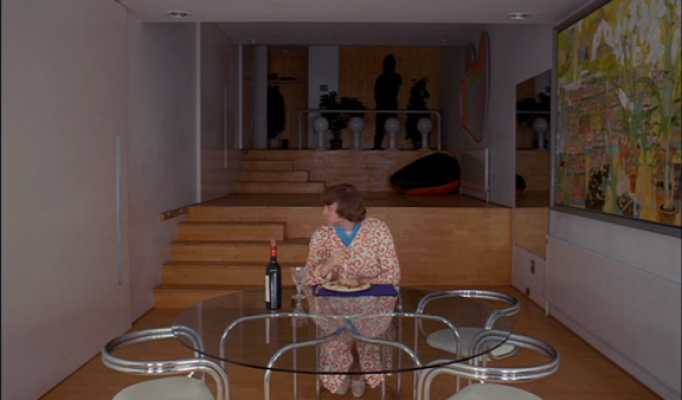 Alex eating a meal in the dining room at Home.
Similar Item: Orren Ellis Destan Contemporary Dining Table from Wayfair
Beautiful Women Paintings Hanging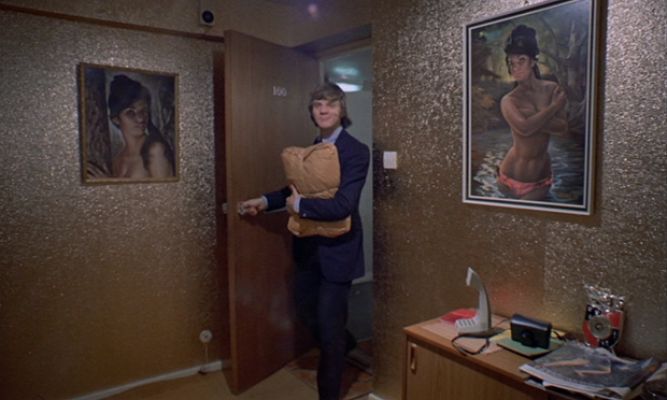 Alex, going inside the room, J. H. Lynch paintings hanging on the wall.
Hallway at Home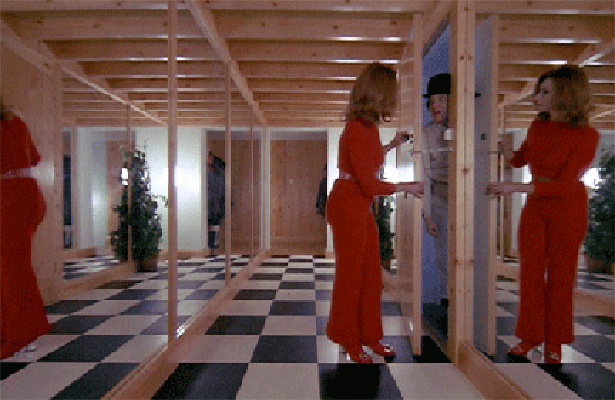 A shot where the black and white checkered floor of the Home's hallway can be seen.
Alex and his Bowler Hat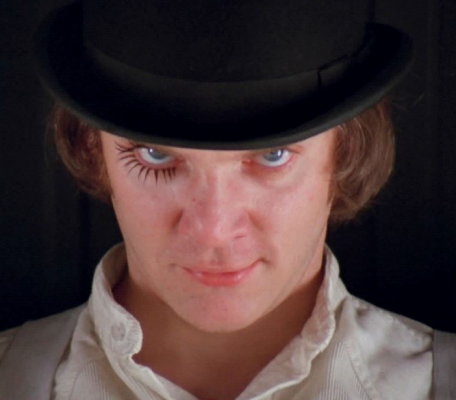 A close up shot of Alex wearing his bowler hat and long lashes in one way.
Gift Ideas for Fans
Clockwork Orange Vintage-Inspired Coasters
Clockwork Orange VHS Lamp
Clockwork Orange Milk Bar Sign
Clockwork Orange Teapot
About Clockwork Orange
A Clockwork Orange is a Sci-Fi Crime film released in 1971, and was directed by Stanley Kubrick.
Its main character, Alex, was played by Malcom McDowell.
Production Design by John Barry
Art Direction by Russell Hagg and Peter Shields
Costume Design by Milena Canonero
The pictures used in this article in connection with the movie, A Clockwork Orange, is owned by Warner Bros. and all other owners of the show.