How to Decorate Your Home for Your Christmas Party in 2023
Christmas is a lot of people's favorite holiday, and that comes as no surprise. With almost everyone celebrating Christmas, parties are bound to happen sooner or later. In fact, you might even be planning on hosting one at your own home.
If that's the case, then décor for Christmas Party should be a priority for you a few days before the big day. There are many ways to decorate your home for a party. You can jazz up your walls, create a stage, place a buffet table, and many more.
Read on below to discover new tips and tricks on how you can design your home for the hippest Christmas party ever!
Why Put Up Christmas Party Decor?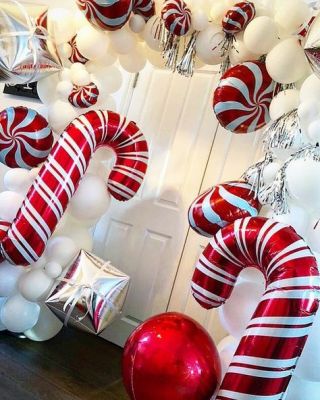 Source: Pop Top UK
Christmas is the perfect holiday to spend with loved ones and friends. Aside from summer vacation, this is probably the time of year where most of you are free to hang out with each other. Sometimes going over someone's house to chat and eat is enough.
But isn't it more fun to throw a party all out? Christmas holiday party décor can really give you the right holiday vibes and make get-togethers all the more fun! With holiday décor adorning your party area, you can really get into the spirit of Christmas and enjoy the day/night with your friends!
Christmas Party Décor Ideas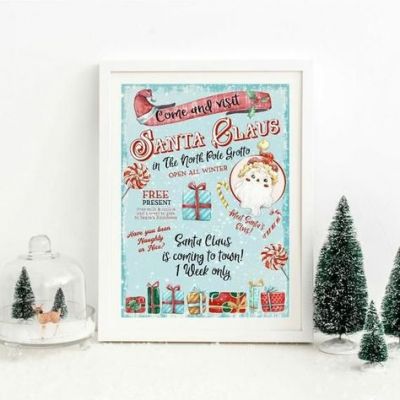 Source: Christmas App Promotion Store
There are many ways to put up Christmas party decoration in your home. You can easily buy them ready-made or even make your own with craft materials. You can also choose from a wide variety of Christmas themes, from pure white snowflakes for a Winter Wonderland theme or little hats and pointy footwear décor for a Santa's Workshop vibe.
Check out the décor ideas below for more inspiration!
Wall Décor for Christmas Party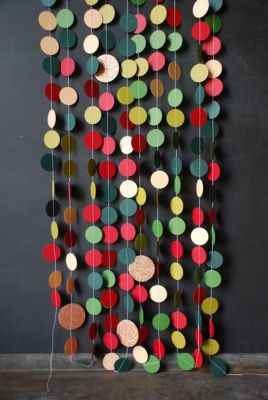 Source: Brit
One part of your house that is easy to decorate is your wall. You can change up the look of a room by adding Christmas party wall décor. You can choose to make backdrops for DIY photo booths or just make your wall interesting for nice-looking backgrounds. It's all up to you!
Here are some wall décor that can help you create the best look for your party:
Stage Décor for Christmas Party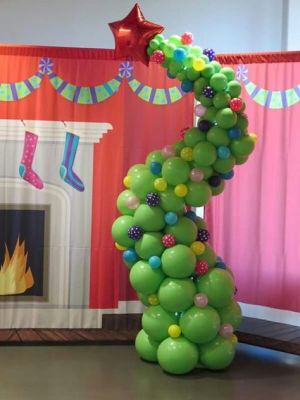 Source: Mimi's Dollhouse
Sometimes typical Christmas home party décor is not enough. When you're going to host a party in the office or a huge gathering of people, making a stage is necessary. After all, you're going to have enjoyable entertainment for your guests.
As such, you will need to make sure that your stage is set up for the best Christmas party look ever! Here are some materials that may prove useful:
DIY Christmas Party Decor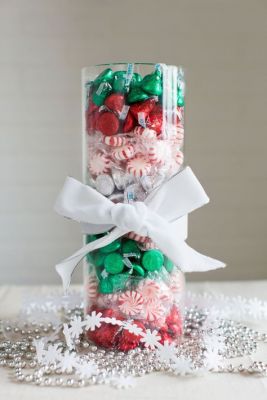 Source: Country Living
DIY Christmas décor for your party is a great idea if you're on a tight budget. After all, raw materials tend to be more affordable than ready-made decorations. If you have the time to make your own décor, go for it. You can even make it a bonding activity between you and your loved ones. Kids, especially, will enjoy making decorations with you.
Here are some of the things you might like to start with:
Christmas Party Table Decor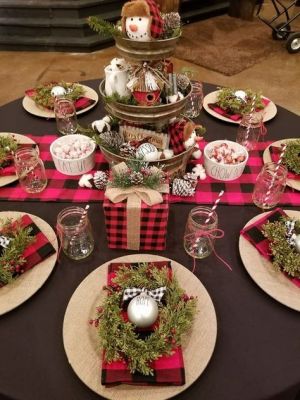 Source: Farmhouse By Design
When there's a Christmas party, there is food. Even your dining area needs a little attention so make sure you decorate well for the holiday. In fact, below are a few table décor ideas for your Christmas party!
Christmas Party Buffet Decor
If you want to know how to decorate a buffet table for your Christmas party, then you've come to the right place. Adding décor to where the food will placed is a good idea since all the guests will definitely visit there at least once. You can really get them into the spirit of the party if you add décor here.
Just look at the pictures below to find inspiration for your own buffet table: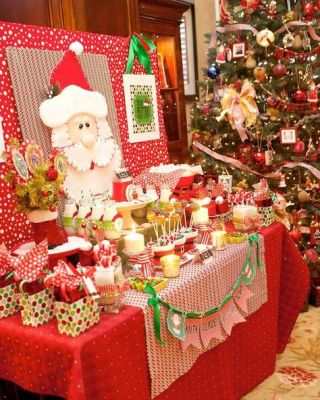 Look jolly with all the reds and a big Santa on your table! Source: Tutus Para Fiestas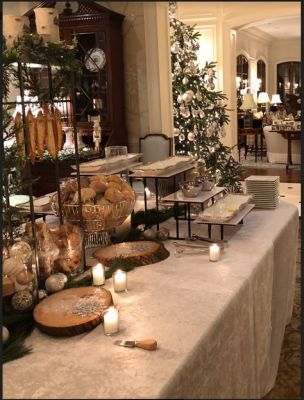 Rustic vibes can be one through simple white plates, wooden stands, and green décor. Source: Enchanted Home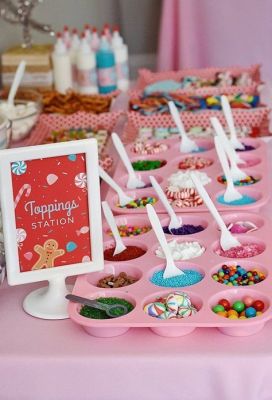 Use cupcake molds for your toppings! Source: Etsy – EmilyEntertains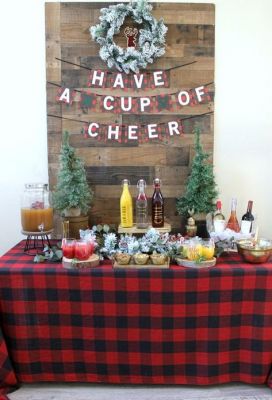 Wood and red plaid will look great for country Christmas parties! Source: TraveldWorld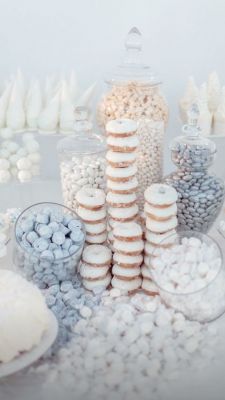 Use clear acrylics and white cake stands for a Winter Wonderland party! Source: Seventeen
They're so awesome, right? To help you make your own buffet table as impressive, below are materials on how to decorate a table for Christmas party:
Christmas Cocktail Party Table Decor
Some Christmas parties are bigger than others, with guest lists that are longer than some. So it's not surprising if you need to take turns seating on the available tables and chairs. A great Christmas party idea is to place a few cocktail tables where some of your guests can hang out while waiting.
New to cocktail tables? Below are some pictures of how you can decorate them for the event: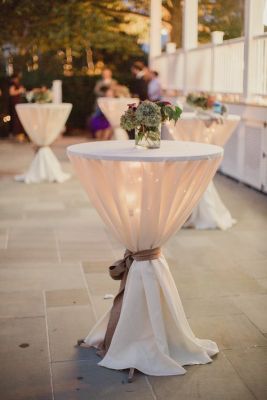 Use fairy lights to make your cocktail table stand out! Source: My Wedding HQS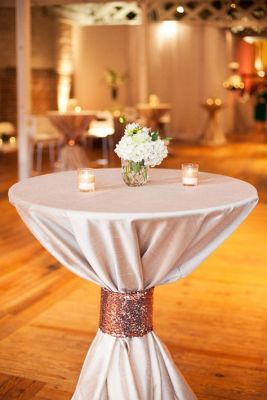 Use a shimmery fabric as the ribbon of your table to look more festive! Source: Mrs. Freund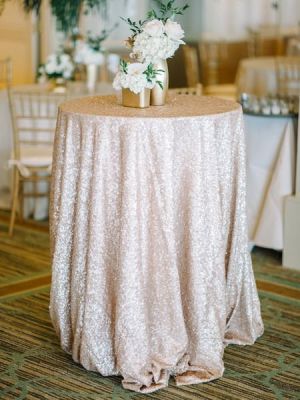 Think about going ribonless for a more unique look! Source: Wedding Wire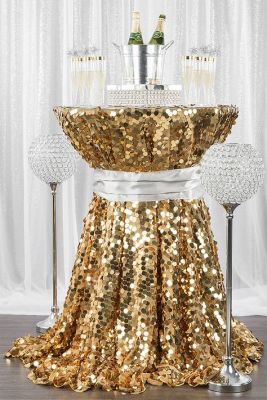 For maximum effect, choose shiny fabrics for a glitzy look! Source: CV Linens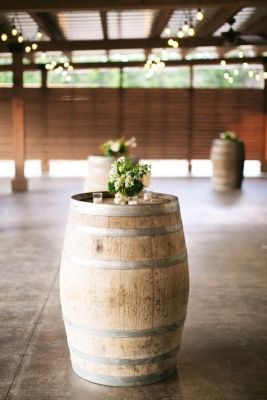 Barrels look perfect for rustic parties! Source: Wedding Wire
Now that you have some ideas on how you can decorate your cocktail tables, you'll need a few materials. Check out the ones below, and you might just find what you're looking for!
Christmas Décor For Office Party
Like what was mentioned above, you might be planning a Christmas party for your office. Decorating for a workplace tends to be a bit different than decorating for your home. Usually you'll be working with a limited budget which you'll need to stretch to accommodate a big space.
To give you some inspiration on how you can creatively spruce up your office area, here are a few examples: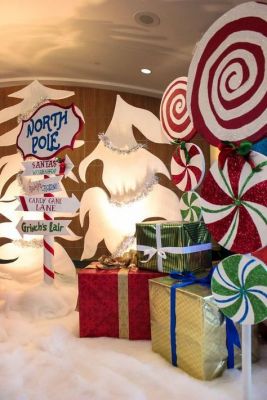 Create your own North Pole! Source: PopTop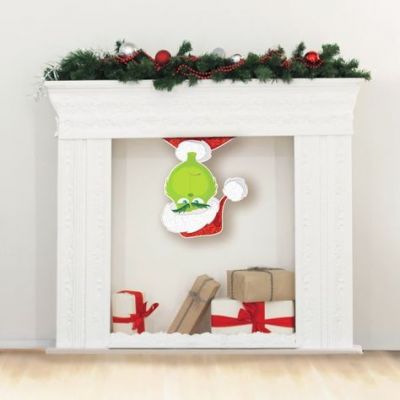 Make your own fireplace with Grinch christmas party décor! Source: Party City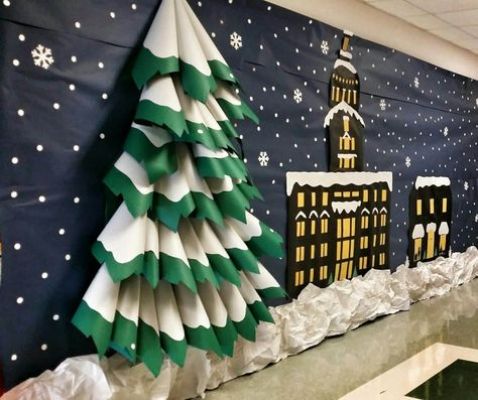 Use paper to make a christmas mural! Source: The Architecture Designs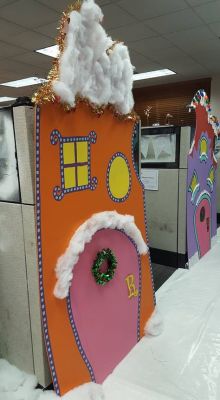 Be creative and turn your cubicle into Christmas houses! Source: Blogspot – Office Decors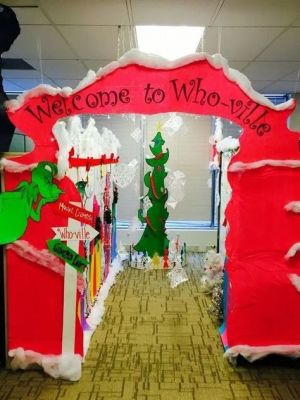 Turn your entire area into Who-ville!Source: Rewno – Christmas Decorations DIY
Kids Christmas Party Decor
When planning Christmas parties, you'll also need to take into accounts kids. The kids in your family will definitely appreciate the tiny details you make to include them in the special event. Here are few cool ways to do just that: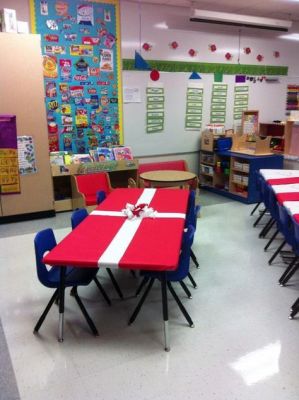 Design your classroom tables to look like gifts. Source: Homeroom Mom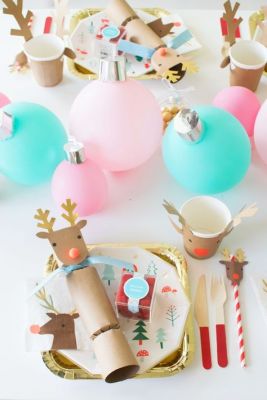 Use paper to decorate your utensils. Source: Twinkle Twinkle Little Party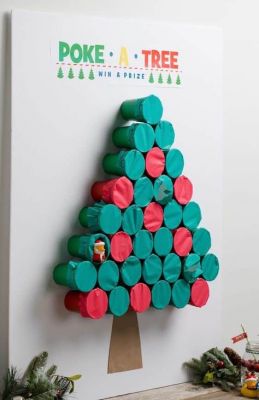 Hit two birds with one stone and use paper cups as decoration and a game! Source: Awesome Jelly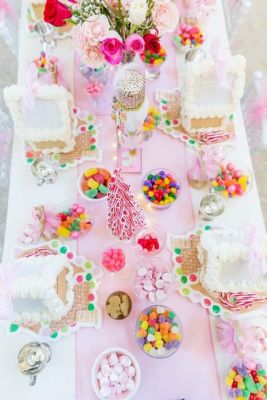 Let your kids exercise their creativity through a gingerbread party! Source: Momooze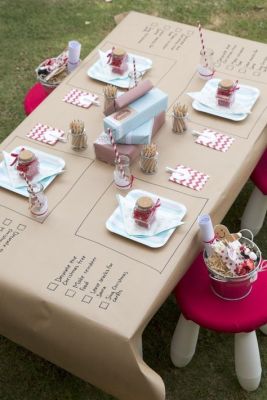 Use kraft paper as table cloth so that your kids can draw on it. Source: Gravetics
Other Christmas Party Themes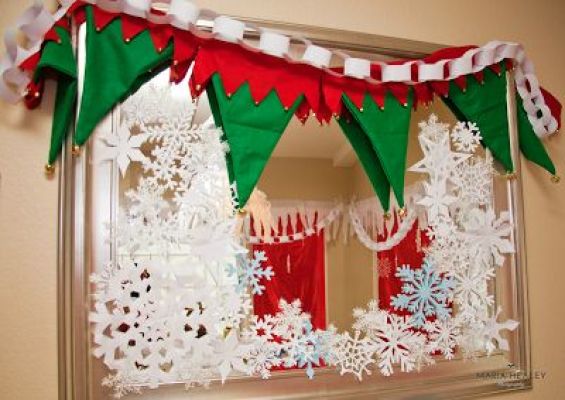 Source: Made By A Princess Parties
If you're thinking that red and green is the only theme you can go with when it comes to Christmas parties, think again. One great thing about Christmas is that you can design for it any way you want. Do you want to stick with a classic yet elegant design? Go for Winter Wonderland.
Do you prefer a bit unconventional and dark theme? A Nightmare Before Christmas party will be awesome! Maybe something a bit more reflective to your personality? Mix Christmas elements with your favorite book or movie!
Below are amazing examples on how you can decorate for Christmas this year: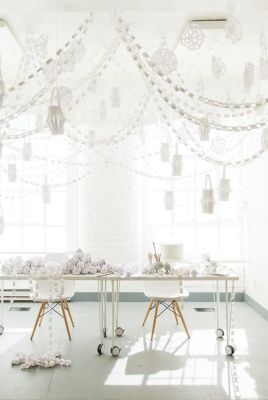 Put up white christmas party décor for a whimsical winter look! Source: The House The Lars Built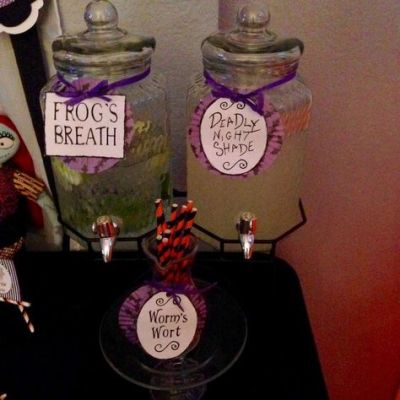 For a freaky Christmas, decorate with Nightmare Before Christmas party décor! *8Source: Catch My Party**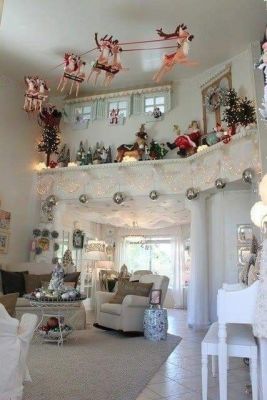 Have a blast from the past with retro christmas party décor. Source: Pinterest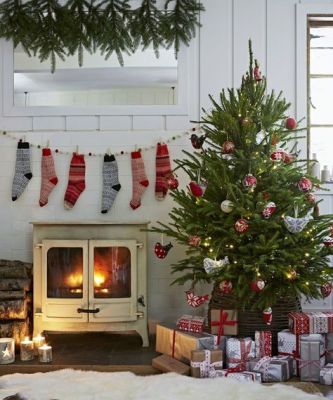 Use country christmas party décor for a rustic and cosy look. Source: Traveld World
Check out some of these materials that you can use for the theme of your choice:
Christmas Party Balloon Decor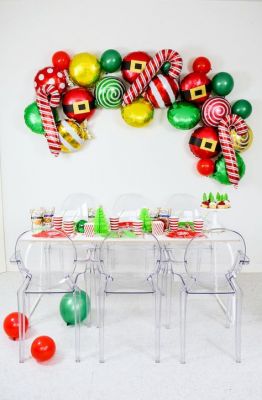 Source: Kara's Party Ideas
A fun and easy way to decorate your space for a Christmas party is to use balloons. Balloons are almost synonymous to celebrations and take up a lot of room so you can really maximize the area with them.
Here are a few cute balloon sets you can use for your party:
Where Can I Find Christmas Party Decor For Sale?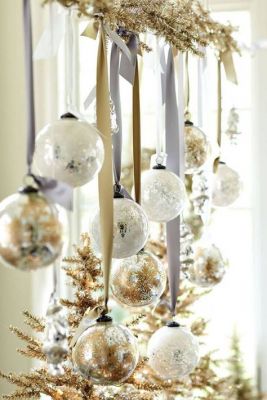 Source: Harper's Bazaar
Buying décor for Christmas parties is easy and effortless. With how universal the holiday is, you'll probably find all the stores selling something Christmas-related. From general stores like Walmart and Target to your local grocery, you can get a fair share of Christmas decorations with no problems at all.
You'll definitely find them in small and big craft stores like Michaels. But if you don't want to venture out of your home, you can always get them online in stores like Amazon and Etsy.
In fact, here are a few beautiful pieces you can get from Etsy:
Conclusion
Christmas parties are almost inevitable during the holidays, and you'll probably need to plan at least one. Make it more fun for your family and friends by putting up Christmas party décor. They'll surely transform your party place into a lively and lovely area!
So what are you waiting for? Choose a party theme and get to decorating the best Christmas party ever!