Easter Centerpiece Ideas for Parties & Decorations in 2023
Easter is a holiday that tons of people celebrate. Some do so to honor the [Resurrection of Jesus Christ. Others celebrate to show appreciation to the start of a new season and the blooming of life around us again after the coldness of winter.
That's why throwing a party is such a great idea! Aside from decorating your entire room, you should also think about putting a pretty Easter centerpiece in the middle of your table. Centerpieces for your Easter table will not only make everything look more on-theme. It can also help keep the mood light and fun for the occasion!
Want to learn more tips on how to decorate with Easter centerpieces? Read on below!
Why Decorate with Easter Centerpieces?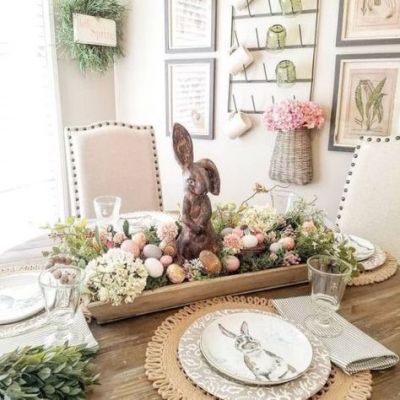 Source: Decorate and More With Tip
An Easter centerpiece for your table isn't just there to look pretty (although it will definitely look beautiful). Decorating for the holidays helps remind everyone of what and why you're celebrating.
They are there to keep your spirits up and to show your guests that they're welcome. People who come in your house and see all the décor that you put up will know that you made the effort to make your house welcoming for them. So make sure to get a few décor items out when throwing a party, no matter how big or small it may be.
Ideas for Table Centerpieces for Easter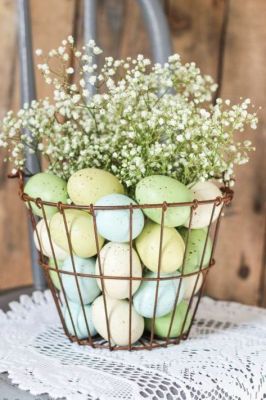 Source: Good Housekeeping
While Easter table centerpieces might not be the most popular décor that you might think of, there are still tons of ways to make one. If you have the time, creating your own table centerpiece for Easter might prove to be a satisfying creative project.
Other times, purchasing a centerpiece might be the easier and more convenient way to go. This is especially true if you lead a very busy life. Whatever route you decide to go on, it's best to know more about your choices.
So here's a few ideas for what you can do for your table centerpieces:
DIY Easter Centerpieces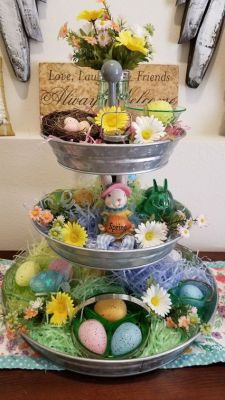 Source: Ethinify
DIY-ing your Easter centerpiece is a personal preference that only you could answer. Sure, you could always search the web for inspiration. But the end result? It all depends on what you want.
Homemade Easter centerpieces can take different shapes. So looking for a step by step guide depends on the design you want to go with. Instead of a guide, here are a few Easter decorations that can help you make your own Easter centerpiece:
| # | Item | Description |
| --- | --- | --- |
| 1 | Artificial Flowers | Make sure to put lots of vibrant flowers to show your love for spring. |
| 2 | Pastel Foam Eggs | Easter isn't complete without colorful eggs. |
| 3 | Easter Bunnies | Use mini Easter bunnies to level up your centerpiece. |
| 4 | Miniature White Fence | Go for a sweet, country vibe with a miniature white fence around your centerpiece. |
| 5 | Pastel Paints | Make sure to paint most of your Easter décor in pastel shades. |
Floral Easter Centerpieces
Another take on Easter décor is to make the most of the flowers around you. Remember, you're also celebrating the beginning of spring which is when most flowers start to bloom again. Easter flower arrangements as your table centerpieces aren't just timely. They're beautiful.
Check out these photos for more centerpiece inspiration: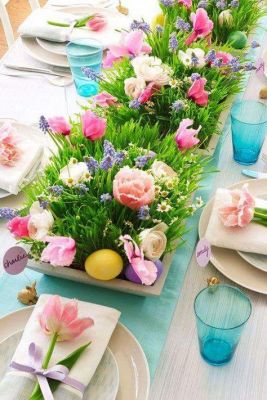 Create your own wild garden! Source: White Décor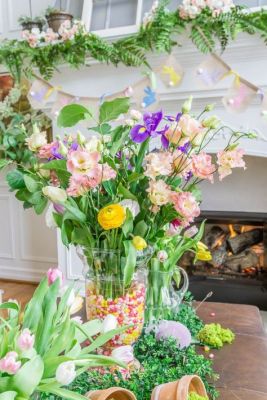 Go for a more natural look with lots of greenery and flowers! Source: Grace in this Space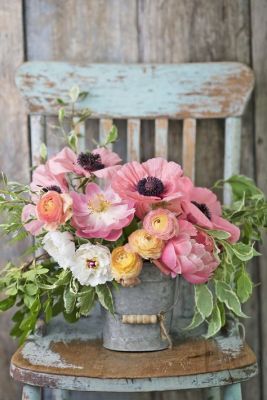 Use a tin bucket to get that rustic country vibe! Source: Country Living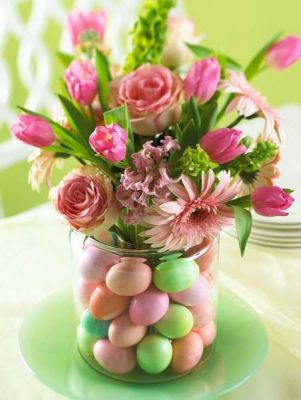 Add Easter eggs under your bouquet for a cute detail! Source: Décor Home Ideas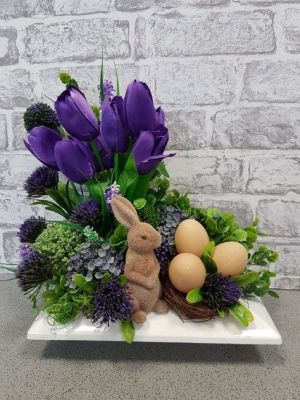 Stick to one color for a dramatic look! Source: Canzone Leave
You can also purchase pre-made floral centerpieces if you lack the time. Here are a few you can buy from Amazon:
Deco Mesh Easter Centerpiece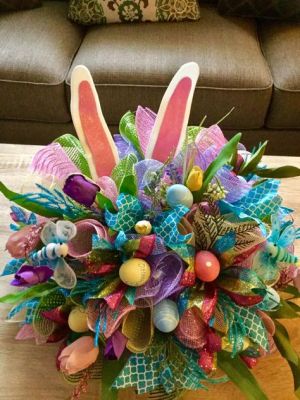 Source: Etsy – WreathsEtc
Deco Mesh is a great idea for Easter table centerpieces. Just like its wreath variety, it's quite simple to do.
You just need to choose which colored mesh ribbons to get, cut them into pieces of similar length, group each piece, and attach them to a base. You can also add other décor items like mini Easter eggs and bunnies to make it more personal.
Here are some materials that you might need:
Easter Candy Centerpieces
Decorating for your Easter party is fun. But you know what would be more fun? If you put some edible decorations as well. Edible Easter centerpieces will be a great hit with both adults and kids.
Here are a few photos for inspiration: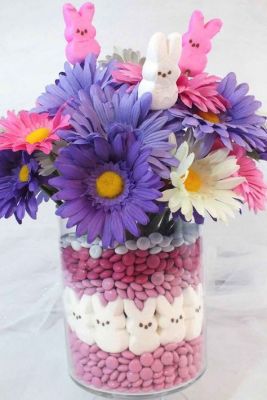 Go for pink M&M's and white Easter bunny marshmallows as fillers for your vase! Source: Woman's Day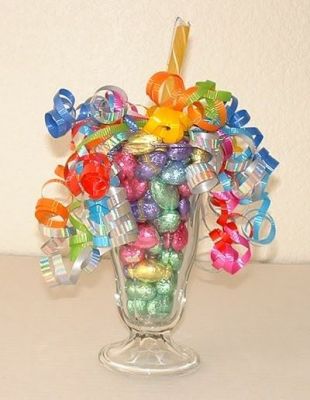 Hide chocolate eggs inside your vase! Source: How to Make Edible Bouquets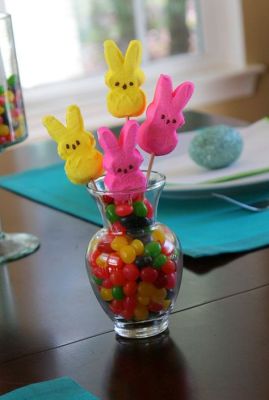 Fill small vases with jellybeans and marshmallows! Source: Bonbon Rose Girls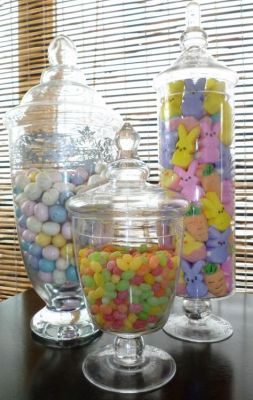 Different shaped containers full of Easter candies are great centerpieces as well! Source: Rodger Jennings

Use actual flower pots to house your chocolates and marshmallows! Source: Home Midi
Need to stock up on your candies? Amazon has got you covered:
Elegant Easter Table Centerpieces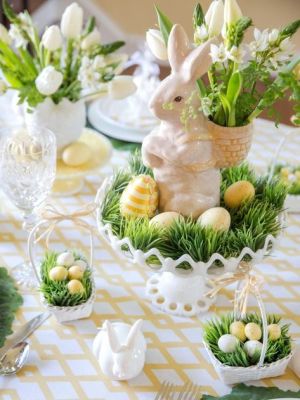 Source: Shairoom
Since Easter is a time of new beginnings, some parties thrown during this holiday are more important than others. May it be your wedding, anniversary, or birthday, make sure your decorations are as elegant as possible.
Easter Wedding Table Centerpieces
Your Easter wedding is one of the most important days of your lives. So even the smallest details in the decorations must look nice. Make sure that your wedding table centerpieces look immaculate. After all, they'll be immortalized in your wedding pictures.
Here are some table centerpieces you can put in your wedding: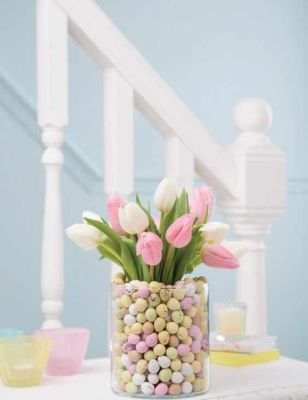 Go with simple tulips and pastel eggs! Source: You and Your Weddin

Stick to simple and classic! Source: Tidewater and Tulle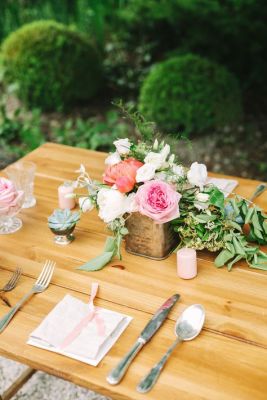 Tin cans, flowers, and light wood are the perfect details for a spring wedding! Source: 100 Layer Cake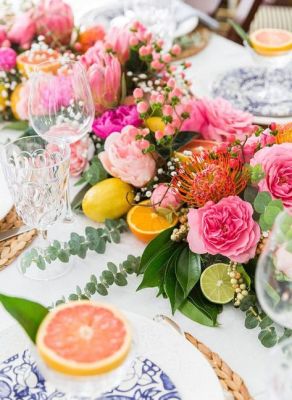 Mix in fruits with your flowers for a wild look! Source: Country Living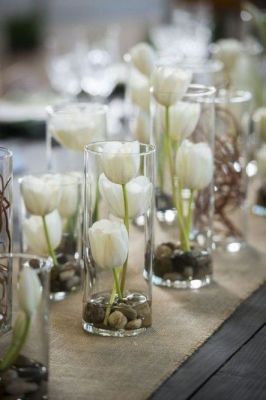 Simple white tulips can look extravagant in a clear vase! Source: Best Womanz
To help you make your own elegant spring wedding table centerpieces, here are some materials you can get:
Easter Centerpiece Ideas for Kids
The great thing about doing your centerpieces with your kids is the bonding experience. Plus, easy to make Easter centerpieces are simpler to do and prepare for. Just make sure to clean up after your project is done.
Here are a few examples of what you can do with your kids: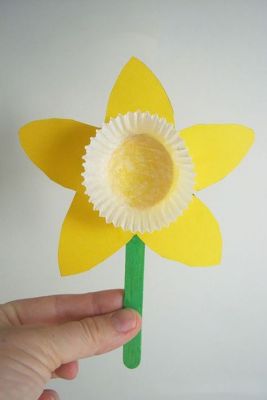 Use cut-out sunflowers for your centerpiece! Source: Country Living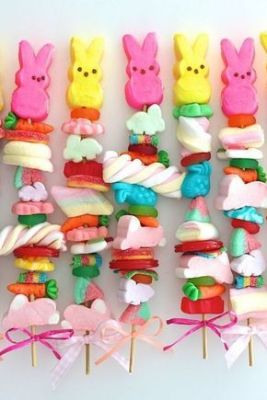 Make a bouquet of skewered candies, and have your kids help you! Source: Womans Day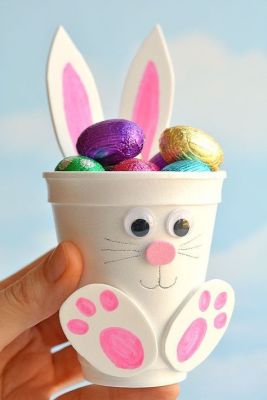 Make a bunny vase for your chocolates using a Styrofoam cup! Source: Recipes Uygunkredicek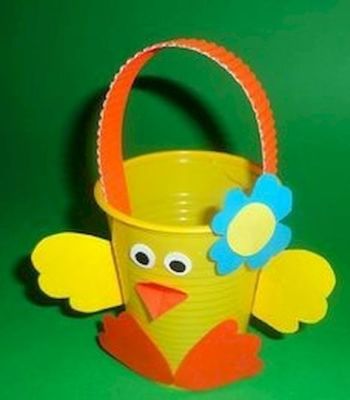 If you can use styro, you can also make spring chicks with plastic cups! Source: Googo Décor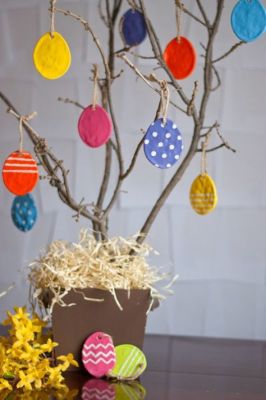 Ask your kids to paint egg-shaped ornaments that you can hang! Source: Family Holiday
Simple Easter Centerpiece Ideas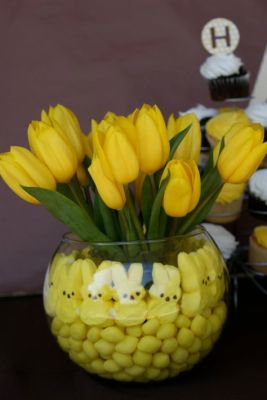 Source: Ethinify
There are many ways to make simple centerpieces for Easter. But the simplest of them all is to just buy some. If you're truly busy, there's nothing wrong with purchasing pre-made Easter décor. In fact, most people will probably go that route.
So below is an example of how you can decorate a few pre-made products.
How to Decorate Easter Egg Tree Centerpiece

Source: Search Homee
Easter egg trees are a great centerpiece since you need only one and you're good to go. Plus, they're easy to decorate. You just need colorful string and Easter eggs. After hanging your eggs, you're good to go.
Here are a few trees you can buy from Amazon:
Where Can I Find Easter Centerpieces For Sale?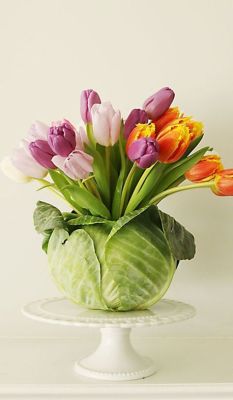 Source: Country Living
Most Easter centerpieces might not be available as is in a lot of stores. But don't be discouraged. A lot of the materials you need will probably be available in large craft stores like Michaels and Hobby Lobby. You might even find some of the materials in your local dollar store.
It's also a safe bet to say that the materials you might need is also in stock in general stores like Walmart and Target. But if you'd rather get your cheap Easter centerpiece ideas online, don't worry. You can still get a lot of them from Amazon and Etsy.
In fact, here are a few centerpiece materials you can get from Etsy:
Conclusion
Easter is a fun holiday to celebrate with your friends and family. So make sure to throw a party and decorate for it. Don't just go for a simple lunch or dinner.
Jazz up the look of your place with Easter décor and table centerpieces. Aside from looking beautiful, these décor will help everyone remember why you're celebrating in the first place! So what are you waiting for? Go and create the perfect table centerpiece for your Easter party today!