Amazing Decorating Ideas for Valentine's Day Party in 2023
If you think that Valentine's Day is only for romantic dates and couple activities, think again! You can also throw a big Valentine's Day party for you and your friends. So you know what you need to do: get on decorating!
Decoration for your Valentine party is easy. You can go the classic route with lots of reds, pinks, hearts, and flowers. But if you're feeling more wild and unconventional, a Singles Appreciation party is also a great idea for the day of hearts.
Whichever way you choose to go, decorating for Valentine's is not a problem. There are tons of places you can go to for décor. Read on below to have more ideas for your own party!
Why Hold a Party on Valentine's Day?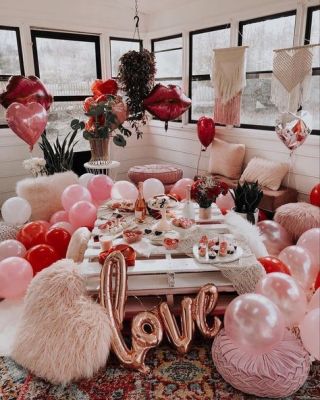 Source: Chanel Moving Forward
The great thing about Valentine's Day is that it's for everyone. Whatever the age you're in or the gender you identify with, you can celebrate Valentine's Day the way you want. Valentine party decorating can be effortless, but you have to keep in mind your audience.
Valentine party decoration ideas for adults might differ for a party with kids in attendance. An adult party can be more sophisticated and serious, or more wild and naughty. Where areas, a Valentine's Day kids party should be centered on having fun. You can even have a cookie decorating party or an arts and crafts party.
See, Valentine's Day is a holiday that is super fun to decorate for everyone. So get on with your designing!
Valentine Days Decoration for Party At Home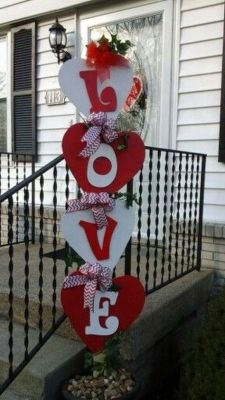 Source: Moes House Inspire
Now that you know how different you can decorate for your party, it's time to choose a theme. For the purposes of this article, let's say you chose to go the classic route. Now, it's time for decorating for Valentine party ideas centered on your home.
You can actually put up Valentine décor in almost every room of your house. From your front porch to the guest bathroom, it's possible to dress it up for the month of love.
So below are a few places you can start with.
Mantel Decorating Ideas for Valentine's Day Party
One part of the house that most guests will see is the living room. That's the main room that you entertain them in. Needless to say, your Valentine's party decoration should also encompass this room.
But designing the whole room can be too over-the-top especially if you're just doing a humble gathering. Why not decorate only the mantel? Since it's the center of the room anyway, it'd feel like the entire living area is prepped for the occasion.
Below are a few awesome examples of mantel decorations for Valentine's Day.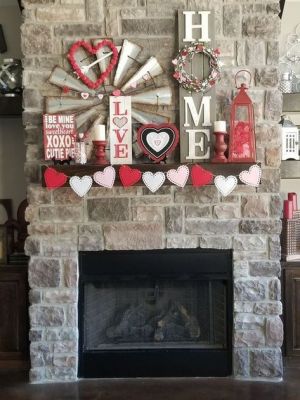 Source: Lova Homy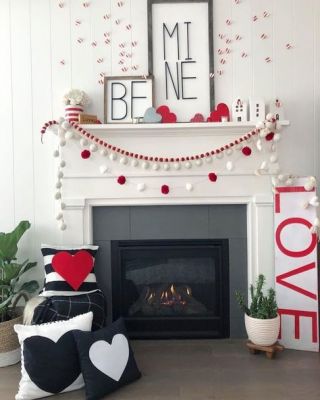 Source: 10 Veeds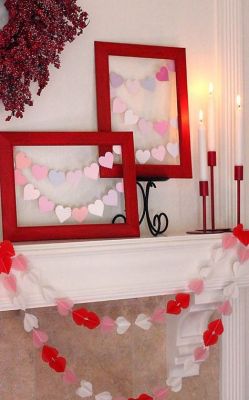 Source: Valentines Day – Big Hobby World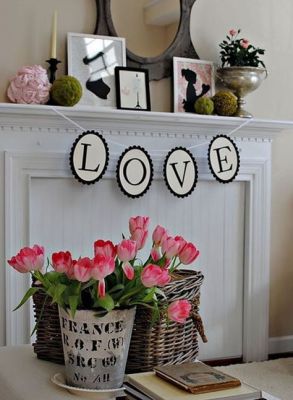 Source: Lova Homy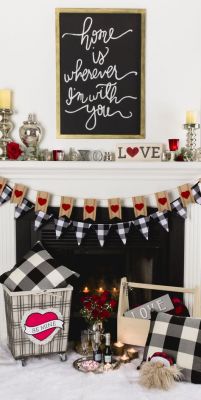 Source: Kippi At Home
Valentine Wall Decoration Ideas for Party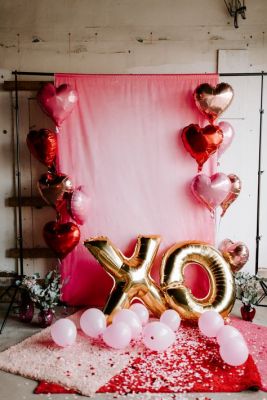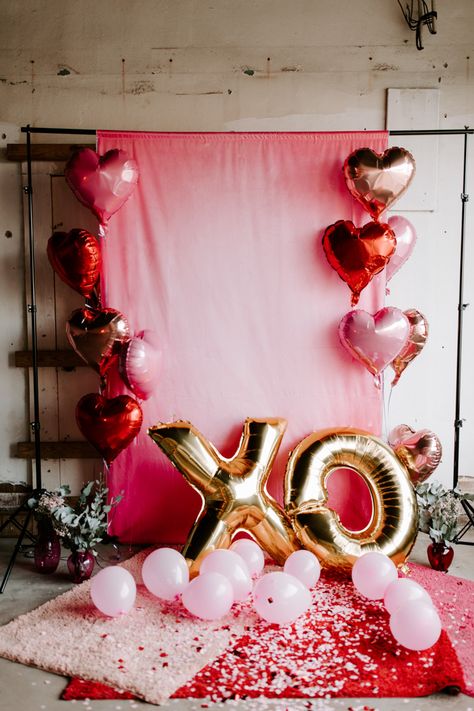 Source: June Bug Weddings
You should also think of Valentine's decoration ideas for parties that you can put on your walls. They can do a lot to make a room look more themed and popping.
Of course, there are tons of ways you could this. There are garlands to be put up or hanging signs. You can hang framed Valentine-themed art or stick heart stickers on your wall.
To help you on your quest to find the perfect wall decoration, here are some things you can get from Amazon:
Valentine Party Table Decoration Ideas
Well, every successful party should have its own table for food. Sure, you can probably just serve the food and be done with it. But it's Valentine's Day! Put a little more effort by designing your table in theme with the holiday.
Here are some Valentine's Day party decoration ideas for your table set-up. They will surely be instant hits with your friends and family!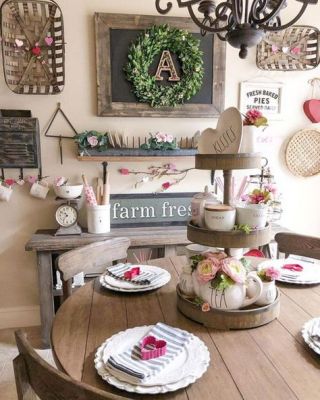 Enjoy a rustic Valentine breakfast! Source: Sumcoco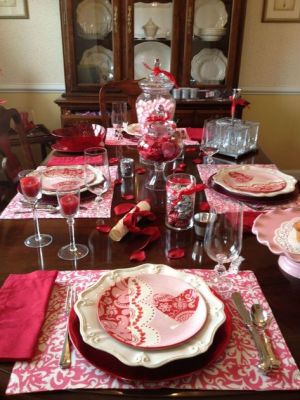 Red and Pink are always a safe motif to go for! Source: Homey Homee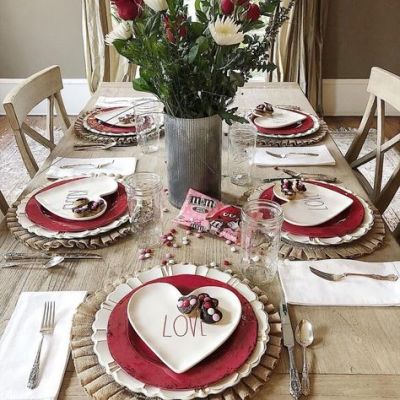 Spell your love with these awesome plates! Source: Pimp Homee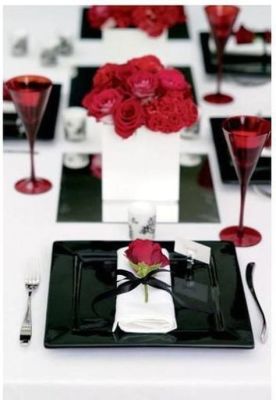 Go for elegant with blacks, whites, and reds! Source: Magz Home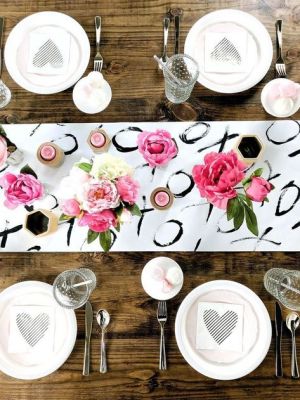 A simple table runner can do wonders! Source: Arin Solange At Home
How to Decorate The Buffet Table For Valentine's Party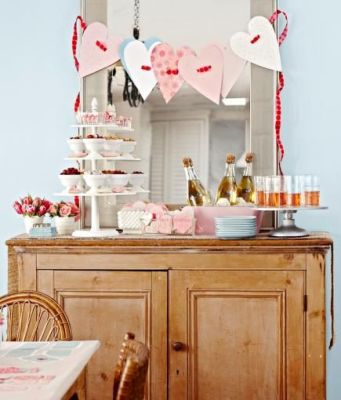 Source: Midwest Living
Aside from the décor you can put on and around your table, it's also a good idea to check out dining things that you can get with a Valentine theme. Sometimes decorating can be tricky if you're busy with work and other stuff.
Instead of getting actual décor pieces, you can also use Valentine-themed dining items to help create a motif for your buffet table.
Start with table runners, plates, place mats, bowls, and other utensils that can typically be used while eating. Here are some things that you can add to your 'To Buy' list:
Valentine Office Party Decoration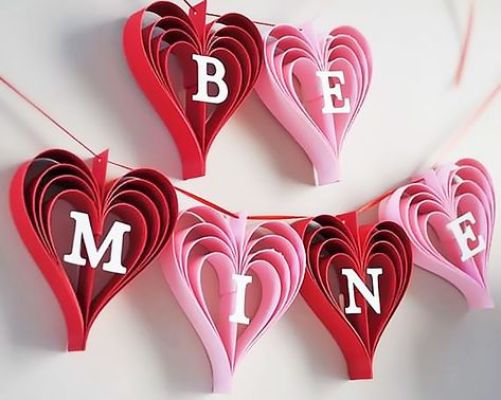 Source: Musings on Momentum
Let's face it. You're probably going to spend more time in the office rather than at home during Valentine's Day (if it falls on a weekday). But that doesn't mean you can't enjoy the spirit of the holiday.
Why don't you organize a Valentine's Day party at work and invite your co-workers to decorate your office with you? Valentine's party decoration ideas for the home can be incorporated to the office as well.
See for yourself by checking out the ones below: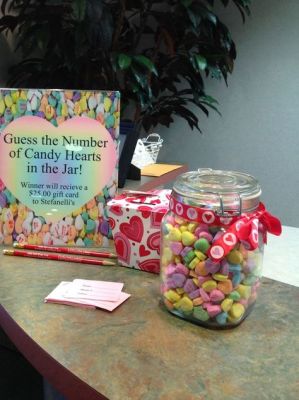 If you can't design your area, play a simple game instead! Source: Valentine's Day – Big Hobby World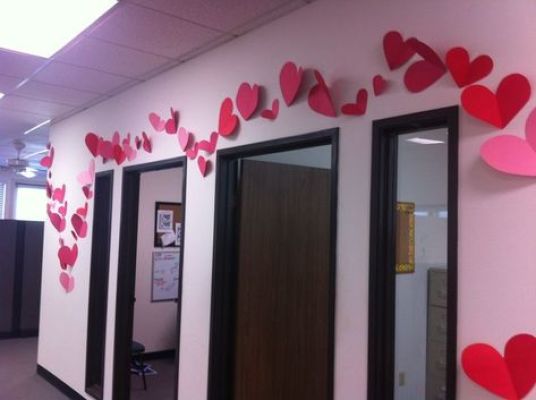 Put up a line of hearts on your walls! Source: Saint Valentin – Décor Fur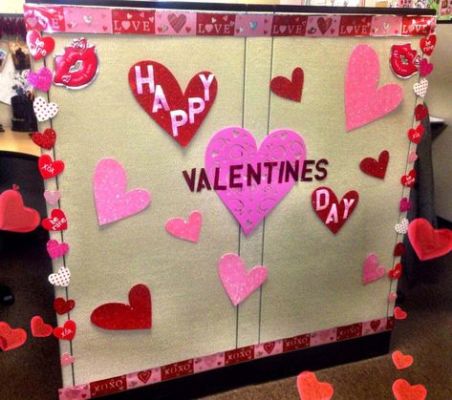 Decorate the entrance to your work area! Source: The Architecture Designs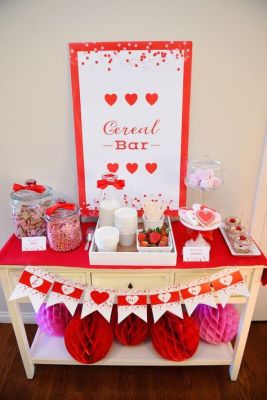 Make the day extra special by having a cereal bar in the pantry! Source: Kara's Party Ideas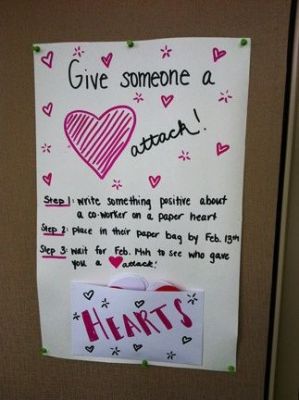 No time to decorate? Make someone smile with a special message instead! Source: Valentine's Day – Istmedya
DIY Valentine's Day Party Decoration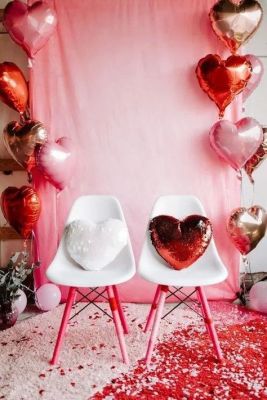 Source: Fugar Sepatula
You now probably have an idea on how numerous decoration ideas for a Valentine's party can be. The easiest way to decorate is to buy the décor items from shops. All you have to do is place them on your room and you're done.
But that's not the most affordable route. If you have the time and are willing to put in the effort, DIY Valentine's decorations are the way to go. You can create lots of different décor like wreaths, garlands, and other arts and crafts.
One thing that you can save up on if you make one of your own is a photo booth for your Valentine's Day party. Here are some of the materials you might need to get to build one:
| # | Item | Description |
| --- | --- | --- |
| 1 | Pink Fabric | Use pink fabric as the backdrop of your photo booth. |
| 2 | Heart-Shaped Balloons | Design your photo booth with different sizes and colors of heart-shaped balloons. |
| 3 | Fake Petals | Create a romantic floor look with fake petals. |
| 4 | Pink Chairs | Stay on theme with pink chairs. |
| 5 | Heart-Shaped Pillow | Use heart-shaped pillows as props for your photo booth. |
Kids Valentine Party Decoration Ideas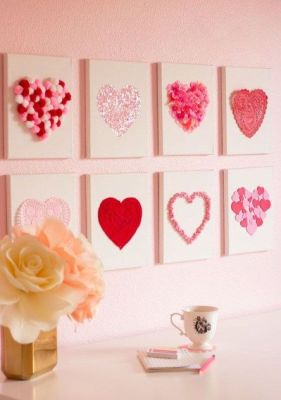 Source: Hoom Design
Even kids can have fun during Valentine's Day. Whether you're staying at home or managing a class full of pre-schoolers, arts and crafts activities can help keep them engaged and busy during Valentine's Day.
You can have them creating greeting cards that can be displayed at home. For a more exciting time, you can also help them decorate their own heart-shaped cookies (which they can give away to friends and family).
To help you get started on thinking about the Valentine's Day activity that your kids can do, here are a few things from Amazon you might find interesting:
Where to Buy Party Decoration For Valentine's Day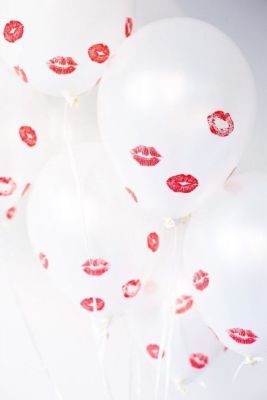 Source: Studio DIY
Valentine's Day is a global phenomenon. Go to any part of the world and they'd probably be celebrating it in their own ways. So when it comes to buying what you need for decorations, it's no problem at all. You can probably buy Valentine décor in any local craft and general store.
Of course, if the small businesses are selling them, you can expect chain stores like Michaels and Hobby Lobby to have Valentine's Day décor on stock as well. Even stores like Walmart and Target would probably have them in their aisles.
If you don't have the time to go to the shops physically, save time and effort by ordering your Valentine's Day décor from online shops like Etsy and Amazon.
In fact, here are a few things from Etsy that can help you with your Valentine's Day party decorations:
Conclusion
Valentine's Day is a holiday that can be celebrated by everyone, young and old alike. It doesn't matter if you're single or in a relationship. Anyone can enjoy Valentine's Day!
That's why hosting a party is quite easy to do since you have a lot of room to think up of a theme. Likewise, buying and making decorations of a Valentine's Day party is almost effortless.
Just by looking at the different ideas above, you know that there are countless ways to decorate and design for your party. Practice your creativity and get on with your Valentine's Day decorating!