How to Make Outdoor Easter Decorations in 2023
You know Easter is just around the corner when the snow is melting and the flowers start to bloom. So get out your colorful Easter eggs, and hide them everywhere for the kids to discover. But that's not all you can do. As Easter is also the mark of the beginning of spring, you can also decorate your home in celebration of the new season.
So get out your Easter wreaths and fresh flowers. You can even decorate your front lawn and backyard with Easter-themed décor for a more festive look.
Don't know where to start? Read on below for more inspiration!
Why Celebrate Easter Outside?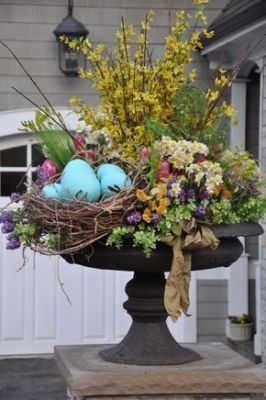 Source: Family Holiday
There's tons of reasons why you should celebrate Easter outside the comforts of your home. For one, you can look for hiding spots outdoor for Easter eggs. Your kids will definitely appreciate more space when running around the yard looking for the Easter bunny treats.
Another thing, celebrating Easter is also a good reason to put up Easter decorations outdoor. It's a good exercise for you creativity, and overall a great bonding experience you can have with your family. So get planning and think of what Easter decorations you want for outside your home.
Ideas for Easter Outdoor Decor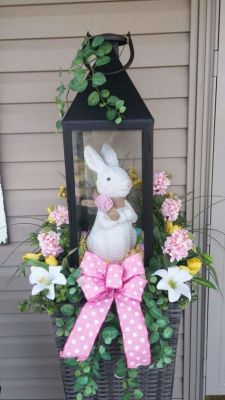 Source: Hike N Dip
When it comes to Easter outdoor decorations, the easiest route would be to go with the most common. That's probably flowers everywhere and a new Easter wreath on your front door. But those aren't the only kinds of decorations you can put to show your love for spring.
Check out the examples below and you might just a kind of décor you'll want to display.
Outdoor Easter Pillows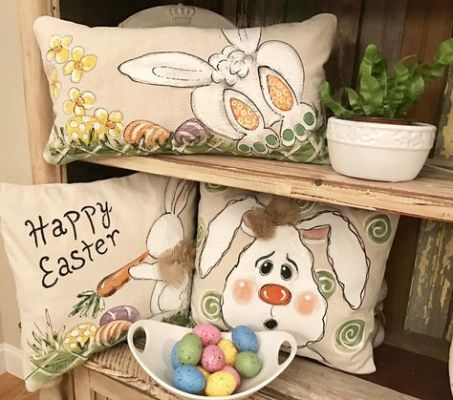 Source: The Cameron Team
Easter and spring both symbolize new beginnings which is such a happy and homey celebration. So make sure that your home is also happy and comfortable. While that is easy to do for the inside of your home, you can also design the outside of your house to be comfy.
Why not put throw pillows on the chairs in your front porch? Or pillows on your sofa in the backyard? Here are a few Easter-themed pillow covers you might want to buy:
Easter Outdoor Lights
Celebrating Easter and the beginning of spring is not just for daytime. You can also show your appreciation for the holiday during the evening. That's right, you can also put up lighted decorations during Easter.
Need some inspiration on how to light up your celebration? Check out these pictures below: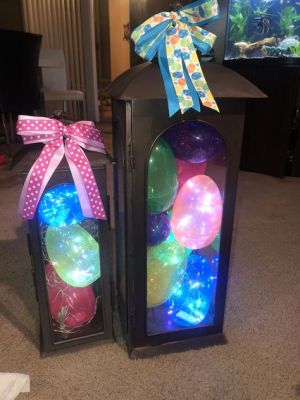 Put fairy lights and easter eggs in a lamp! Source: Pinterest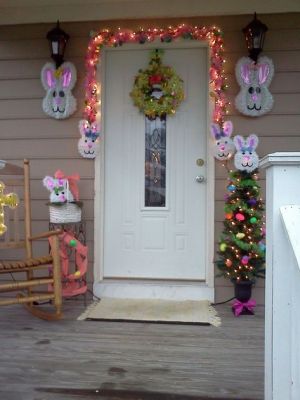 Recycle your Christmas décor for another holiday! Source: Godfather Style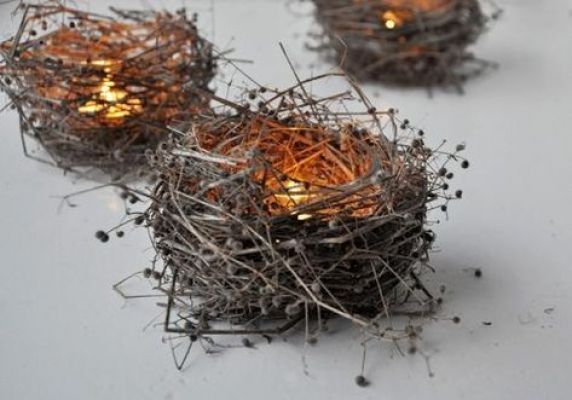 Add lights inside nests for a more subtle look. Source: Fresh Patio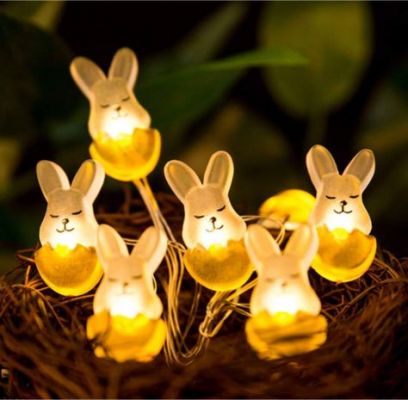 Hang little lighted bunnies for the festivities! Source: Gina's Library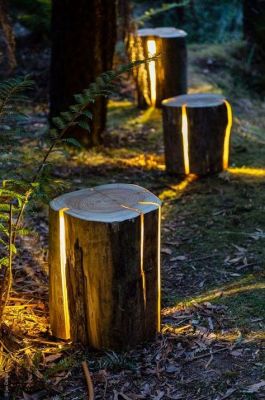 Look simple yet whimsical by adding lights inside wood chops. Source: Reno Guide
DIY Easter Outdoor Decorations
If you're on a tight budget, you should consider making homemade outdoor Easter decorations. You can probably find more affordable materials in stores like the Dollar Tree, or from buying in bulk in online shops like Amazon.
Aside from being relatively cheaper, DIY decorations are also the perfect way to exercise your creativity. Check out these photos and you might find a project you want to do: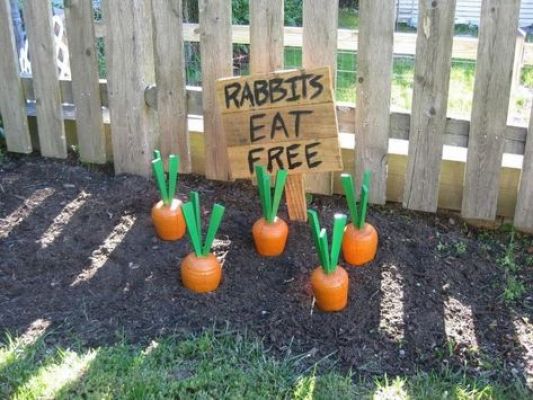 Plant fake carrots on the ground! Source: DIYS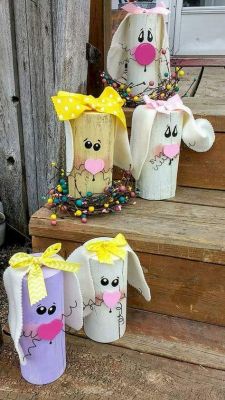 Use spare wood to create bunnies! Source: Home Ideas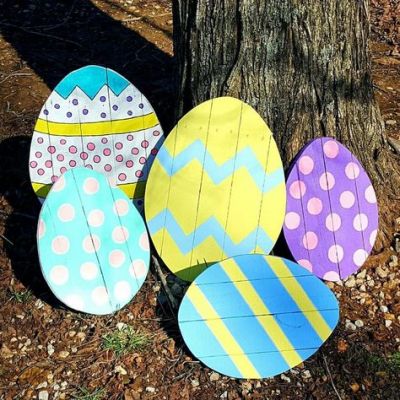 Use wooden planks to make giant Easter eggs! Source: Etsy – ThreeLeafsWoodworks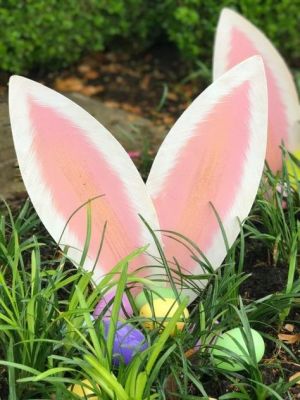 Stick bunny ears to the ground for added cuteness. Source: 99 Best Décor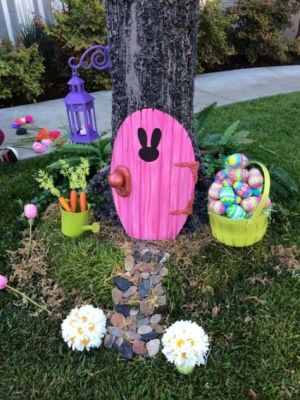 Make a tiny bunny house by putting accessories on your tree trunk. Source: Hike N Dip
Are you inspired yet? Great! It's a good thing that buying materials is no problem. Below are a few materials you might need to buy:
How to Decorate For Outdoor Easter Party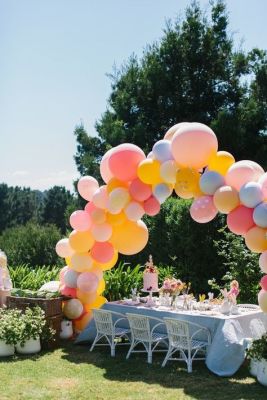 Source: Lenzo Au
Another reason to make outdoor Easter decorations the DIY way is because you might need your budget for other things. Going for cheap outdoor Easter decorations allows you to spend more money for food and game prizes if you're throwing a party.
Like the décor above, there are also tons of creative ways to decorate the outside of your house for an Easter party. Just check out the ideas below!
Outdoor Easter Lawn Decorations
The most common is probably outdoor Easter yard and lawn decorations. Décor for both the front and back of your house can be interchanged. It really depends on what you want people to see more.
If you want your giant bunnies to gain more attention, put them in front of the house where both guests and passers-by can see them easily. For a more private design, put them at the back.
Here are some ideas you can take inspiration from: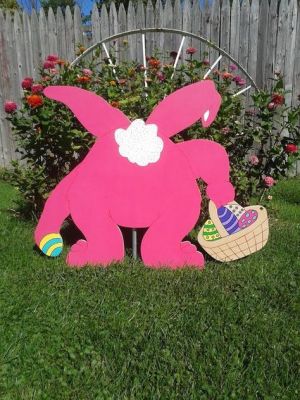 Put a funny bunny looking for eggs in your lawn. Source: Etsy – MikesYardDisplays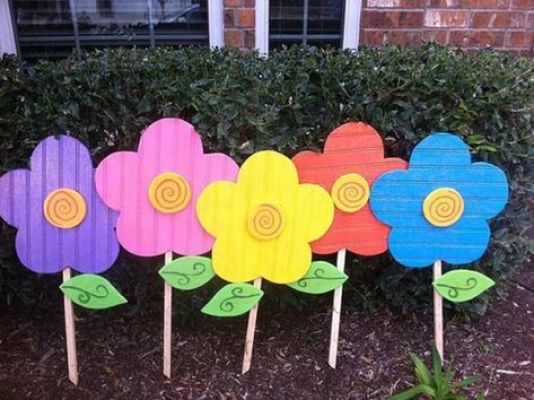 Put up brightly colored flowers in your lawn. Source: Decorelated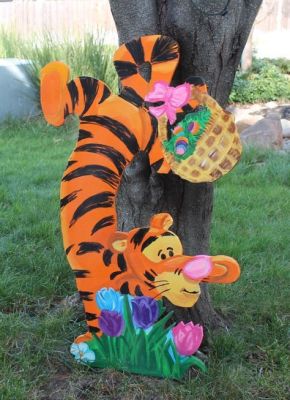 You can also decorate with your favorite cartoon characters. Source: Kinsman Garden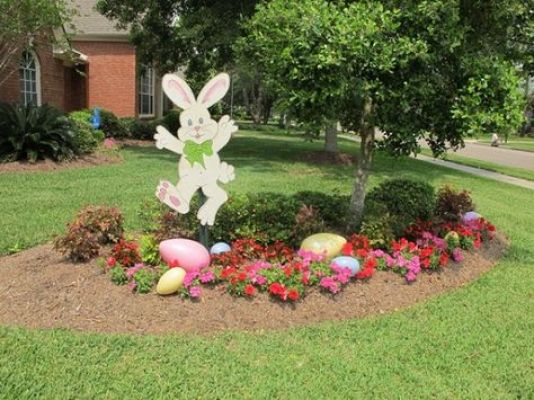 Decorate with giant bunnies and giant Easter eggs. Source: Family Holiday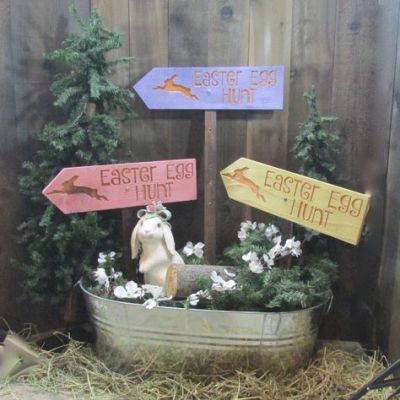 Go for a more vintage look! Source: HHCre8
Easter Outdoor Inflatables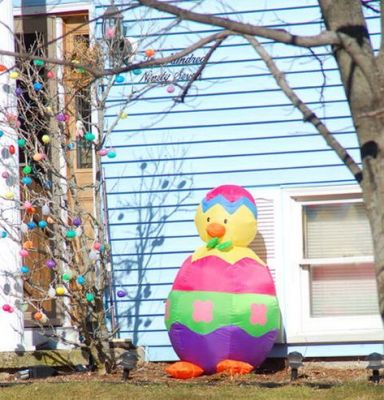 Source: Family Holiday
Thinking of how you can level up your outdoor Easter bunny decorations? Getting tired of the usual wooden look? Well, go big or go home!
You can always choose to install a huge inflatable Easter bunny in your front lawn! Here are a few designs you can get in Amazon:
How to Make and Outdoor Easter Egg Tree
If you prefer going the more natural-looking route, decorate with what you already have outside. That's right! Why not make the most of all the trees surrounding you?
You can make an Easter egg tree outdoor for fun! Just hang Easter eggs from the branches, and you're good to go. Look at the pictures below for some ideas!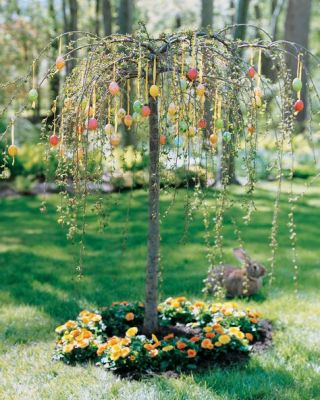 Source: Martha Stewart


Source: DIY n Crafts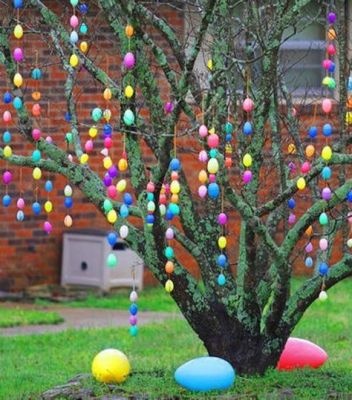 Source: Jolly Big Live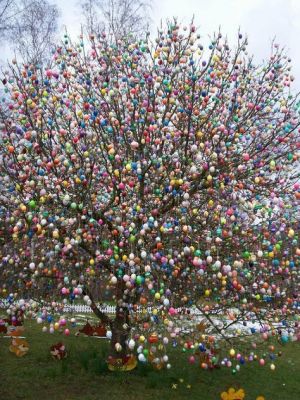 Source: Smart Schoolhouse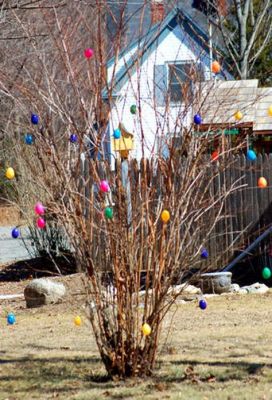 Source: Family Holiday
Easter Games for Outdoors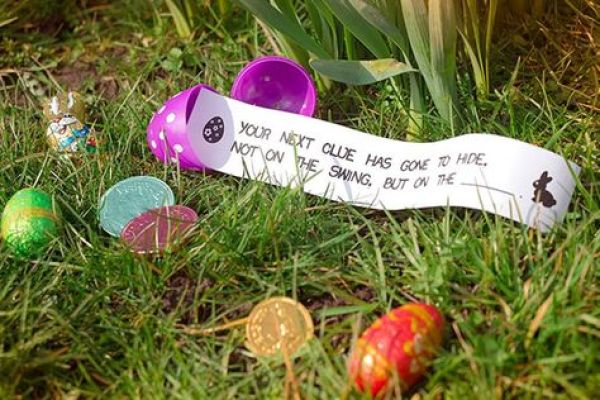 Source: Pinterest
If you're going to throw a party, games are something you need to plan. The most awaited Easter game is the Easter egg hunt. So make the most of your space.
Hide your colorful eggs both inside and outside your house to add more thrill for your kids. You can also add twists to this classic activity so even your adult guests can participate. Why not an Easter Scavenger Hunt? Or dig your eggs from under some sand? The choice is up to you!
BONUS: Can You Plant Easter Lilies Outdoors?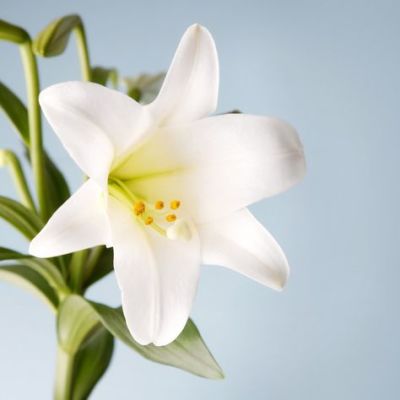 Source: Martha Stewart
Yes, you can plant Easter lilies outdoor. But it can be tricky, especially if you're going from a florist-bought variety. The reason why transplanting your Easter lilies from being potted to the ground is that most florists force their flowers to bloom. That makes success rates a lot lower than they typically would.
However, if you persevere and are lucky, you can try planting your Easter lilies in a sunny and well-draining spot in your garden. Just make sure that the weather isn't going to frost anymore. Now, there are some more technical aspects you should consider, like soil pH and fertilizer. So make sure to learn about those, too!
One other common question is, when do outdoor Easter lilies bloom? Typically, Easter lilies can bloom sometime between June or July.
Where Can I Find Outdoor Easter Decorations For Sale?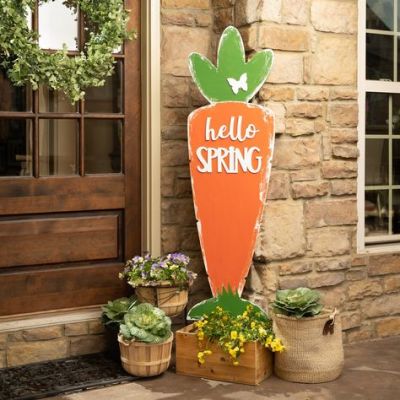 Source: Jane
Since a lot of people celebrate Easter in a secular level, you can find a lot of Easter and spring-related décor once we're nearing the holiday. So it's really not a problem for you if you want to go to crafts stores like Michaels or Hobby Lobby.
You can also check out general stores like Walmart and Target for holiday-themed décor. They'll probably have them in stock as well.
If you prefer shopping in the comforts of your home, you can also check out online stores like Amazon and Etsy. In fact, here's a few items on sale on Etsy that you might want to look into:
Conclusion
Since the Easter holiday marks the beginning of spring, it's only fitting that you also celebrate it outdoors. Make it more fun and lively by adding Easter decorations outside of your home. From beautiful Easter wreaths to awe-inspiring Easter inflatables, you can go wild with all the decorating possibilities!