How to Set Up A Table Setting for Easter & More Ideas in 2023
Easter is another holiday that more and more people are celebrating. Before, Easter was mostly commemorated by Christians because of Jesus Christ's Resurrection. But today, others are also celebrate Easter for more secular reasons. Essentially, more and more are marking Easter as the beginning of spring.
One way to show your happiness about the start of a new season is to throw a party. And parties are not complete without food! But don't just serve dishes. Get really into the holidays by setting up Easter décor for your table!
If this is a new idea for you, don't worry! Read the cool ideas below, and you'll be covered!
Why Set Up Table Decorations For Easter?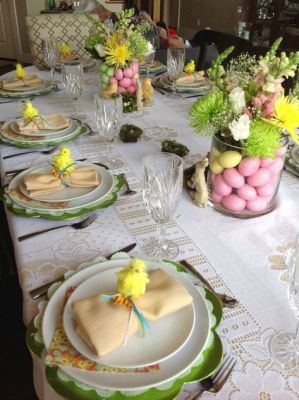 Source: Archzine
It's easier to celebrate an occasion when there's decoration about. If you have the time to decorate, do so. You'll definitely feel the difference once they're all up. But wall and room décor are different from dinner decorations. So why set up your tables for the holidays?
The same reason why you arrange dinner when it's Christmas or Valentine's Day. You just want to show your loved ones that you're happy you're together during Easter. It's as simple as that! By decorating for your holiday dinner, you're putting up the effort to show that it's a special kind of day!
With no further ado, below are Easter table decoration ideas for you to check out!
Table Decoration for Easter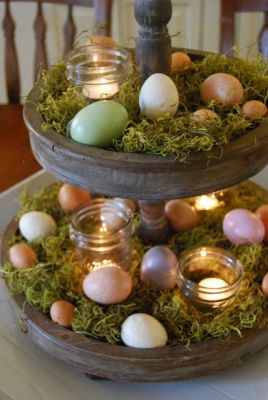 Source: Hike N Dip
There are many ways to set up décor for your Easter table. From cute little bunnies to elegant spring flowers, you can really go any which way creatively. It's all up to you!
Aside from the themes of your décor, you should also think about actual tableware you're going to use. Here are some examples:
Easter Table Runner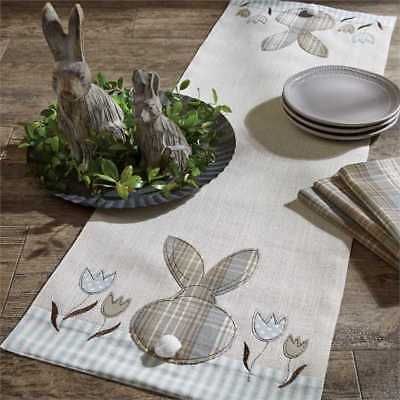 Source: Ebay
Why would you want to know how to make an Easter table runner when you can buy a ready-made one instead? There are tons of beautiful Easter-themed table runners available in stores that are affordable. This is the perfect choice if you have little time to prepare!
Here are a few table runner recommendations available over at Amazon:
Easter Table Cloth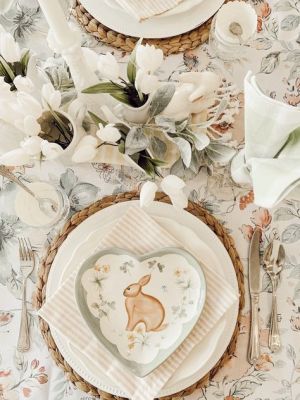 Source: Little House of Stones
Aside from table runners, another piece of dinner accessory you will need is a table cloth. Table cloths are perfect protection if you don't want to ruin your table. They can absorb spills and stains, and are easily washable.
What's more, table cloths are perfect decorations as well. They can easily transform the look of your dining. So here are some Easter-themed table cloths you to look at:
Easter Table Linens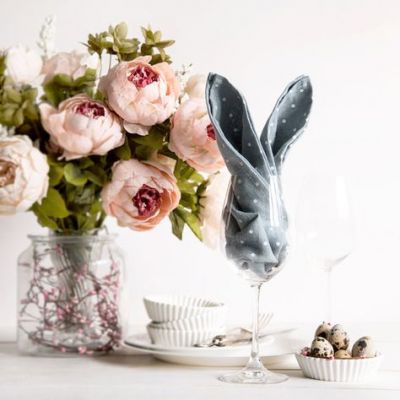 Source: Etsy
When it comes to table linen, it doesn't end with table runners and table cloths. Another thing you will need to decorate your dining table is napkins. If you think you're going overboard, think again. All these décor items are not only there to look pretty. They also have a purpose.
Napkins are great since your guests can use it to protect their clothes from getting dirty during dinner. So check out these ones below. You might just find what you're looking for:
Easter Table Decoration: Easter Candy Table
Candies are not just for eating you know! You can also use Easter candy for your decorations, especially if you have kids coming over. Don't believe it?
Check out these pictures below for inspiration: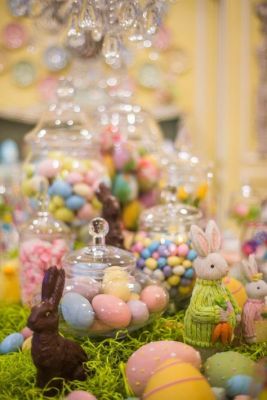 Place lots of candies on clear containers!Source: Turtle Creek Lane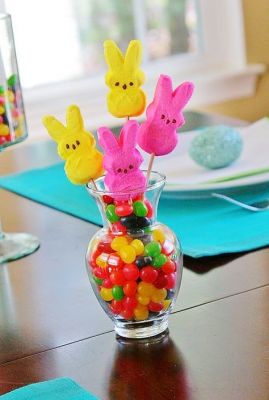 Go for sweet with this mini candy vase! Source: Twins Dish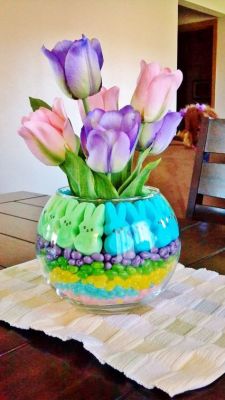 Use candy as decoration as well! Source: Twins Dish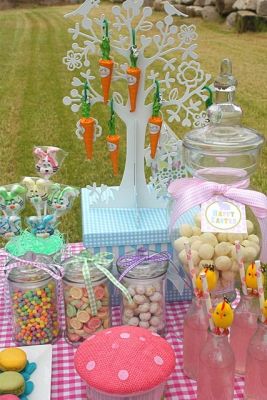 Make everything on theme! Source: Catch My Party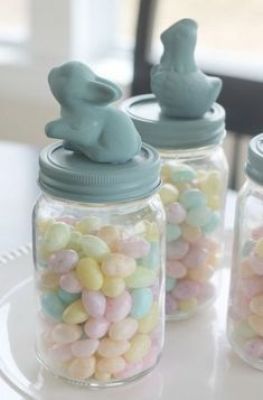 Place pastel jellybeans in Easter-themed Mason jars! Source: Womans Day
Of course, you will also need candy for your Easter eggs! If Christmas has stocking stuffers, then Easter has Easter egg or basket stuffers. Here are a few candies to put in your goodies:
How to Decorate a Table For Easter: Other Ideas
Aside from your actual tableware, you also need some embellishments to make your table look extra special for the holiday.
Below are the traditional décor that you can put on your table for Easter dinner.
Table Centerpieces for Easter
There are many ways to decorate for Easter, but the most well-known décor would probably be bunnies and eggs. You can go the cute way and get rabbits and Easter eggs that are colorful and cartoonish. But you can also go the glam way by getting ceramic bunnies and gold foiled pastel eggs.
Here are a few pictures to help you get started on your decorating project: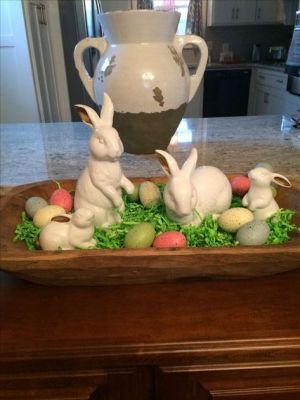 Make space where your rabbits can chill! Source: Gehouz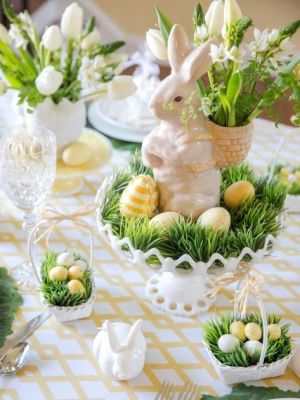 Create a whimsical table with bunnies, eggs, and fake grass! Source: Shairoom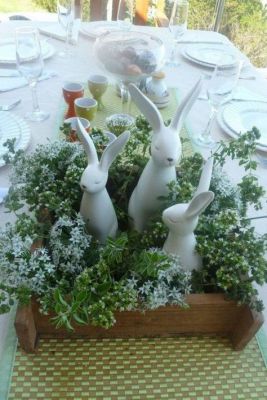 Make a box of sleeping bunnies! Source: Christmas SXH Decorations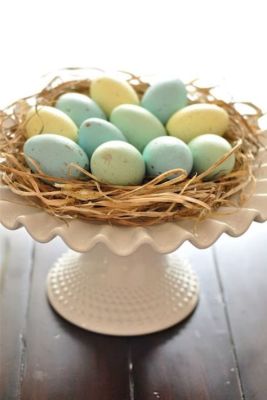 Create a simple nest of pastel eggs! Source: Country Living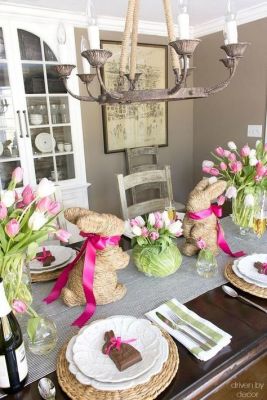 Display wooden bunnies! Source: Farmhouse Room
Easter Floral Arrangements Table Centerpieces
If you prefer a more secular take on Easter, focus on the spring angle. Spring means plants are blooming everywhere, so a floral table centerpiece is the perfect choice!
It doesn't matter if you prefer a fresh bouquet or an artificial one. Floral arrangements are always pretty anyway. Just check these out: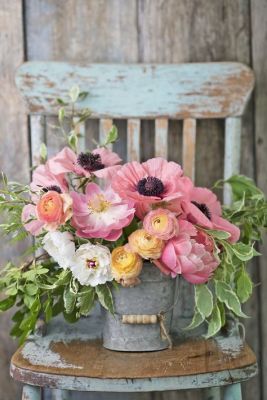 Use a pail for a more rustic centerpiece! Source: Country Living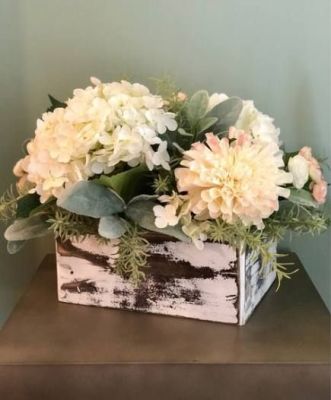 A distressed box is also a great vase for a country vibe! Source: Jamie Farmhouse Journal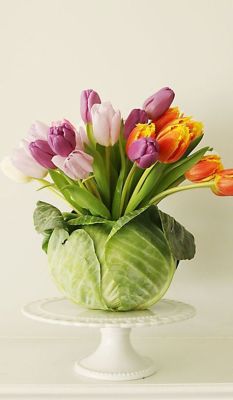 Use a cabbage as a vase for a different look! Source: Country Living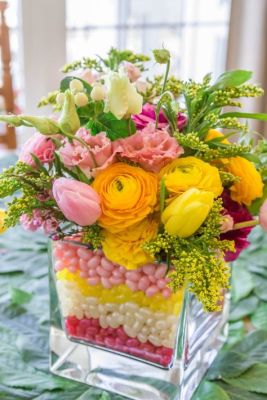 Add more colors to your centerpiece by using jellybeans! Source: Grace in this Space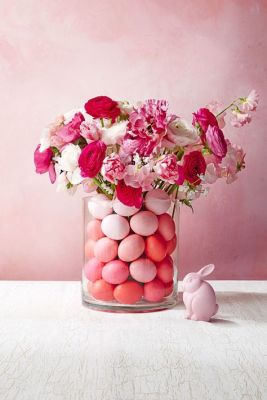 Decorate in one color for a dramatic look! Source: Good Housekeeping
Getting inspired? Well, better check these recommendations out:
How to Make Easter Table Decorations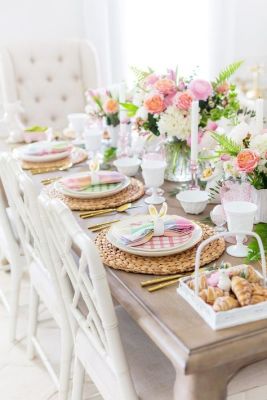 Source: Pizzazerie
There are tons of ways to make Easter table decorations. How you will do that specifically depends on the type of decoration you want to create.
Instead of a specific way, here are materials that you might need in your Easter table decoration project:
Handmade Easter Table Decorations
You don't need to buy Easter décor if you want to make it yourself. In fact, if you have the time to do it, it might be better to make your own décor.
Aside from being able to stick to a smaller budget, making your own simple table decorations for Easter can also exercise your creativity.
Here are a few examples to get you going: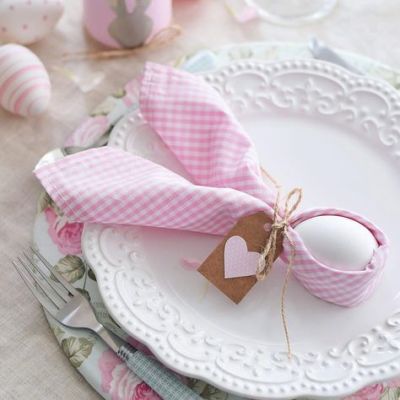 Go for pink bunny ear napkins! Source: Glaminati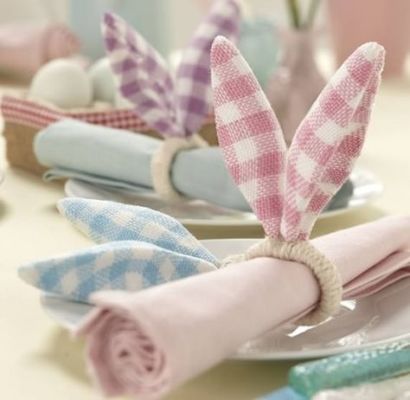 Create cute bunny ear napkin rings! Source: 4urbreak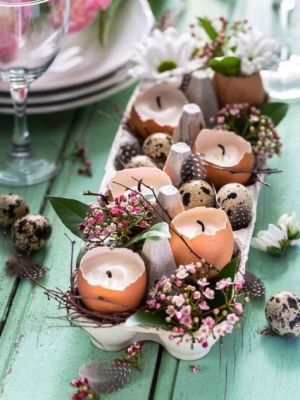 Use cracked egg shells as candle holders! Source: Handmade Pride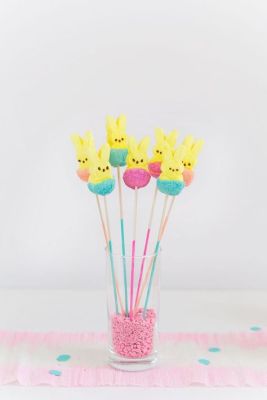 Put bunnies on a stick to make an adorable and simple centerpiece! Source: Tell Love and Party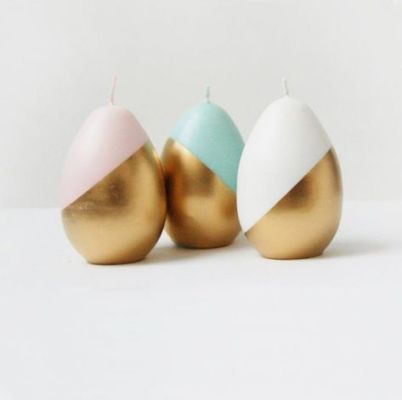 Add metallic paint to your egg-shaped candles to make them look more modern! Source: Brit Co
Where Can I Find Easter Table Decorations For Sale?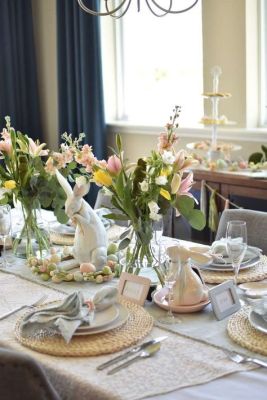 Source: Catch My Party
Since Easter is celebrated by most people nowadays, it's super easy to buy décor for the holidays. You can probably find Easter decorations on stock in popular crafts stores like Michaels and Hobby Lobby.
They might also be found in general stores like Walmart and Target nearer to the holiday. When it comes to online stores, you can probably buy Easter table settings and decorations from shops like Amazon and Etsy.
Here are a few Easter décor masterpieces that you should definitely check out from different stores in Etsy:
Conclusion
Easter is a fun holiday to celebrate with your loved ones, especially kids. It's all about being happy and light because spring is beginning once again. And a perfect way to celebrate such a joyous occasion is to eat good food.
But why stop there? Go big or go home! Decorate your dining area for when you have people over for Easter lunch or dinner. From your table napkins to your table centerpiece, make sure that you have everything on-theme! What are you waiting for? Go get started on decorating your table for Easter!