How to Put Up Memorial Day Decorations For Summer in 2023
Memorial Day is one of the most celebrated federal holidays in the USA. Americans have always been patriotic, and celebrating the sacrifice of fallen soldiers is one way of keeping their memories alive. That's why putting up decorations for Memorial Day is a tradition that most American families partake in.
But that's not all! Memorial Day also marks the beginning of summer nowadays. As part of the holidays, week-long celebrations begin to spring up. From family barbecues to city events, you'll be feeling the spirit of the holiday quite a lot. That even includes Memorial Day sales where you and your friends can go shopping for great deals.
With all the activities you can do, don't forget to hoist up the colors of the nation! Show everyone your national pride by decorating your home in red, white, and blue!
Why Celebrate Memorial Day?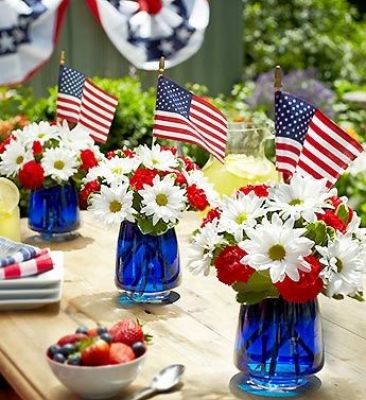 Source: Kid Friendly Things to Do
Memorial Day is a US federal holiday that commemorates the lives of American soldiers who died in their line of service. It is a way of honoring their memory and sacrifice. Celebrating Memorial Day shows the gratitude of the entire United States of America for these brave men and women.
Even so, Memorial Day doesn't need to be a solemn and quite affair. It is a time where feelings of national pride is at the forefront. So be one with the entire country and put up some Memorial Day Decorations.
Memorial Day home decorations can vary in design but they do have very similar looks. Mainly, they follow the red, white, and blue colors of the American flag. They can feature the stars and stripes as well. Discover how you can incorporate the country's colors to your own home décor!
Memorial Day Decorations Ideas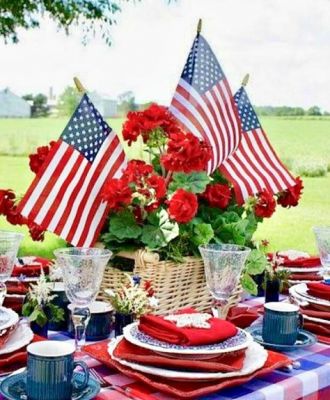 Source: Blue Sky At Home
As Memorial Day is a time for remembrance, it can also be a holiday that you can spend with family and friends. So you may opt to throw parties to celebrate the holiday. As such, decorating your home will definitely make you and your guests feel more immersed in the celebration!
Here are a few ideas on how you can make this Memorial Day a holiday worth remembering:
Memorial Day Party Decorations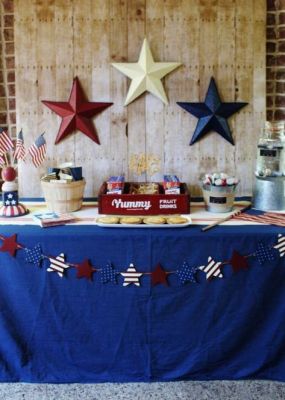 Source: Catch My Party
Get your party going with awesome American-inspired decorations. String up streamers in star shapes. Put up paper fans in red and white stripes. You can even get creative and use an inflatable pool as your cooler!
Since it's summer, the sun is out and you can even do your party outdoors! Here are some party materials you will definitely need on the day:
Memorial Day Table Decorations Ideas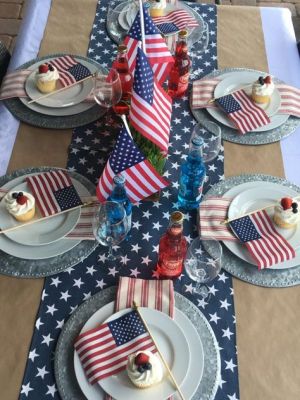 Source: Designed to the Nines
Whether you're thinking about having your friends and family for lunch or dinner, it's a great idea to decorate your dining area in the colors of the country. There are many ways to do this! One is to use plates and utensils in red, white, and blue. B
But if you prefer a more subtle approach, put a few décor piece on your table instead. You can liven up the dining area with centerpieces and table skirtings. Here are some of the dining décor you might want to put up:
Memorial Day Door Decorations
If you truly want to welcome the spirit of the holiday, why not start by designing the entrance to your home? Memorial Day wreath decorations are a great way to symbolize your participation during the holidays.
Want to get in on a little secret? You can even recycle you 4th of July wreaths for this holiday as well. Since both Memorial Day and 4th of July are holidays that celebrate the nation, most of their décor look the same!
Here are some creative Memorial Day wreaths that you can take inspiration from: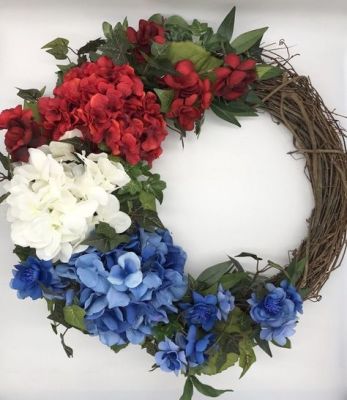 Go minimalist by putting flowers in red, white, and blue. Source: Etsy – AllSeasonsHouseDecor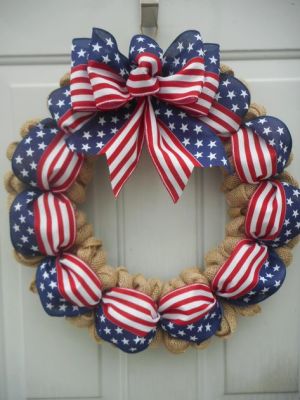 Try for the rustic look by incorporating burlap into your wreath. Source: Wreath – Wodostore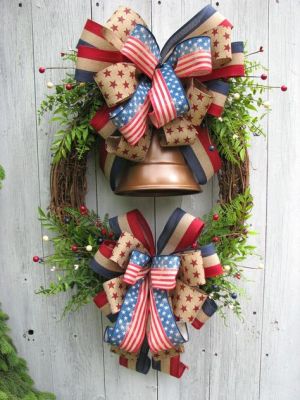 Add beautiful bells to your Memorial Day wreath. Source: Etsy – WreathburyLane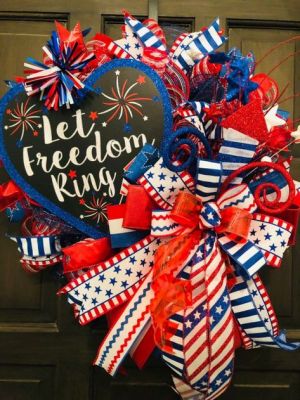 Use lots of ribbons to create a wildly beautiful wreath. Source: Google KG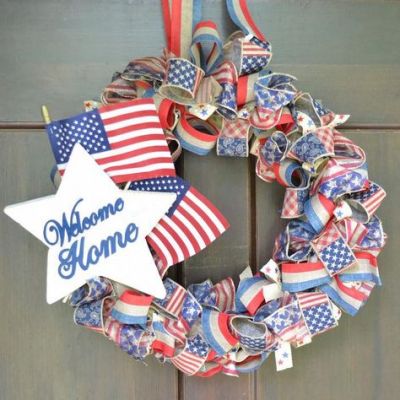 Welcome all your guests with this patriotic wreath. Source: Craftbox Girl
If you prefer to get ready-made wreaths, you can do so as well. In fact, here are a few recommendations to start you off:
Memorial Day Mantel Decorations
One of the rooms that your guests will frequent when they come over is your living room. Usually, you have a mantel over the fireplace in this room. Well, that's an excellent place to put up decorations for the holiday.
Liven up your living room and welcome your guests with beautiful Memorial Day décor. Here are some ideas you can imitate: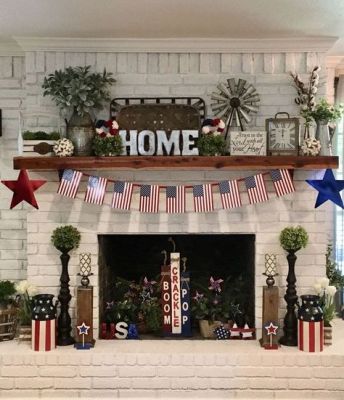 Go for simple with an American flag garland. Source: Pinterest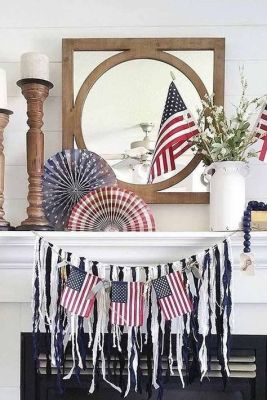 Use paper fans and repurposed cloth strips for your décor. Source: Glaminati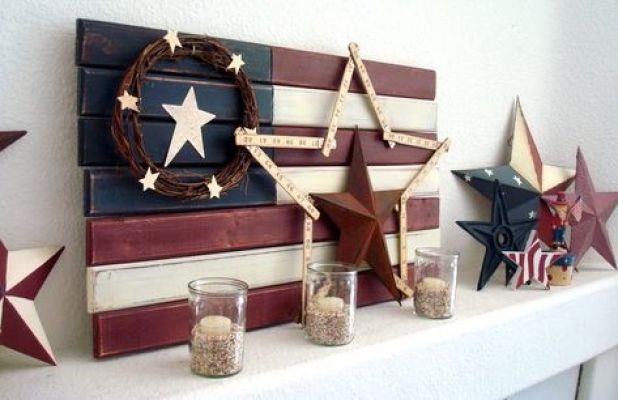 Add candles on your mantel for a more solemn look. Source: Pinterest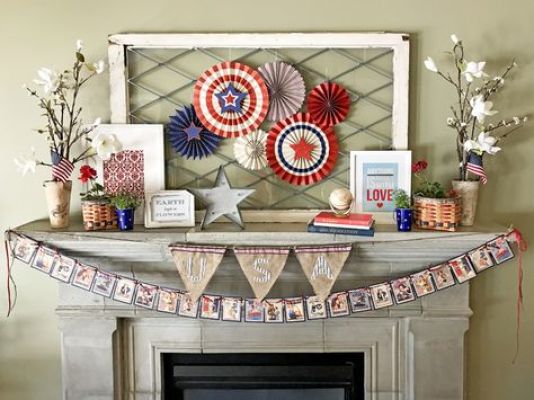 Use vintage cards to create a nice-looking garland. Source: Half Pint Party Design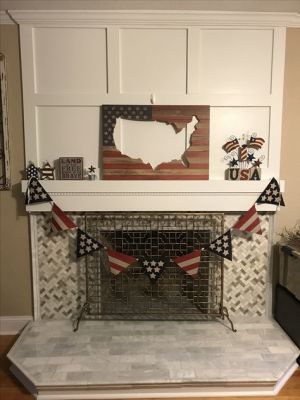 Show some national pride by showcasing an outline of the USA! Source: Pinterest
Outdoor Memorial Day Decorations
Memorial Day is all about showing your gratitude for the soldiers who gave up their lives for the country. And one easy way to do this is to showcase your national pride. How fitting it is for you to decorate the outside of your home for everyone to see.
Memorial day yard decorations and porch decorations are just some of the ways you can dress up your home for the holiday. Here are some photos that you can take inspiration from as your decorate your own house for Memorial Day: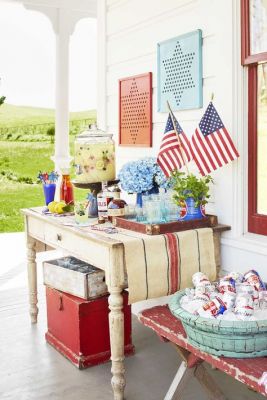 Go for rustic with wooden décor colored in blues and reds. Source: Good Housekeeping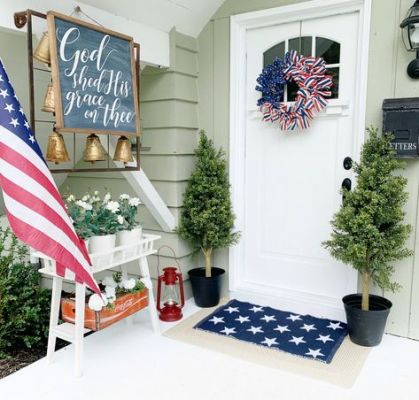 Go for a minimalist vibe with subtle designs. Source: Dreaming of Homemaking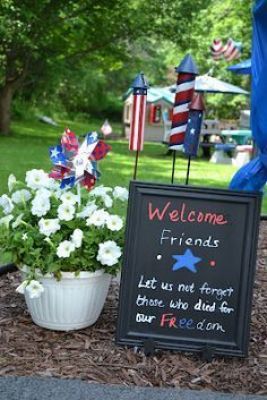 Add a little welcome sign to commemorate our fallen soldiers. Source: Hometalk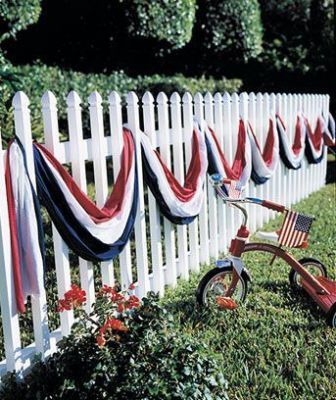 Place red, white, and blue, streamers on your fence. Source: Joyful Derivatives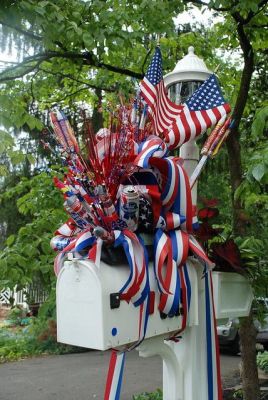 Even your mailbox can be decorated for the holiday. Source: Flickr
Memorial Day Grave Decorations
Aside from your home, a place that you will most likely visit is the cemetery. Memorial Day decorations can also be put in the cemetery if you like. Celebrate the day with your loved ones who passed on in the line of duty by putting up grave decorations on their resting places for Memorial Day.
Here are a few simple ideas you can do: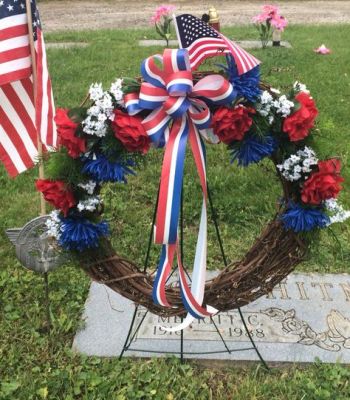 A simple wreath can look beautiful. Source: Pinterest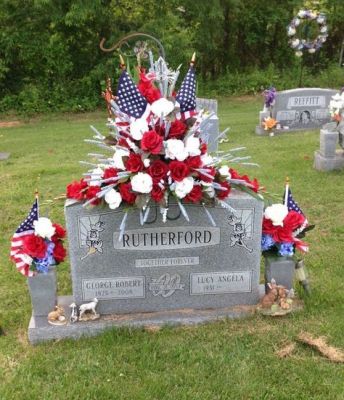 Sticks to blues, whites, and reds. Source: Lohmeierkfiazer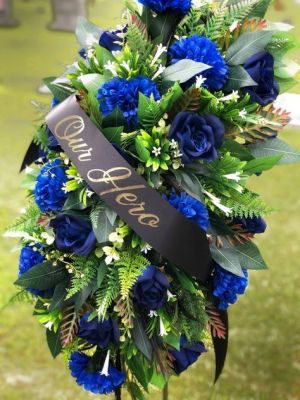 Deep colors can also look elegant. Add a simple message to show your thanks. Source: Etsy – FiveStarFloralInGifts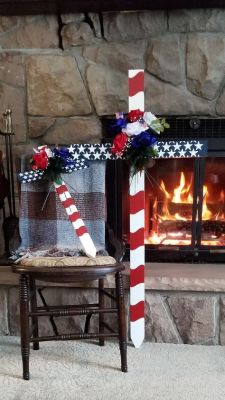 Paint your Memorial crosses in the colors of the flag. Source: Pinterest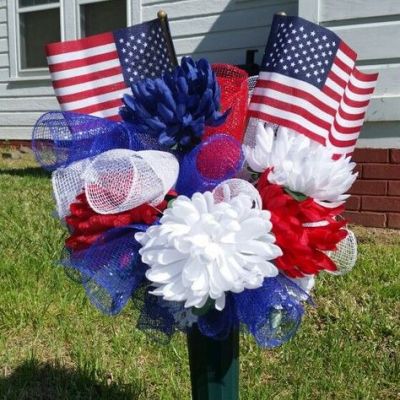 Stick American flags on your bouquets. Source: Yahoo Images
If you're in a hurry, you can also buy some of the décor below:
DIY Memorial Day Decorations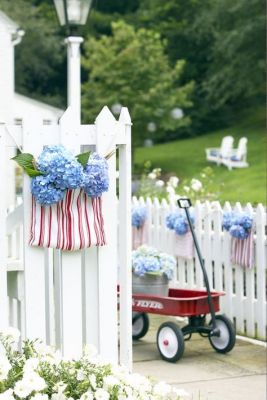 Source: Good Housekeeping
Aside from buying your décor, you can also create your own homemade Memorial Day decorations. You can even ask your kids to help you.
Creating your decorations can be a great way to bond with your children. It is also an excellent way exercise your creativity and imagination.
Here are a few ways to bring into play your creative skills during Memorial Day:
Memorial Day Classroom Door Decorations
If you're a teacher, one good DIY project to do is to decorate your classroom's door for the holiday. It's a great way to teach your students the importance of Memorial Day, and why we celebrate it as a nation.
At the same time, you can even ask them to help you with the décor. From hand cut-outs to coloring materials, your little students can learn and have fun at the same time.
Here are some pictures of Memorial Day decorations for classroom doors that may inspire you to make your own: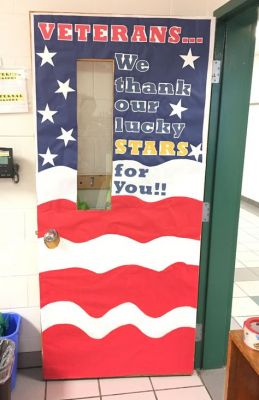 Design your door with stars and stripes. Source: Design Your Life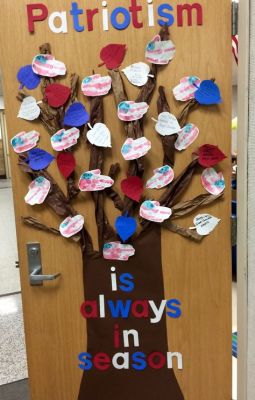 Create a patriotic tree. Source: Yellow Pick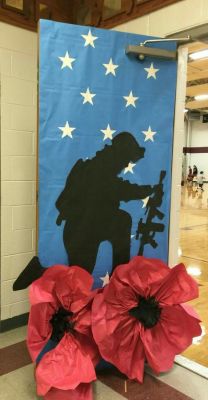 Show your appreciation with giant flowers. Source: Chicken Recipes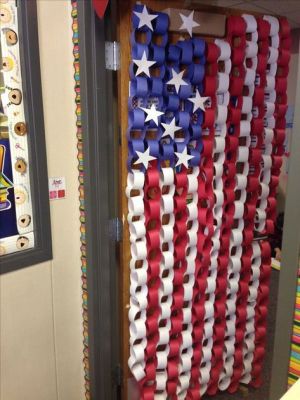 Use basic ring chains to create a beautiful design. Source: Pin IMG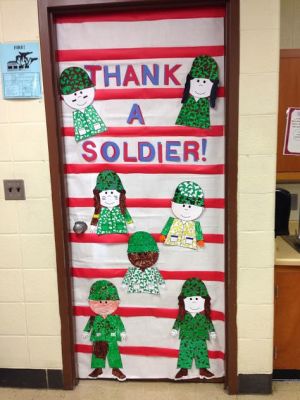 Let your class color soldier drawings and put it up on your door. Source: Classy in the Classroom
Memorial Day Decorations: Crafts for Kids
Need to keep your kids busy during the holiday? Don't worry! Develop their artistic skills and let them help you make décor for the holiday. There are tons of arts and crafts that you can do with your children during Memorial Day.
Here are some of the Memorial Day decorations that your kids and yourself can do as a bonding activity: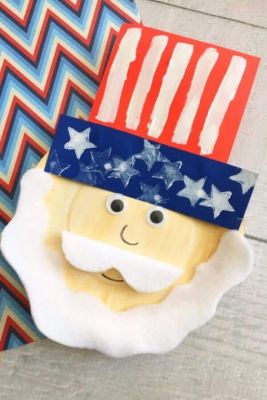 Use paper plates, art paper, and foam to create men. Source: Life as Mama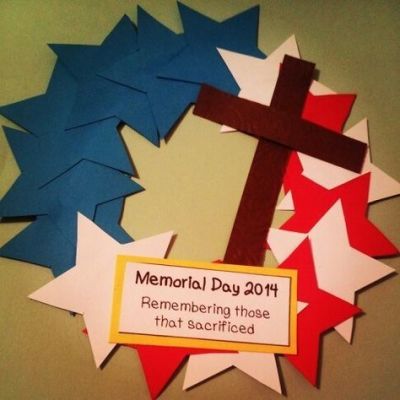 Use art paper shaped as stars to create a wreath. *Source: Life in the Nerddom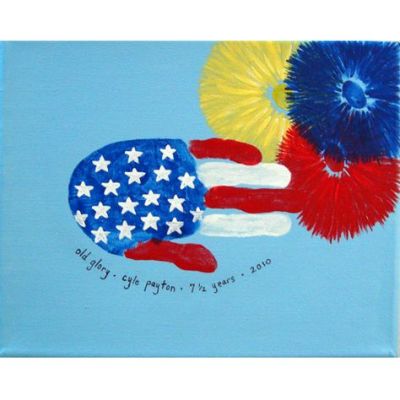 Make a hand painting themed for Memorial Day. Source: Kid Friendly Things To Do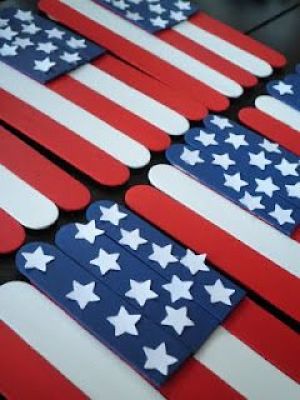 Make American flags out of popsicle sticks. Source: Gingersnap Crafts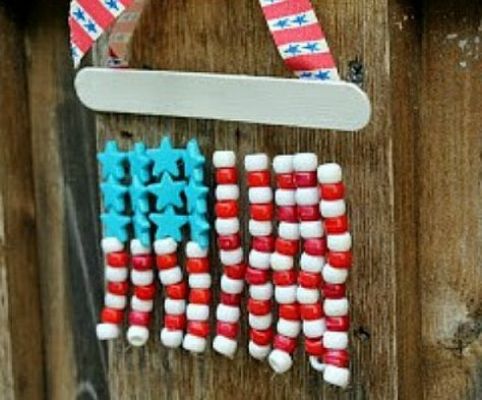 Make an American flag using red, white, and blue beads. Source: Hub Pages
Here are some of the materials you might need to get:
Where Can I Find Memorial Day Decorations For Sale?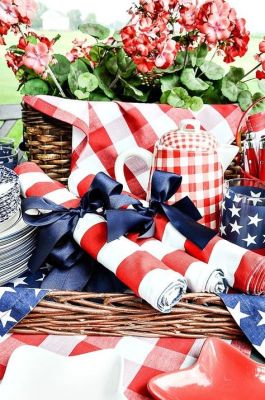 Source: Home with Holliday
Memorial Day might not be as popular a holiday like Christmas or Valentine's Day but it is important in the American culture, nonetheless. That's why you can probably find many Memorial Day décor being sold in chain stores like Target and Walmart. Craft stores like Hobby Lobby and Michaels might also have Memorial Day decorations on stock.
One great way to save on your money is to use the 4th of July décor you bought last year. Memorial Day and the 4th of July both have patriotic elements to their decorations so you can use the same décor for both holidays with very little differences.
Of course, you can still choose to buy some items specifically for each holiday. Online stores like Amazon and Etsy offer a wide variety of decorations that cater to these holidays. Check out some of the creative products you can get from Etsy:
Conclusion
Memorial Day may be a federal holiday, but it is a celebration that is near and dear to the hearts of many Americans. This is the day we honor the brave men and women who sacrificed their lives for our country and our freedom.
But the day doesn't have to be quiet and solemn. You can throw parties and celebrate the holiday with your family and friends. It's all about national pride today. That's why deck your house in the country's red, white, and blue colors!