Friends - Furniture, Home Decor, Interior Design & Gift Ideas
How to Recreate Monica's Apartment from Friends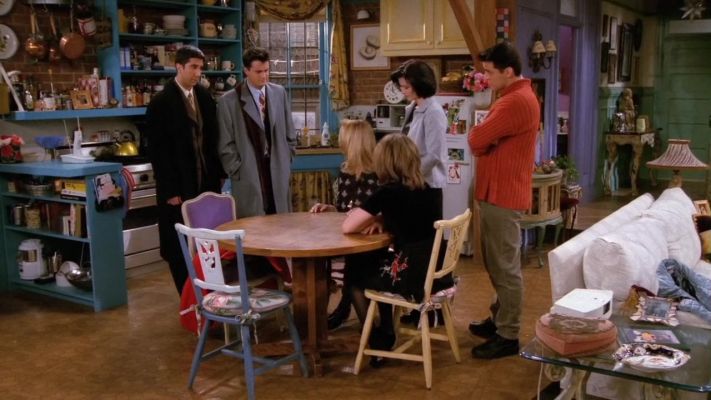 Being one of the most easily recognizable rooms of all-time, it shouldn't be any wonder why Monica's apartment in the 90s hit TV show Friends has reached icon status.
The purple walls, the yellow peephole, the shabby chic charming mismatch of furniture in a variety of styles - there's just something about Monica's apartment that makes you want to stay around (at least in front of the television).
Whether you're a 90s baby who grew up on the Friends series, or you just really love the homey eclectic vibe that Monica's living space exudes, here are some tips and finds to help you recreate one of television's most-loved apartment.
Paint
Retro Posters
Mix and Match to recreate Monica's Kitchen
Step out of your comfort zone and don't be afraid to experiment. From the colors to the furniture, Monica's apartment is an explosion of details, color, and texture - something that is not for the faint minimalist heart. Monica's kitchen features an open-shelf system, and her kitchen showcased a lot of vintage and retro-style items. Take your cue from our suggestions below.
These copper pots and pans add to the personality of the kitchen and the fun ceramic cookie jars are a charming addition to any open shelf pantry.
Make It Comfy
Monica's apartment has comfort written all over it, what with the cozy seating options juxtaposed with throw pillows and blankets to keep you warm. Create a neutral base with the sofa and play around with the pillow covers and the blankets to create a playful vibe. The area rug draws everything together, so make sure you choose one that you really like. If you love prints but want to tone it down a bit, you can opt for a rug in more neutral, subdued tones. A caveat though, if you have a living room as comfy and as unassuming as Monica's, don't be surprised if your friends suddenly keep coming over.
Brighten up your coffee table with a some flowers or a fruit tray, just like Monica. The table runner also provides a nice touch when it comes to layering.
Layer Your Light Sources
Ambient lighting helps create a space that is relaxing, perfect after a long, stressful day at work, or for lazy afternoon with your best friend. Use wall sconces to light your entrance hallway or to highlight an accent wall or art piece. Table lamps are great for task lighting, and can also create mood. Monica's apartment uses an antique wall sconce above her framed art and some vintage style table lamps scattered around her living area. See some of our suggestions below.
Old World Charm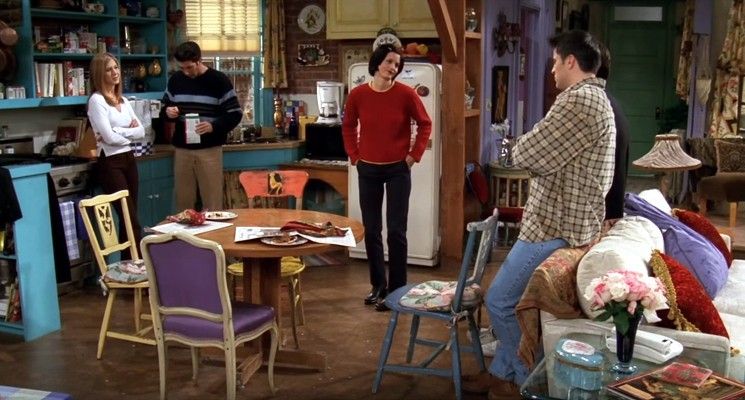 Monica's apartment features a lot of antique and vintage-style furniture. Classic details are most evident in her choice of console tables and buffet tables that double as a media stand. From acanthus leaf motifs to cabriole legs to the antique hardware, it really is all in the details.
Color, Color, Color! (and Prints)
The color palette for Monica's apartment is anything but boring. From the curtains to the seat cushions to the accent chairs in the living area, mix and match to your heart's content. Take it a little further by choosing different textures.
Get Ready to DIY
Aside from the obvious task of painting your walls, think outside the box when it comes to your furniture. If you find something in the form or shape that you like but in a different color, there's nothing that a free afternoon with a brush and a can of paint can't fix. If you're on a budget or if you're living in a rental apartment, peel-and-stick bricks (or any finish you fancy for that matter) does the trick.
Accessorize with Abandon
From picture frames to ceramic knick-knacks, no shelf nor wall is left bare. Show off your pictures with these antique-style frames, or pin up some vintage French posters on your wall, just like Monica.
The style of Monica's apartment from the Friends series is definitely not for everyone, but if you're an old soul or just someone who fancies the eclectic, granny-style, anything-goes kind of vibe that her space exudes, we hope that our guide will help you re-create one for your own.
Interior Design Ideas from Joey and Chandler's Apartment from Friends
From the hit 90s TV series Friends come two iconic spaces that still spark the decorating fancies of the young and young at heart up to this day.
Joey and Chandler's apartment was a stereotypical poster boy for a bachelor's pad in the 90s.
If you're looking into recreating or adopting some of the iconic elements from this icon set design, we have some tips for you.
Don't Be Afraid of Color
Color takes center stage both in Central Perk and in Joey and Chandler's apartment. The tufted orange velvet sofa plays a focal point in the café, while the bright yellow leather sofa in the apartment is not to be outdone either. Whereas the former has that rustic, granny's living room kind of vibe, the apartment sofa is definitively laid-back, reminiscent of a cross between a college dorm and a bachelor pad. Which one better suits your style? See some options below.
Complement the Sofa with the Tables
Match the coffee and side tables with the style of the sofa. In Central Perk, a rustic coffee table with distressed paint charmingly complements the orange sofa. The boys' bachelor's pad has a mid-century modern beat going on, especially evident in their choice of coffee and side tables. See our top picks below.
Throw in Elements of Fun
If you like hosting house parties or if you simply like having friends over for some downtime on the weekends, having some games around will always be a good idea. Take your cue from Joey and Chandler and engage your friends in a game of darts or foosball. If you're into video games and having a dedicated room isn't an option, opt for ultra comfortable TV chairs and you're good to go!
An Area Rug Pulls Everything In Together
Area rugs pull in different elements to give a unified look. From the sofa to the side and coffee tables, there's something about a nice area rug that anchors everything in an orderly way. In Central Perk, the traditional Persian style rug beautifully keeps all the furniture in place, while in Chandler's apartment, a more neutral rug with a minimal geometric motif does the job.
Pin It Up!
While we saw a handful of French posters all over the purple wall of Monica's apartment, Joey and Chandler's apartment is noticeably sparse in comparison. Nonetheless, what stood out in the boys' apartment are the framed picture of Laurel and Hardy and the poster from the 1914 French film and novel Les Mysteres de New-York. If you want to dig deeper, you'll also find a poster of Alfred Hitchcock and one of Scarface tucked inside Joey's room.
Best Match
While you will most likely be hard-pressed to find the exact same furniture as in the show, be open to best match finds. Look for pieces that have a similar silhouette or a similar prominent feature, like a high back or tufted upholstery. See our best match finds for the high back lounge chair from Central perk below.
Friends will remain to be one of the most well-loved TV shows of all time, and for good reason. If Central Perk and Joey and Chandler's apartment isn't your thing, be sure to check out our tips on how to recreate Monica's apartment.