Tron Legacy - Furniture, Home Decor, Interior Design & Gift Ideas
The Grid is as futuristic as you can get, with the brightly colored LED lights and mod slash Space Age inspired furniture pieces and costumes. If you want to be a step ahead of everyone and want to update your space to look like a place from the Grid, go for it!
The neon-colors of identity discs can be beautifully incorporated in lighting fixtures and wall arts. Plus, the simply designed furniture in the film can easily transition from one theme to another so you don't need to worry about redecorating in the future!
Serene Safehouse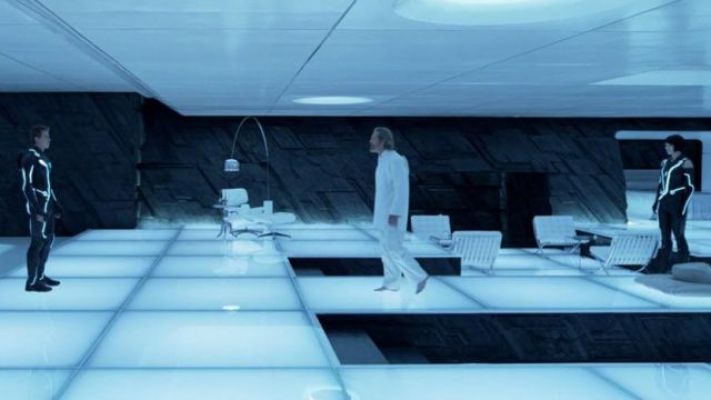 Sam, Kevin, and Quorra standing inside the Safehouse. You could See the white Eames lounge chair and the Castiglioni Arco lamp at the far end.
Similar Item: Orren Ellis Sandiford Lounge Chair from Wayfair
Similar Item: Versanora Modern Arc Floor Lamp from Amazon
White Room Still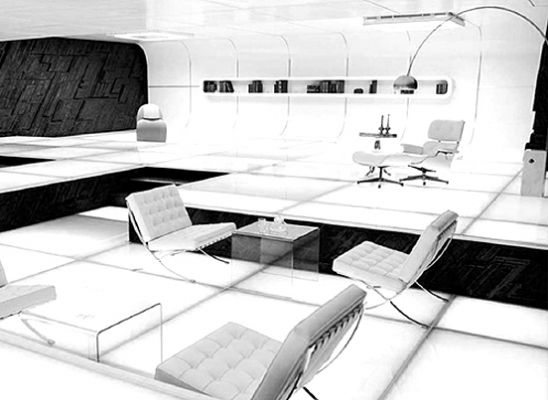 A set shot of the Safehouse featuring white Barcelona chairs and clear acrylic tables.
Similar Item: Global Furniture USA Lounge Chair from Wayfair
Flynn's Garage House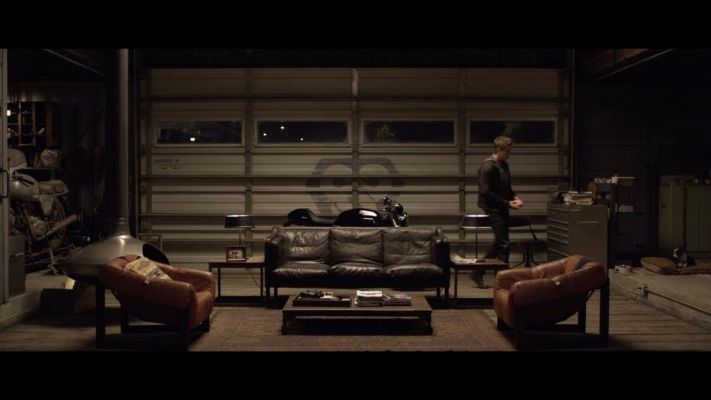 Flynn inside his makeshift house, a black leather sofa in the middle.
A Meeting in ENCOM Tower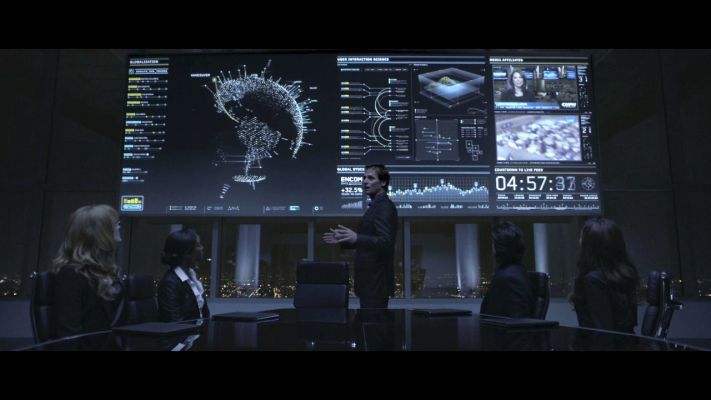 A meeting happening in ENCOM Tower, featuring a glossy black table and padded swivel chairs.
Apples Anyone?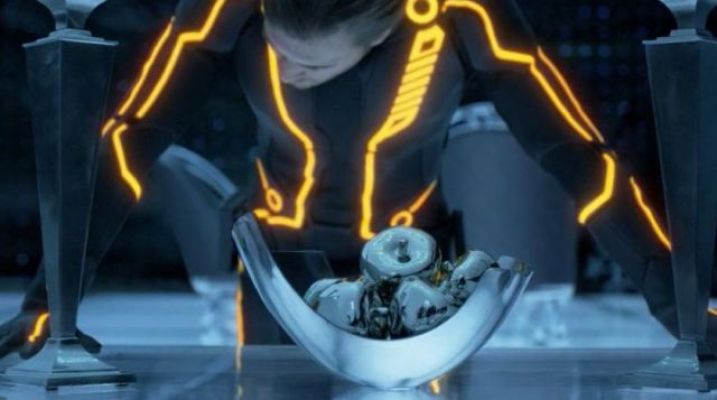 Kevin has chrome apples in a chrome bowl in his Safehouse.
Flynn's Arcade Sign
Tron Legacy VHS Lamp
Tron Legacy-Inspired Coasters
Original 80's Tron Mug
Tron Legacy Posters
About Tron Legacy
Tron Legacy is an Adventure/Sci-Fi film released in 2010, and was directed by Joseph Kosinki.
The film's main characters were performed by Jeff Bridges (Kevin Flynn), Garrett Hedlund (Sam Flynn), and Olivia Wilde (Quorra).
Production Design by Darren Gilford
Art Direction by Sean Haworth
Set Direction by Lin MacDonald
Costume Design by Michael Wilkinson
The pictures used in this article in connection with the movie, Tron Legacy, is owned by Walt Disney Studios Motion Pictures and all other owners of the show.