How to Decorate Your Dining Table for Valentine's Day in 2023
It's February once again, and you know what that means. The time for romantic dinners and sweet surprises is upon us once more. But let's be honest, celebrating Valentine's Day in this modern times isn't just about you and your significant other.
It's all about celebrating love. So yes, you can spend Valentine's Day with all your friends and family. Hang out together, eat dinner, or throw a whopping good party! And with every party thrown, you'll need to decorate your home.
Aside from putting up streamers and heart-shaped décor in every room of your house, one important place you need to keep in theme is your table. Everybody would be going there at one point for food. So make sure to have a few Valentine's table decoration.
Need some inspiration? Read on below!
Why Decorate Your Dining Room For Valentines?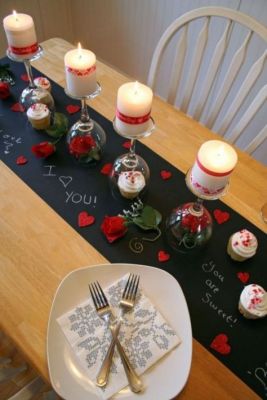 Source: Matchness
Like what said above, everybody will be going to your dining area at some point in time. After all, what's a party without food? That's why the dining room is the perfect place to put Valentine's décor. If you only have time to decorate one room in your entire house, this is one you should pick.
But it's not just about decorating the room. Even your dining table should look appealing. Table decorations for Valentine's are the perfect solution!
Valentine Decorations: Ideas for Your Tables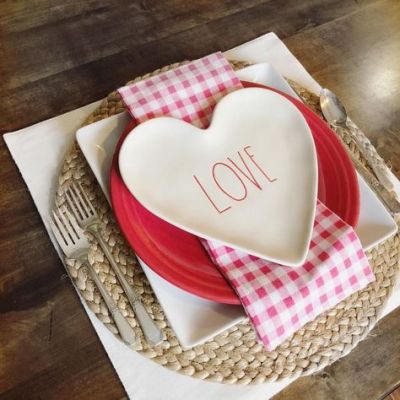 Source: Magz House
The easiest way to determine your design is to stick to the most typical Valentine's motif; hearts, flowers, reds, and pinks. Of course, you can always change things up with more unconventional designs like things of Galentine's or a black, white, and gold color theme. It's really all up to you.
Since there are millions of ways to decorate your party table, here are some Valentine's Day table decorations ideas for you to check out:
DIY Valentine Table Decorations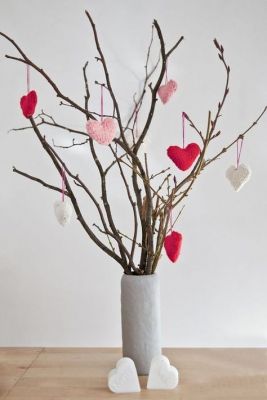 Source: TopTeny
Homemade Valentine table decorations are a great way to bond with your loved ones. There's something more satisfying and heartwarming when you put a lot of personal effort in the creation of your décor for the party you're going to host.
Aside from that, DIY decorations are a lot more affordable. You can get many of the materials that you need from the dollar store or 'Sales' racks in big general stores. So if you're budget can only fit cheap Valetine table decorations, opt for DIY.
To help you determine which materials you might need, here are some that you might want to buy:
| # | Item | Description |
| --- | --- | --- |
| 1 | Red Art Paper | A lot of décor can be made with red paper; garlands, photo booth props, cards, and more! |
| 2 | Red Ribbon | Ribbons are great space fillers when decorating! |
| 3 | Valentine's Day Balloons | Look super festive with red and pink balloons everywhere! |
| 4 | Heart Coasters | Save your table with adorable coasters perfect for the holiday! |
| 5 | Cardboard Cupcake Stand | You don't need to spend a lot of many to make a beautiful cupcake centerpiece! |
Valentine Party Table Decorations
Now that you have an idea of the literal thousands of way you can decorate your table for your party, it can get quite overwhelming and confusing.
Not to worry! You can always search for examples on the internet, or ask your friends for tips and advice.
But not to worry! You can always check out these table decorations for your Valentine's party. You might find one that you'd like to imitate: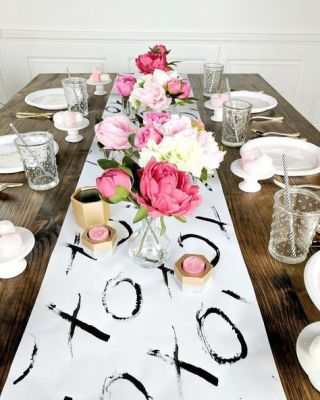 Simple and minimal is the way to go! Source: Arin Solange At Home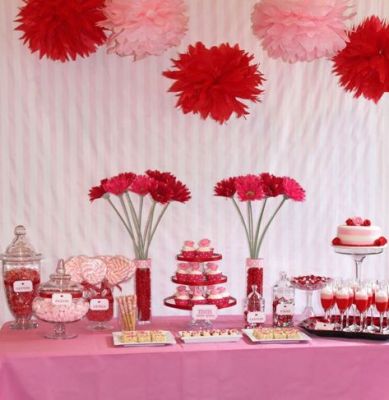 Reds and Pinks are sooo Valentine's Day! Source: Good SGN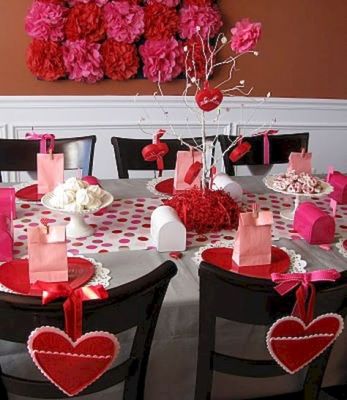 Add little hearts on your chairs! Source: Food W0rld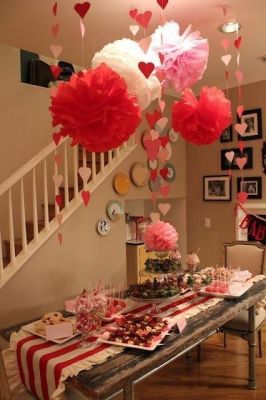 Hang garlands from your ceiling! Source: Zy Homy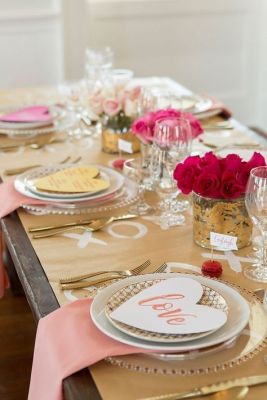 A gold set-up can elevate your table's look instantly! Source: Zy Hommy
Valentine Table Decorations for Kids Party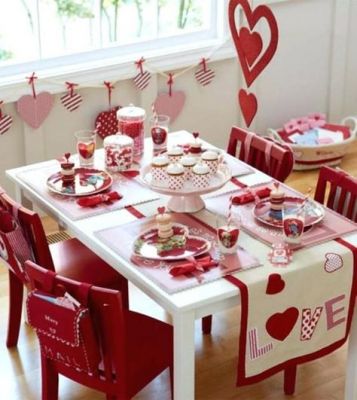 Source: Home Piez
Decorating for a kid's party is not that hard. You don't need to go all out, and they don't really require fancy decorations. What makes kids happy is that they're having fun. So why not include them in the decoration process?
Easy valentine table decorations can be done by kids as long as you're there to supervise. Help stick paper hearts to yarn to make garlands. Let them decorate the table with reusable stickers. Every little step that's simple enough for them to do, let them!
Of course, you should also keep them entertained during the party itself. Aside from decorations, why not make sure your kids have an interesting activity they can do while the adults mingle? Here are a few examples you can get from Amazon:
Valentine Wedding Table Decorations
What's more romantic than celebrating your wedding during the most romantic day of the year? Nothing! That's why you need to make the most and decorate your entire wedding reception with the Valentine's theme.
To help you design the perfect wedding reception, here are elegant Valentine table decorations that are perfect for your special day: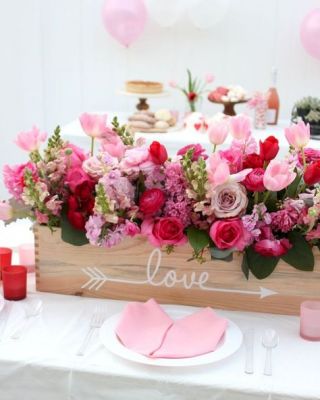 Go rustic but romantic with wood details and pink roses! Source: Elona Home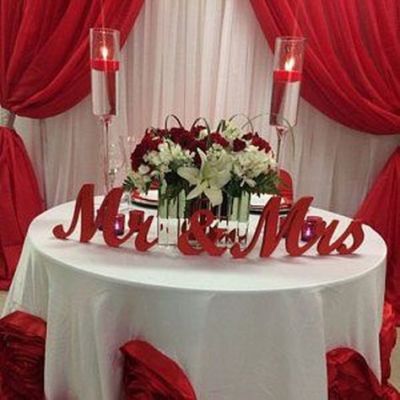 Spell the occasion with your new titles! Source: Beli House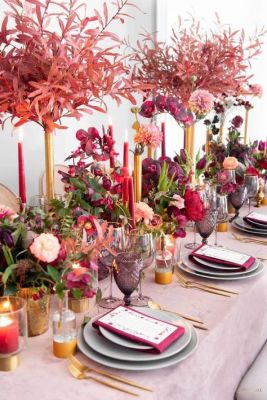 Go whimsical with tall centerpieces! Source: Beli House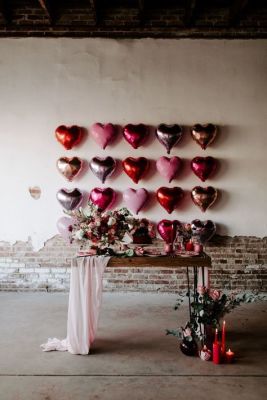 Simple yet beautiful is the way to go! Source: Junebug Weddings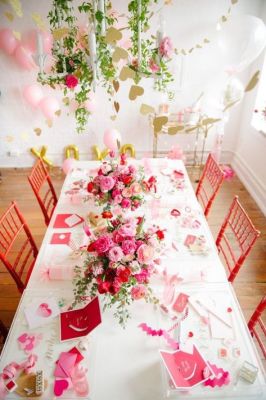 Add a little green to make your décor pop out! Source: Beli House
Romantic Valentine Table Decorations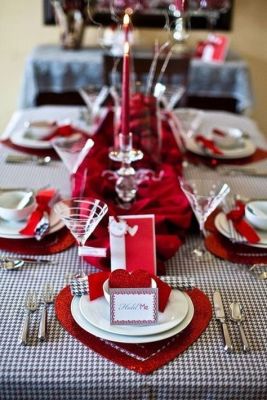 Source: Pimp Homee
Now, if you prefer celebrating Valentine's Day with only your partner, that doesn't mean you won't need to use simple table decorations for Valentine's Day. It's still super sweet if you make the effort to design your home for your simple dinner date.
There are tons of table decorations for dinner that you can use. You'll need to think about everything, from your actual silverware to ambient lighting. Don't worry! All the effort will be worth it when you see your loved one's smile.
Here are some Valentine décor you can make use for your special dinner:
Valentine Centerpiece Decorations
Aside from dinnerware and things like placemats and table runners, you should also keep in mind you centerpiece. As far as table decorations for a Valentine banquet goes, centerpieces will make or break your entire design.
Since they'll be the main thing that eyes will see, you have to make sure that your centerpieces are tasteful and on-point with your entire theme. Here are a few examples to inspire you: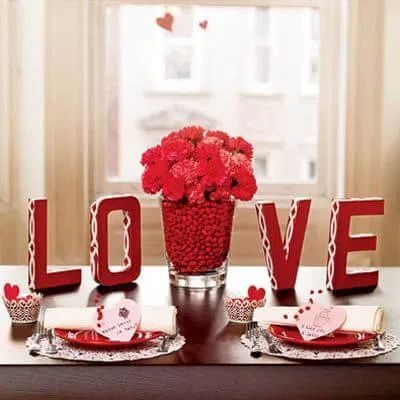 Spell what you want to say! Source: Farm Food Family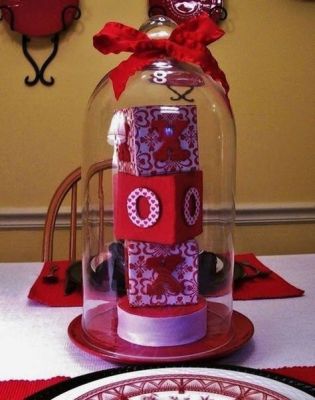 Add a whimsical touch with this glass cover! Source: Homy Homee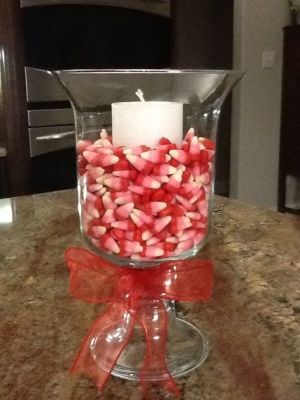 Add sweets for a sweeter look! Source: Moya US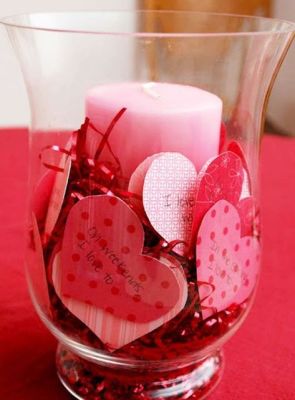 Put sweet nothings in your centerpiece! Source: Luvly Decora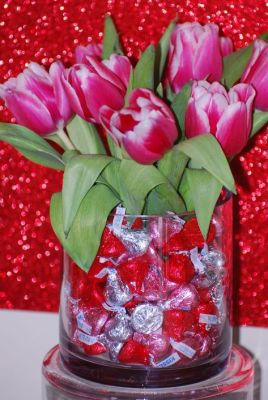 Get kisses with flowers and chocolates! Source: Big Hobby World
Where Can I Find Valentine Table Decorations For Sale?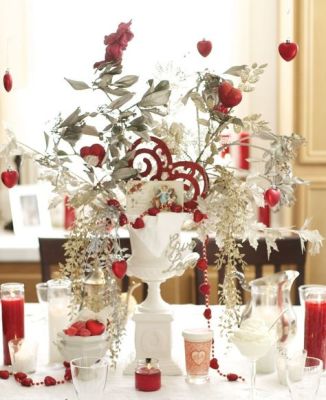 Source: Decoarchi
Shopping décor for Valentine's Day is easy because it's such a universal holiday. It's celebrated by most people from all around the world. Your local craft stores will probably be stocked with Valentine's Day products by the start of February.
Huge crafts stores like Michaels and Hobby Lobby will definitely have Valentine's table decorations on stock. Even general stores like Walmart and Target will have Valentine's products available for you to buy.
And if by chance you're feeling lazy and you just want to stay at home, go online and shop from the internet. Stores like Amazon and Etsy will have your back.
In fact, here are a few Valentine's masterpieces that you can pick up from Etsy:
Conclusion
Whether you're spending Valentine's Day with your friends, family, or significant other, decorating your home for the holiday can make a huge difference. Immerse yourself in the celebration of love by putting up décor.
Yes, that includes decorations for romantic dinners and wild Valentine's parties! Having a theme not only exercises your creative juices, but also allows everyone to fully feel the day of love. So do the effort. You won't regret it!