How to Decorate With Valentine Wreaths in 2023
It's February, and you know what that means. It's time to get your gifts ready and prepare sweet surprises for your significant other. But Valentine's Day is for everyone! Aside from romantic gestures, get into the spirit of the holiday through parties and decorating.
A good décor to invest in? Valentine wreaths.
What? Did you read that right? Yes, you did! If you think Christmas is the only holiday that uses wreaths as décor, think again. They are highly versatile depending on what materials you use to make them. That's why you can't definitely decorate with a Valentine wreath! Learn more by reading on below!
What Is a Wreath?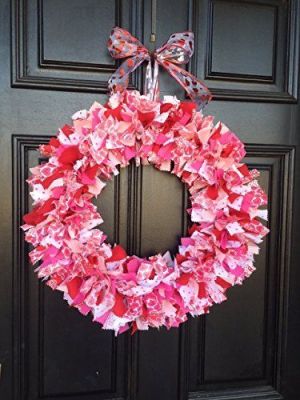 Source: Home Décor First
If you want the simplest explanation, a wreath is a group of different materials designed into a circular shape. It has been used for hundreds (if not thousands) of years. A traditional wreath is usually made up of natural pieces like fruits, flowers, leaves, and twigs.
Many wreaths are put up as a form of decoration or used as ceremonial accessories in different cultures around the world. You can even trace back its history as far back as Ancient Greece and Rome!
Aside from its interesting and colorful history, however, wreaths are also excellent because they are super versatile. You can form wreaths for most occasions. In fact, the most popular one is the Christmas wreath. But you can also create wreaths for other holidays like Easter, Valentine's Day, Halloween, and so much more!
What is a Valentine Wreath?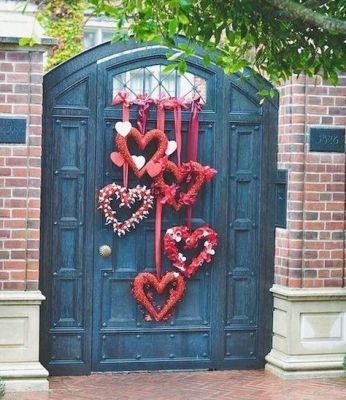 Source: Elva
Simply put, Valentine Day wreaths are circular-shaped decorations used in celebration of Valentine's Day. It differs from other kinds of wreaths because of the purpose you create it with as well as the materials you use.
You can even change up its basic shape to fit the holiday better! Heart wreaths for Valentine's are also quite popular. Aside from looking really pretty, they make the celebration quite obvious.
Most Valentine wreaths make use of heart-shaped designs, and the colors red and pink. You can also put traditional romantic flowers like red roses. Love letters are also an adorable and personal way to design your Valentine wreath.
Valentine Wreath Ideas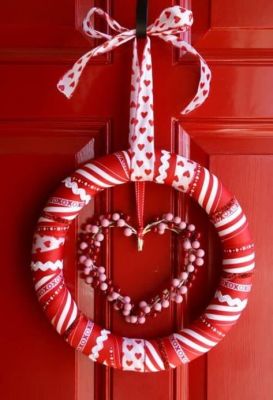 Source: Frugal Coupon Living
Now, since the days of hearts is such a popular holiday all over the world, buying décor for it is quite easy. Wreaths for Valentine's Day would probably be sold in a lot of shops, both in-store and online.
But you can also DIY yours! Making Valentine wreaths can make the holiday more meaningful and personal to you. It's also an enjoyable way to bond with your loved ones. If you have the time, consider creating your own Valentine's wreath.
And to help you out, below are a few ideas of what you can do!
DIY Valentine Wreaths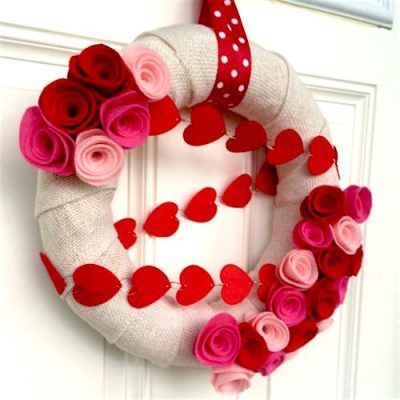 Source: How to Make a Burlap Wreath
There are many ways to create wreaths for the day of love. How to make Valentine wreaths is really dependent on your skill, the time you have available, and the effort you want to give.
You can choose to go the traditional route and use all natural materials by picking genuine flowers and foliage. Another idea is to buy your materials from the dollar store if you're on a tight budget. Don't worry they have lots of goodies for you to use!
For the more experienced DIY-ers, the sky is the limit! Go full on romantic by creating an elegant Valentine wreath made of satin and shimmering rose petals. Or be quirky and create a Single's Appreciation Day wreath, instead!
Whatever route you choose, here are a few decorative materials that you'd probably need to get:
Valentine Heart Wreaths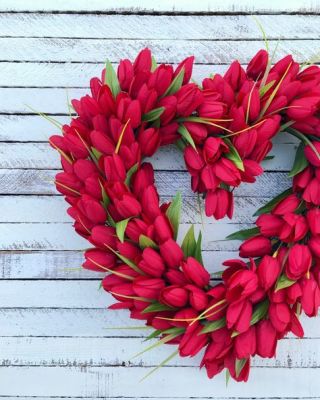 Source: Jenny's Wreath Boutique
The most universal sign for Valentine's Day is the heart. After all, you are celebrating different kinds of love today. So it isn't surprising that a lot of wreaths for Valentine celebrations are themed after or shaped like a heart.
If you'd prefer to buy your heart-shaped wreaths, don't fret! You can always find a lot of choices in both Amazon and Etsy. In fact, here are a few to start you off:
Rustic Valentine Wreaths
One trend in home designing today is the rustic look. Even if you live in the city, there's a certain calm and serenity when you decorate your home to look like the country. Even seasonal décor like outdoor Valentine wreaths can look on-brand!
Burlap Valentine wreaths and other rustic elements like plaid and corrugated steel are just some of the materials you can use to stay on theme. Below are images of Valentine wreaths that you can copy if you're going for the rustic look: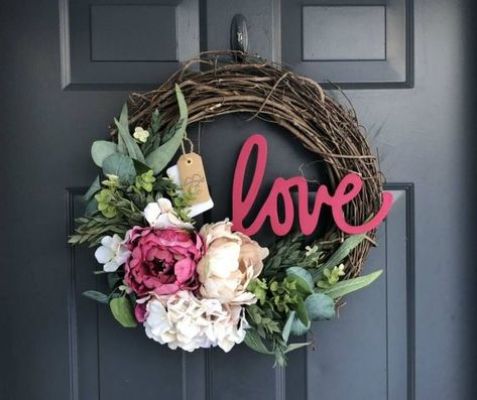 Spread the love with this wreath! Source: Trenduhome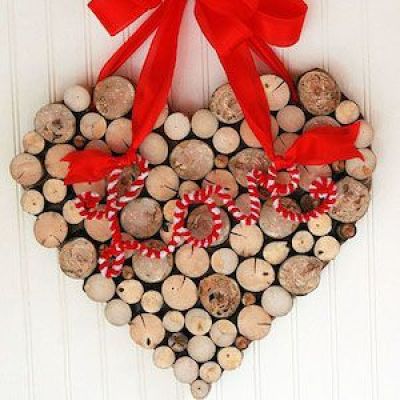 Make use of your scrap wood! Source: Prudent Penny Pincher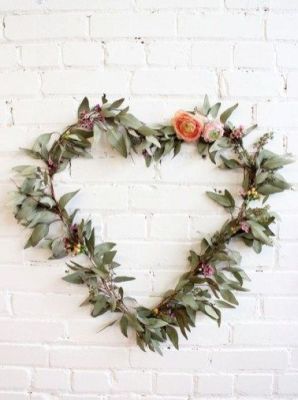 Use the plants in your yard to create a wreath! Source: Decorgan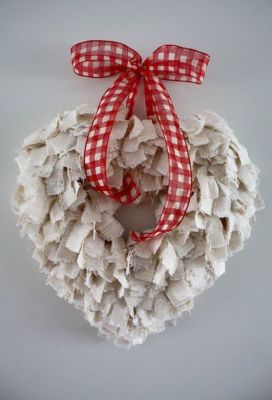 Recycle your scrap fabric into a wreath! Source: Wraps – Derezepte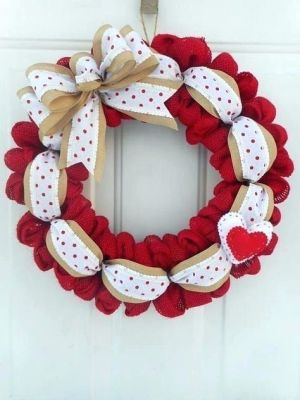 How much more country can you get than with burlap? Source: Fighter Fire
Deco Mesh Valentine Wreaths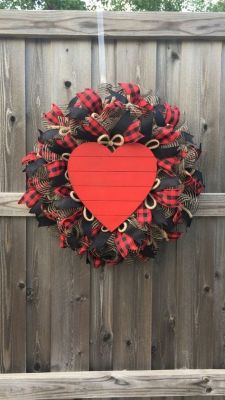 Source: Etsy - TiraMercantile
One other design that's creating a lot of noise be it for Valentine door wreaths or otherwise is deco mesh. Valentine mesh wreaths are easy to make and perfect if you like the unruly and curly look.
Deco mesh wreaths look fuller than other wreaths so they are also need less variety when it comes to the kinds of materials you need to use.
Here are some materials you might need if you're going to make a deco mesh Valentine wreath:
Valentine Floral Wreaths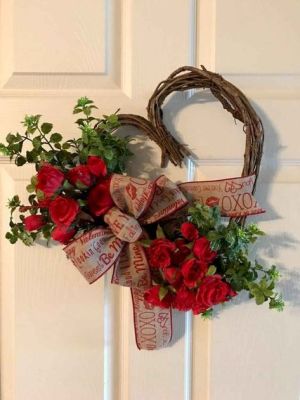 Source: Home Ideas
If you want to make the most out of the plants in your garden, beautiful Valentine wreaths can also be made with flowers. As flowers are a classic motif in Valentine's Day, you'll also be sticking to the theme with no problems.
So make sure that your Valentine wreaths for your front door look as lively as your plants. Here are pictures of Valentine wreaths to inspire you: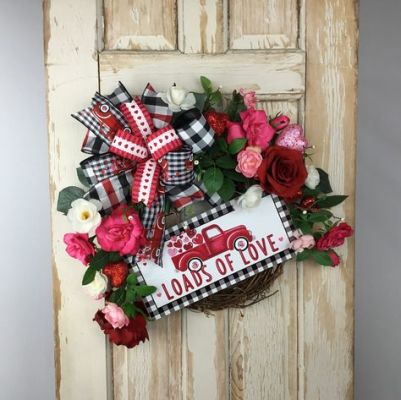 Gets loads of love with this wreath! Source: Wreaths By Darlena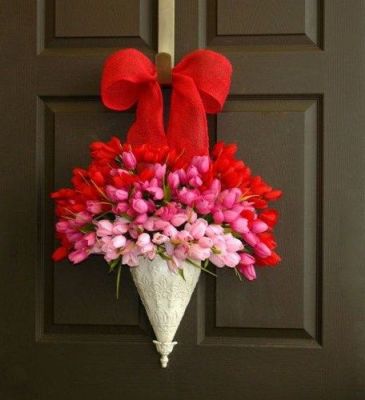 Hang a bouquet as your wreath! Source: Home Decorish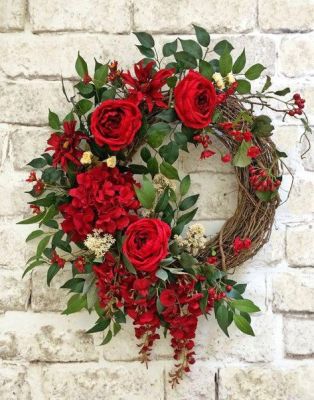 Make the most of your red flowers! Source: Cottage Garden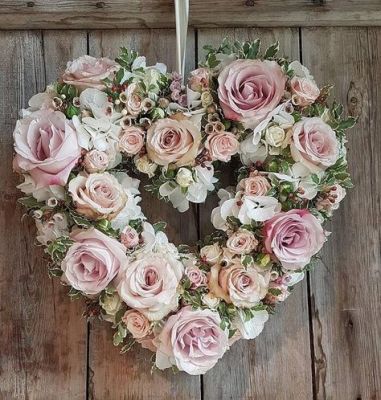 Go for elegant with pink and cream flowers! Source: Shaadidukaan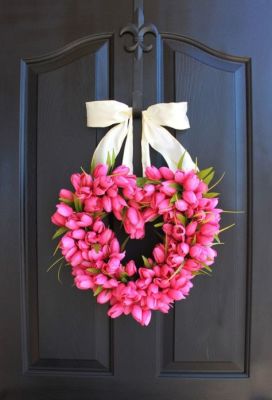 Tulips are also adorable for your wreaths! Source: Decoist
Valentine Wreaths Kids Can Make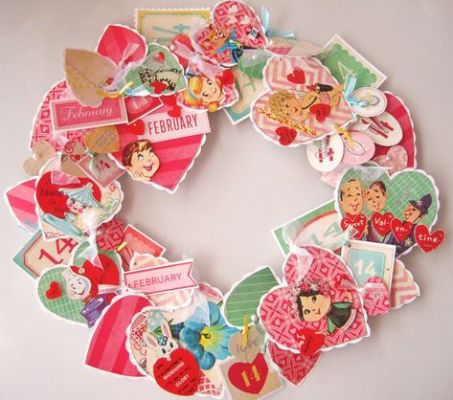 Source: Fab Art DIY
There are tons of different designs that you can do with your kids. Instead of making an entire wreath, you can just have them help you with the design materials you're going to use. Just make sure that the arts and crafts you're going to have them help with are easy to do, like origami or using stamps.
Even easy to make Valentine wreaths will have a few steps you need to be careful with. So help your kids with the cutting. Make sure they're wearing clothes that can be painted on, and be ready for any spills that might happen.
Here are some materials you can use for your Valentine wreath making session with your kids:
| # | Item | Description |
| --- | --- | --- |
| 1 | Heart Craft Wreath | Use this craft wreath as a base where you can glue your designs. |
| 2 | Valentine Crafts | Use this set to create the designs for your Valentine's wreath. |
| 3 | Stamp Pad | If you're going to use stamps, make it look prettier with different colors. |
| 4 | Valentine's Cards | Use Valentine's cards to decorate your wreaths. |
| 5 | Origami Paper | Teach your kids the art of origami and use these papers. |
Where Can I Find Valentine Wreaths For Sale?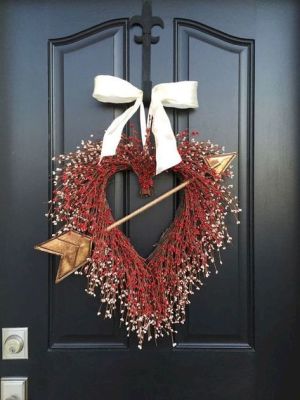 Source: Homewil
Valentine décor is not hard to shop for because the day of hearts is a universal holiday celebrated all over the world. You can probably get heart-themed decorations as early as January. So don't panic!
Valentine wreaths, albeit less common than the usual Valentine décor, are also sold in many places. You can try big craft stores like Michaels and Hobby Lobby, or general stores like Walmart and Target. There's a big chance that they have some on stock.
But if you want to be sure, just shop online. Online stores like Amazon and Etsy have tons of options for you to choose from.
In fact, below are a few Etsy creations you might like. You never know; one of these might just be the perfect Valentine's wreath for you.
Conclusion
Like what has been said above, Valentine's is a holiday that everyone can celebrate. No matter your age, gender, or race, Valentine's Day is the same. It's all about the love you give and the love you get. So make sure to show everyone how much you're enjoying the holiday by decorating!
Remain on theme and welcome guests to your home with a Valentine's Day wreath. Yes, even holidays that are not Christmas can enjoy the use of wreaths as décor. So make the most out of yours by designing it with the usual Valentine's Day decorations: lots of hearts, glitters, reds, and pinks! And voila, you're typical wreath has been made Valentine's Day-approved!